Vismaya Lake Heritage Review + Chef's Signature Recipe
In the heart of Kerala, Vismaya Lake Heritage is located on the banks of 'Vembanad' lake. It's surrounded on three sides by water and is Kerala's feudal heritage. 
This heritage lakeside retreat is over 400 years old and has 2 bedrooms, in traditional wood architecture making it ideal for you to relax, unwind and soak in the surrounding natural beauty, that is a treat to your every sense. Their private pool instantly makes you feel pampered and rejuvenated.
The building, passed into their hands from the descendants of the original chieftain, truly is a unique hideaway. Naturally, they renamed it 'Vismaya', which means 'a magical place'.
First Impression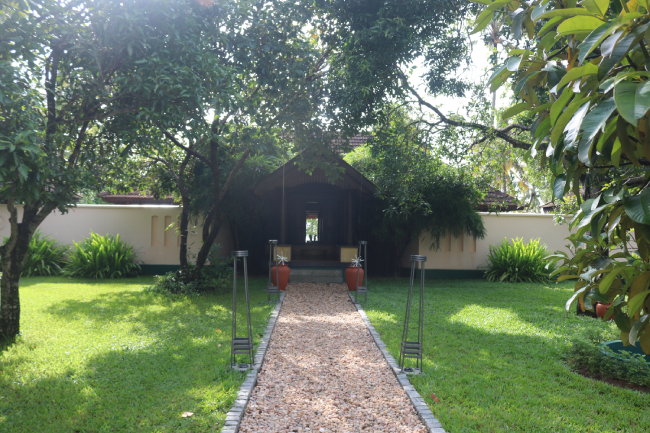 At the first look, Vismaya Lake Heritage has an opulent appearance which is contradictory to the impeccable hospitality and warmth it stands for. From a luxurious pool to culinary delights, this private property promises a memorable vacation.
Management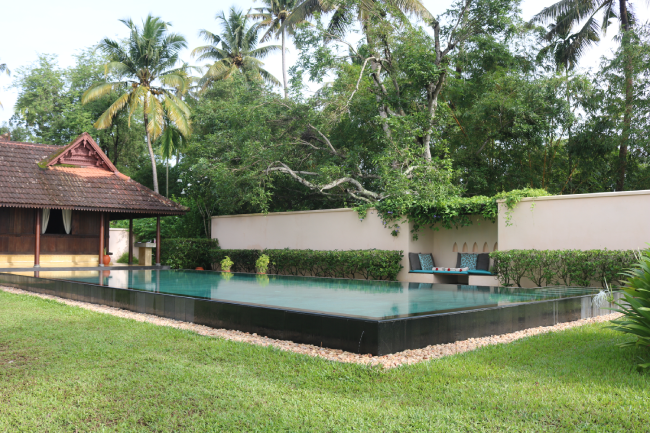 This private villa is managed by Christel and Jan Arryn (Namaskaram Kerala). They together have over 45 years of experience in the hospitality business (i.e. homestays, restaurants and hotels) in Kerala and Belgium.
Location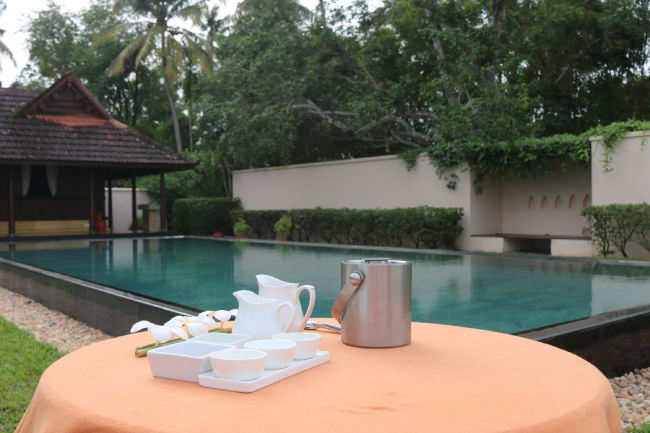 Located near Thavanakkandavuroad, Chenganda, Vismaya Lake Heritage is nestled between the salty side of the Vembanad Lake, a natural garden and a tropical coconut grove.
It is one of the oldest properties of the area. It's an hour and a half scenic drive through rolling fields and coconut lined roads from the Cochin airport. 
Distances from:
Cochin airport: 65 km (1.5 hours)
Fort Cochin: 45 km (1 hour)
Alleppey: 25 km (30 minutes)
Thekkady: 165 km (4 hours)
Munnar: 155 km (4.5 hours)
Style and Character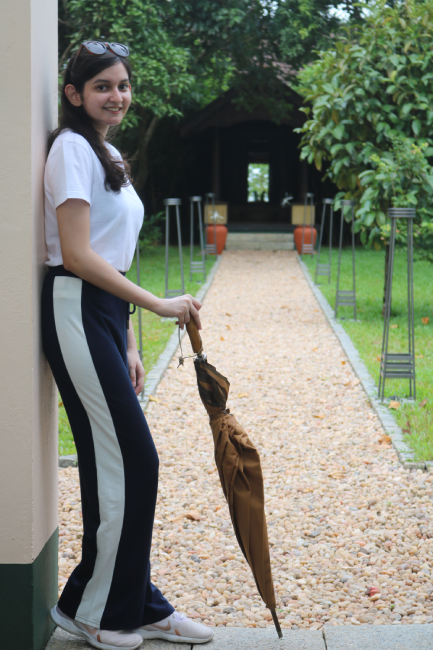 This ancient lakehouse is a co-creation of Jan & Christel Arryn and Arun and Smitha Prasad: four friends joining hands to renovate this wooden villa into a unique hideaway.
It is a welcoming property with a discerning and stately style that's an amalgamation of British architecture and Indian contemporary design. 
Karl Damschen, a renowned German architect supervised the renovations and created furniture. Final decorative touches were given by Christel Goemaere, a Belgian Specialist. 
This beautiful property strikes a perfect balance between traditional Kerala settings and European elements. The ambience is at once celebratory as well as tasteful.
With soft lighting, cosy rooms, an airy and vast lobby, luxurious bath gardens, and an inviting veranda, this property exhibits a delicate blend of contemporary design and the warmth of familiarity and tradition.
A blossoming garden, infinity pool and unique jetty provide you with an uninterrupted view of the lake. The garden allows you to sit back, relax and read a book in serenity. 
Amenities
Every little thing from the authentic welcome drinks to the staff that welcomes you, is designed with the traveller's comfort in mind. This is the kind of property that lures you in with luxury, urging you to spend all your days on their premises. 
To give you a brief, I will try my best to describe everything in detail. To keep it easy, I'll do it alphabetically.
Air Conditioning
A stabilizer unit is set up to avoid all kinds of electrical issues. The unit doesn't take more than 5 minutes to cool. Out of the respect for the environment, it's recommended that you use the AC when it's really necessary or when you're in the room. The AC units are strong enough to cool the rooms within a few minutes.
ATM Location
If you need cash, you can find several ATM locations in the city centre of Cherthala (about 5 km from Vismaya Lake Heritage). For your convenience, it's recommended that you check the type of ATM you're using as some only take local cards. This can avoid a lot of hassle and disappointment. 
Ayurveda Massage and Treatments
Unfortunately, they don't provide any treatments or massages on site. But, if you're interested, they will make arrangements for you in the Ayurvedic Hospital in Chethala (about 8 km from Vismaya Lake Heritage).
Beach
If you want to spend a day on the beach, they will arrange it for you/ their sister hideaway 'A Beach Symphony' will accommodate you. You will receive beach towels and an area to change. Lunch is available on request. Please note that the sea at times can be rough as it has quite a strong undertow. Swimming and all other activities in the sea are at your own risk as there are no lifeguards on duty.
Before Going to Sleep on the Veranda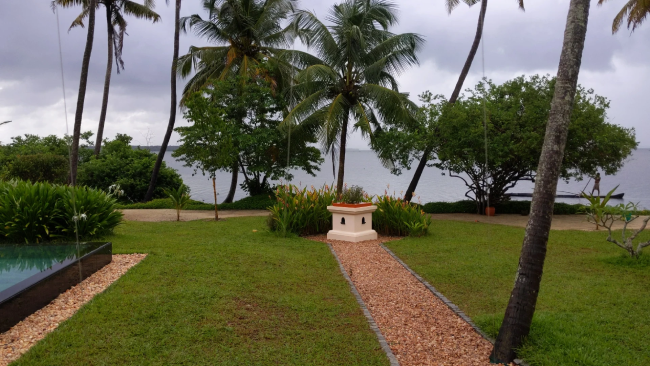 If you wish to stay up longer than the villa host, it's requested that you blow out all the candles and switch off all lights in the veranda/inside the house using small buttons.
Bicycles
2 classical Indian bicycles are at your disposal to keep the heritage experience alive. Vinod will give you excellent recommendations for little tours you can take in the neighbourhood. The use of bikes is free for 2 hours every day.
Books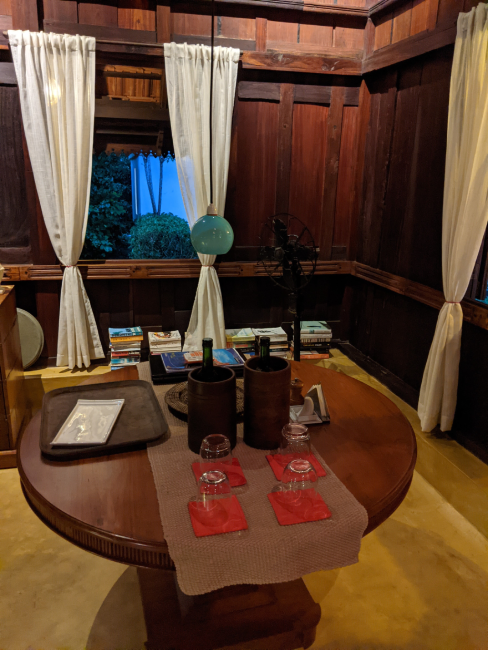 Books in English are available on request. It's not a large library but perfect for people who've either forgotten to carry one or have finished the one they have. You can also exchange a book i.e. leave your book and take one from the library. 
Cell Phone Coverage
Almost all networks work fine. For more information, please check with Vinod.
Check-in and Check Out
Check-in time is 12 noon and check out time is 10 am.
Doctor on Call
As the property is situated in a remote area, it's recommended to go to a nearby hospital (KVM in Chertalla) where they have a well-equipped casualty and emergency room. If necessary, please call Vinod at any time.
Drinks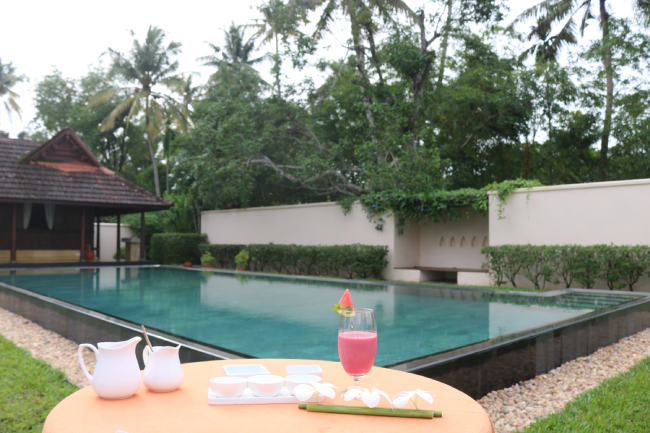 The welcome drink is complimentary.
Mineral water is served free of cost during your stay.
It's tapped from a cooling system and then kept in their fridge.
If you wish to have something different, they also serve soft drinks, fresh lime soda and juices.
Do try their delicious Lassi with pineapple, papaya or banana. Cups or pots of tea and real coffee are also available.
Vinod will be happy to tell you about the availability of other drinks. They guarantee service from morning till 9 30 pm for drinks.
Emergency
If anything happens that requires a quick and sudden reaction, please contact Vinod. During the night, you can alert the security who will then immediately alert Vinod.
Food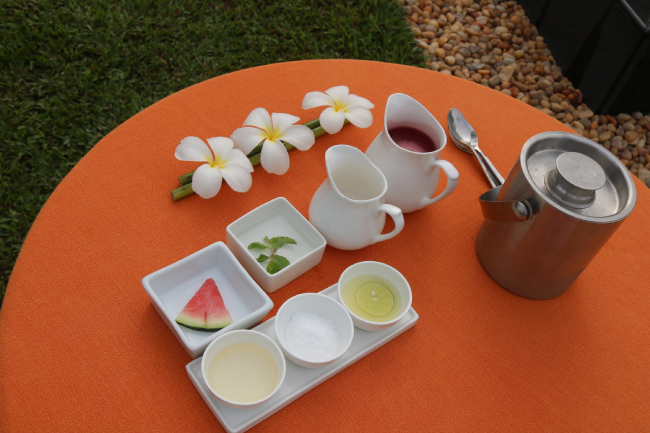 They serve indulgent meals with as much depth in variety as flavours and cuisines it covers. Riverside, literally by the river, serves luxe Kerala of the finest kind. 
Breakfast, lunch and dinner are served at your own shaded veranda, near the pool or in the garden. Enjoy a romantic candlelight dinner with a stunning view of the lake. 
All meals are prepared at your request and fresh ingredients are purchased daily from the local market.
Try local delicacies created by the talented chef Vishnu Kanjeemeen. Hailing from Alleppy, he has experience of 6 years in food production and recipe development. His signature dish is Coconut and Watermelon Refresher.
If you're staying for a longer duration, they'll do their best not to repeat dishes. They don't work with a menu and therefore, will come to discuss different meals with you personally after every meal. 
For Breakfast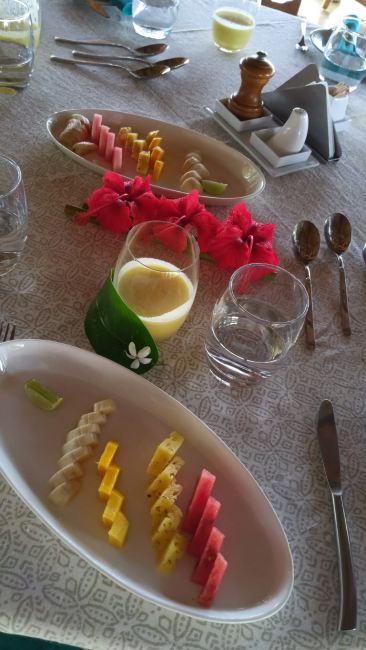 They can serve you a continental style of breakfast (fresh juice, fruits, toast, eggs, yoghurt, butter and locally made jam). If not, Kerala style breakfast can be served (stuffed pancakes, idli, appam with vegetable stew, vegetable upma with papad, sugar and banana, adda (in a banana leaf), puttu (flour and rice tower), dosa ghee roast and masala dosa along with fruits and juice.
For Lunch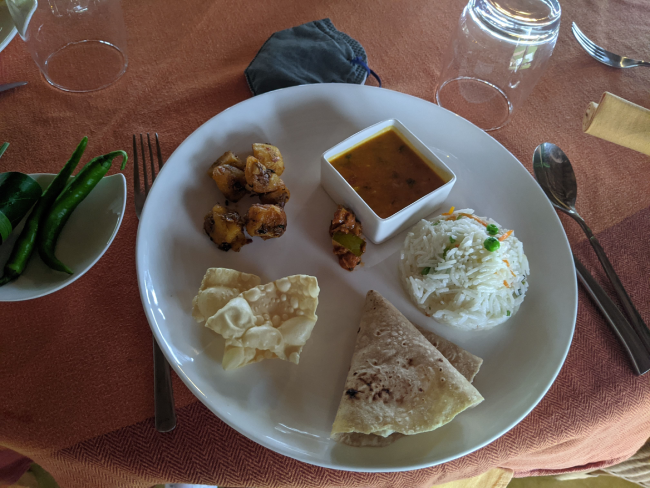 They can serve you a Kerala style lunch which will comprise of 2 vegetables, rice, sandwiches in different styles or a fusion of tandoori style chicken/fish with a European style prepared mixed salad (tomato, carrot, cucumber and white cabbage) or Pastas.
They specialise in the fusion of their local Kerala kitchen, Mediterranean and classical Fench/Belgo.
Evening Snacks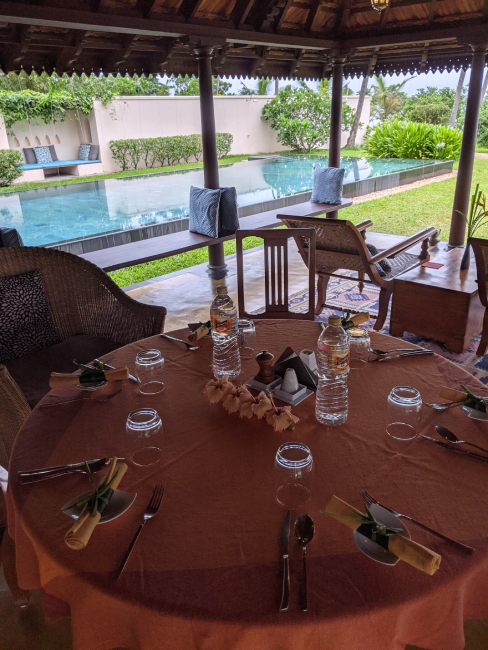 If you're in the mood for some snacks, relish onion pakoda (fritters), plain or masala peanuts, home-roasted cashew nuts and prawn chips.
For Dinner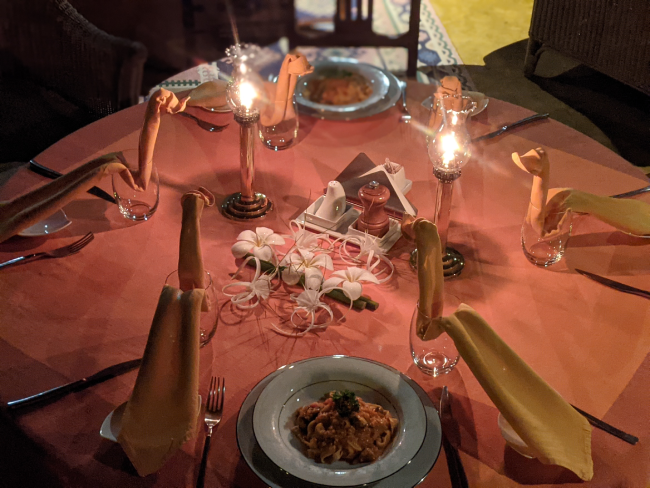 Their standard dinner consists of a starter, main course and dessert and is usually served between 6 30 to 8 30 pm.
Do try their signature scampi or prawn dinner that's made using fresh seawater prawns and scampi's grown in that area.
Their Pastas are incredible as well. Do inquire with Vinod to enjoy savoury pasta or a European style meal. 
Housekeeping
They try to do the maximum housekeeping during the time that you're not in your room to avoid any type of inconvenience. It's recommended that you do not ask for new towels or linen than necessary to conserve water.
Internet
Their portable wi-fi modem works well. 
Reception
Receptions are considered official and since their set-up is homely and casual, they don't have one. For questions or concerns, please call Vinod or ask any staff member around you. 
Safety
Their property is safe as they're fully fenced and have a security guard at night. 
Swimming Pool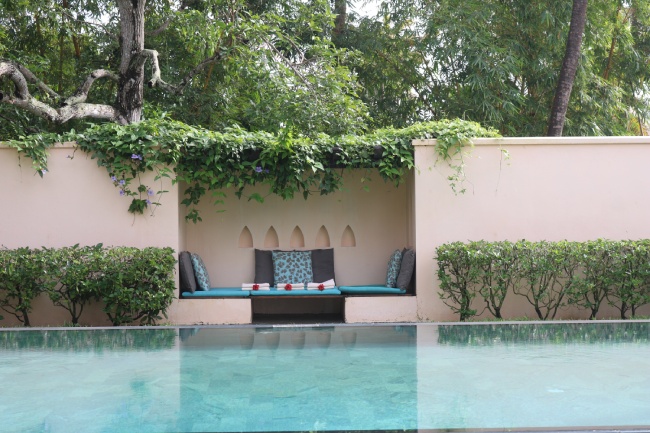 A 13 x 5 m private pool with a sun deck, a vantage point on the lake for sunrise and set awaits you.
Things To Do
Take nice, long walks on the beach.

Take a village tour (starting cost is INR 150 + actual km + waiting charge) to see the local temples, Cherthala market and the different ways of working the coir fibre and other local craft.

Visit Alleppey.

Take a day trip to Fort Cochin by the coastal road.

Take the small Canal Backwater Cruise.

Watch the stars and fireflies at night while enjoying the pleasant breeze.

Relax by the lake, in their sun lounger or in the hammock.

Spot fishermen's daily life.

Go on bicycle tours.
Tipping
If you are satisfied with the service you received from the staff, appreciate them by leaving a generous tip. To avoid the chance of forgetting a staff member, they have a 'staff appreciation box'. All the staff members get a share from this box. This box includes the garden, housekeeping, service and staff and is presented at the time of billing, together with the guest book. 
Transportation
A local tuk-tuk driver will take you for local excursions. The driver will charge by the km's travelled and waiting time. They will note it down and hand it over to the staff at the end of the trip/day so that you can settle everything together at the end of your stay. A car for a trip or drop to the airport can be arranged as well.
Rooms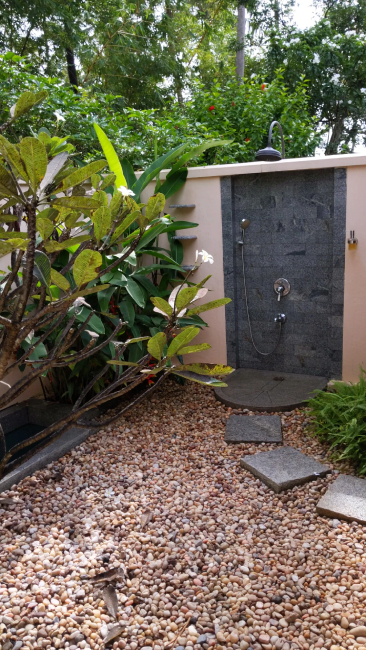 The rooms have a classy décor with earthy tones across the woodwork, auburn drapes and carpeting, and crisp white bed linen.
The rooms are not equipped with a television so that you can truly take a break and enjoy your vacation. The bathrooms are indulgent, spacious and luxurious.
Both bathrooms have a large outdoor bathroom with an open-air shower, washing table, private garden, a separate toilet and a garden swing open to the sky. 
Coconut and Watermelon Refresher Recipe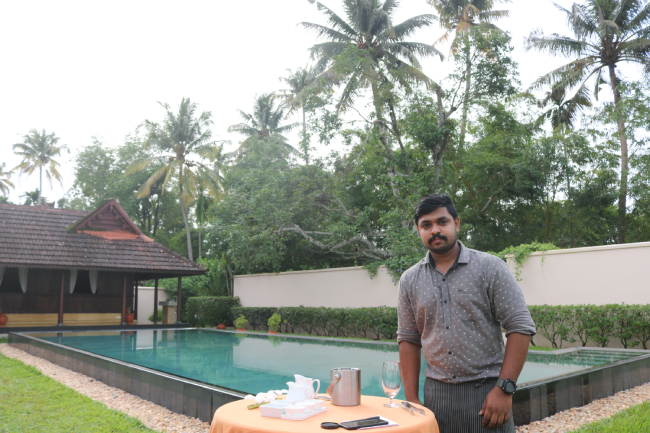 Serves: 1    Prep time: 5 minutes    Total time: 10 minutes    Course/cuisine: Mocktail, South Indian    Calories per serving: 55 calories
Ingredients:
½ watermelon, cut into bite-sized pieces
10 ml first extract of coconut milk or 1 coconut grated or coconut powder or coconut milk
2 tsp sugar syrup
A pinch of salt
Juice of ½ lemon
2 sprigs of mint leaf
Instructions:
Use a hand blender or juicer to prepare a juice of 1 sprig of mint leaves and watermelon. 

Strain the juice properly.

In a bowl, mix together the strained juice, coconut milk, lime juice, sugar syrup and salt. 

Keep in the refrigerator for 10 minutes.

Garnish with a piece of watermelon and fresh mint leaves. Serve immediately.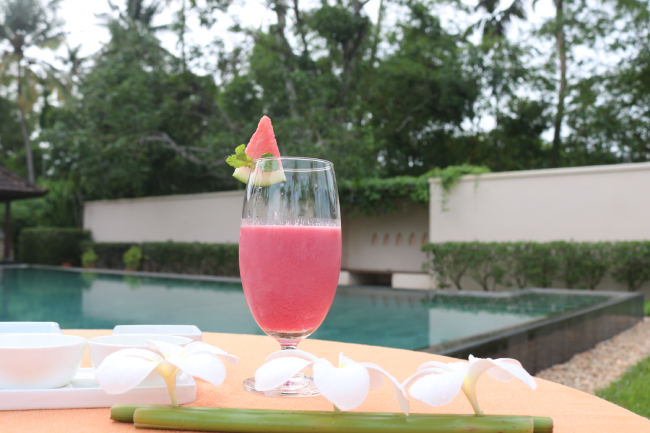 Coconut and Watermelon Refresher Recipe
Ingredients
½

watermelon

cut into bite-sized pieces

10

ml

first extract of coconut milk

or 1 coconut grated or coconut powder or coconut milk

2

tsp

sugar syrup

A pinch of salt

Juice of ½ lemon

2

sprigs of mint leaf
Instructions
Use a hand blender or juicer to prepare a juice of 1 sprig of mint leaves and watermelon. 

Strain the juice properly.

In a bowl, mix together the strained juice, coconut milk, lime juice, sugar syrup and salt. 

Keep in the refrigerator for 10 minutes.

Garnish with a piece of watermelon and fresh mint leaves. Serve immediately.
Contact Details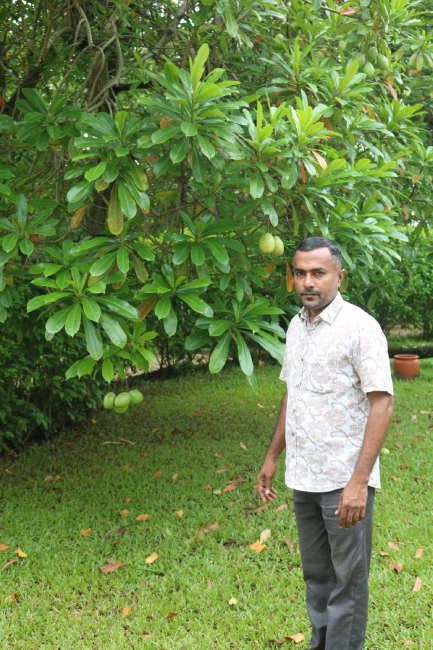 For bookings or more information, contact Vinod at:
+919526688266
+917012582858
vismaya.chenganda@gmail.com
For updates, follow Vismaya Lake Heritage on Instagram.
View this post on Instagram
Shristi is an avid reader, recipe developer and wellness enthusiast. She's probably making a mess in her kitchen right now.