Beginner's Guide to Opening an Indian Grocery Store
A business with a lot of customers and a healthy profit margin sounds appealing, right? Then what's keeping you from stepping up? Own your own Indian grocery store today!
With the growth of the Indian population comes a rise in the purchasing power of individuals. 
It might be a good business idea to open a grocery store to take advantage of the current market conditions.
Indian grocery stores are the lifeline of every Indian locality and are probably the only industries that do not require expensive college degrees.
The only things you need to start your journey in this enormous market are knowledge, decent funding, and the motivation to open your store.
Due to the heavy market presence of the Indian grocery store, the competition tends to remain high despite the lack of a specific target audience.
What is an Indian Grocery Store?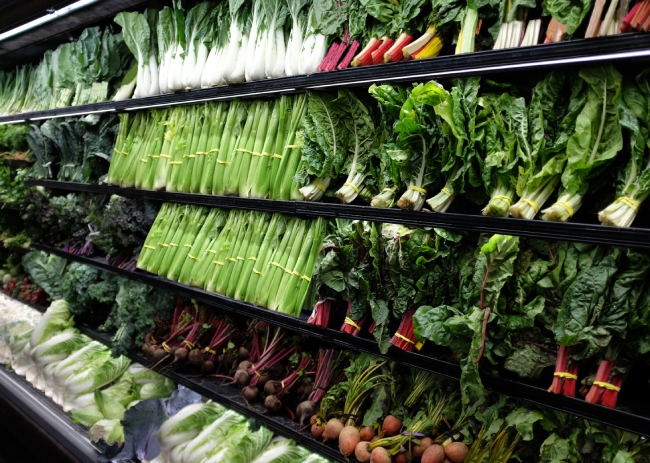 Traditionally, an Indian grocery store is a retail store where you can buy household necessities such as grains, flour, rice, lentils, etc.
Additionally, they offer household plastics like mugs, buckets, and cleaning supplies like soaps and detergents.
Mom & Pop stores have traditionally been the primary source of food & groceries for Indians.
The reason Indian grocery stores offer products that are specific to the area is that they understand what their customers like and have a personal relationship with them. 
The Indian consumer prefers to buy their monthly supplies from local stores for a variety of reasons, including their proximity, the ability to get credit, and the option to return/exchange items.
Local merchants' access to funds determines the size of their store.
Indian grocery stores, called Kirana stores, are found only in India's subcontinent.
From the eras of monarchs to the present, Indian grocery stores have endured and survived.
Although the pandemic affected many supermarkets and eCommerce sites, Indian grocery stores still outperformed them for many months.
Around 98% of the nation's grocery sales come from the nation's unorganised retail sector, which comprises millions of market stalls, speciality stores, kiranas, and kiosks.
This sector is significant not just because of the size, but because it has a long heritage that offers a rich experience and understanding of the consumer universe.
Difference Between a Grocery Store and an Indian Grocery Store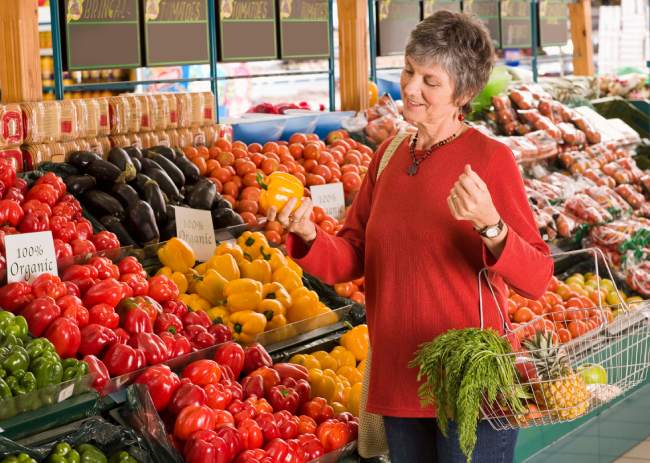 In the US, the grocery store is synonymous with Supermarkets.
In India, grocery stores are small shops around the corner that provide a limited selection of staples and other convenience items.
Grocery stores sell a full range of personal care items, household items and healthcare items.
It sells dairy products, fresh produce, bakery items, frozen foods and meats.
They also specialise in selling cleaning products, foods, cosmetics, and other items.
The Rise of Ethnic Foods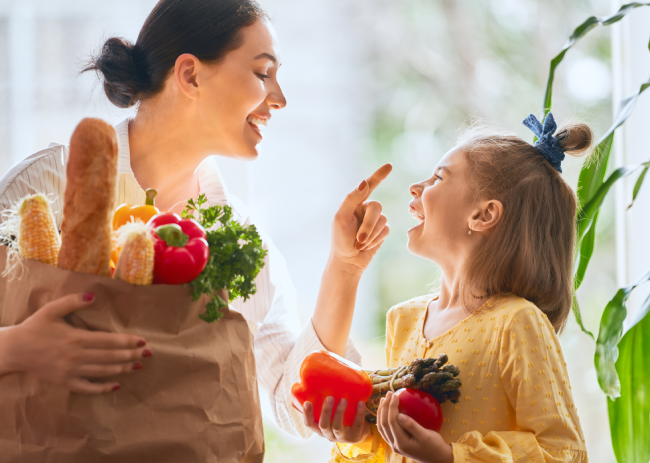 Food plays a compelling symbolic role in our society as a social and cultural marker.
It is remarkable how varied the recipes, ingredients, and processes available to us are in their breadth and diversity.
Additionally, these traditional recipes for modern Indian dining are increasing both globally and within India's metropolises in terms of popularity and innovation.
The food industry has become serious about ethnic foods.
Around the world, ethnic foods are becoming increasingly influential in global metropolitan culture.
Having cosmopolitan experiences is now seen as a signal of one's varied worldview.
The public's interest in ethnic food has now reached the same level as that of healthy food thirty years ago. 
People are always looking for something newer, stranger, and more exotic, so the variety of ethnic cuisines available in metropolitan cities has expanded tremendously over the last twenty years.
A food experience can be both entertaining and intriguing, as it possesses both accessibilities as well as our fundamental need to eat.
The act of eating, drinking, and feeding your loved ones can affect lives because it creates a sense of connectivity between us.
Experiencing ethnic food can bridge cultural, social, and religious divides and connect us on a powerful platform, inviting divergent members of society to engage and become invested in one another.
Particularly among millennials, ethnic foods continue to gain popularity.
Approximately 12.8 million retail grocery retailers are operating in India as of 2020.
Within the segment were traditional and modern retailers.
In India, these stores are one of the most prominent parts of the retail sector, an industry that accounts for almost 11% of the country's GDP and 8% of its overall workforce.
In 2019, the unorganised sector accounted for 88% of revenue in the Indian retail industry.
Despite the rapid growth of the organised and e-commerce sectors recently, this was the outcome.
Despite these predictions, it is expected by 2021 that this share will decline to 75%, with an increase in organised retail and online retail.
In spite of these staggering figures, the unorganised sector still maintains its dominance.
As millennials and Generation Z break with the mainstream, they pick speciality foods and drinks.
Authentic multicultural foods, particularly meatless meals and food from diverse cultural backgrounds, will not be a deterrent for them.
In comparison to the previous generation, they place greater importance on food quality and are willing to spend more money on healthier snacks and meals.
Plant-based food, animal welfare and environmental concerns are driving their dietary choices.
Indian food uses lots of vegetables, herbs, spices and has a limited amount of meat, so they are in harmony with this trend.
3 Reasons Why You Should Open an Indian Grocery Store
Want to start a profitable business that helps people in their daily lives?
In that case, you may want to consider opening an Indian grocery store.
You do not need any formal training to operate a grocery store.
The key to a successful outcome is being organised and transparent while remaining compassionate.
One of the most lucrative ventures in history has been selling grocery items.
Check out some reasons why starting an Indian grocery store could be very lucrative for you.
#1. Assured Industry Growth
While these changes in consumer behaviour seem to be the driving force behind this business' future growth, you can always see what research has to say about the future of this business.
The Forrester Research estimate shows India's retail market was worth $883 billion last year, with grocery retail accounting for $608 billion.
According to estimates, the market will reach $1.3 trillion by 2024.
The statistics show that grocery retailers have quite positive growth prospects.
Furthermore, this only serves as another indication that new players have a lot to gain from this industry.
#2. Competitiveness
Regardless of your business's level in the industry, as long as you can properly promote your Indian grocery store, you will always have an edge.
Ensure that you sell the grocery products in high demand in the target region and that you can reach out and attract the desired market.
In India, grocery stores are abundant, so there is likely to be fierce competition between supermarkets and the grocery stores at your selected location.
Additionally, some big supermarkets set the industry's trends.
To succeed in the retail industry, you must always be able to compete with these giants.
Find out how competitive the market is in the area where your enterprise will operate before launching your venture. 
#3. Small Startups Grow Large With Time
When starting a business, you should be careful not to target the big market at the outset.
When starting up, you have limited resources as well as funds.
It would be much more prudent to start a small grocery store serving a limited area.
The business itself will inevitably expand with time as it grows.
Launching an Indian Grocery Store
You can start an Indian grocery store only if you are confident that you want to! To get your business started, follow these steps:
#1. Business Model 
Setting up a business requires deciding on a business model. Among them are decisions such as:
1. Capital
How much capital would you need, and how can you get it? What are your financial needs? The interest rates on business loans are reasonable if you have a good credit rating.
In every business, there are unforeseen expenses that will occur. Make sure you have set aside some money for those expenses and allocate it appropriately.
Research is critical to a successful investment, so make sure to do your homework well before taking the plunge.
2. Size
How big, medium or small should the store be?
What will the store's appearance be?
Do you know if it's a local grocery store selling essentials?
Or is it a large store with a lot of products from different brands?
3. Ownership
Do you want it to be a partnership, corporation, LLC, sole proprietorship, etc.?
Do you think you should start your own business or with others?
Each ownership style comes with its benefits and drawbacks.
#2. Location 
You need to consider your location carefully when running a venture.
The fewer competitors there are, the easier it is to maintain your price and grow your business.
It is vital that you carefully examine which market you should target with your product. 
By having your store in your neighbourhood, you can better oversee it.
An opening of a local store in an area with an existing branded store would be unwise.
Geographic locality influences rental prices. In areas with a higher density of visitors, rent tends to be higher.
Similarly, lower rent-paying locations may not attract as many customers.
Affordable rent combined with a sufficient number of customers makes sense.
In other words, you must investigate thoroughly, keeping your budget in mind, and then make your decision.
#3. Staff 
Your store's size will determine the number of employees you have.
An excellent grocery shop will always offer helpful assistance to its customers, regardless of size.
The better the customer experience at your store, the better sales you'll have. 
It isn't difficult to hire staff for an Indian grocery shop.
You can enlighten even the most inexperienced on how to use your products and provide excellent customer service.
Additionally, you can incentivise sales by having bonus schemes and rewarding people for helping consumers.
The margin of your Indian grocery store depends heavily on your staff.
Therefore, make sure you hire the best.
#4. Legal Expenses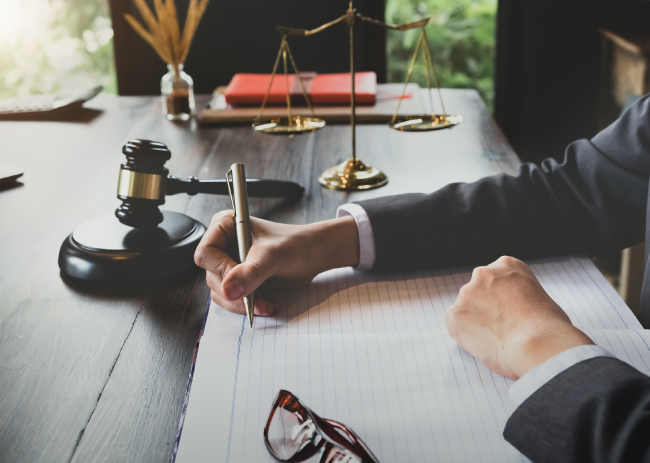 You must make sure you consider all of the legal requirements and obtain a license for your Indian grocery store when thinking about how much investment you need.
In cases where you rent a space, it is necessary to have a legal lease agreement.
Your contract should specify the price you pay for rent and maintenance, the terms of renewal, and the consequences of any breach. 
The next step is to obtain a Trade License.
Panchayaths, municipalities, and corporations are the authorities that grant licenses to trade.
Consult your local body about getting a trade license since they vary by state.
To accompany your license application, you must attach proof of the establishment such as bank statements, your PAN card and your water and electric bills.
Before you begin your business, seek the advice of an accountant or an attorney to get help on the necessary permits.
#5. Taxation
Businesses in India should ideally have GSTINs before commencing operations.
Businesses are required to register for GST 30 days before it is effective in their respective states.
PAN, Aadhar, as well as any other business document, will be necessary for GST registration.
You will need the following documents:
The owner's PAN card
Owner's Aadhaar card
Owner's Bank Statement
Registration Certificate
Electric and water bills as proof of address
Colour photos, proof of identity, and proof of address
#6. Pricing
It's a tough decision because it doesn't entirely depend on you.
Make sure you analyze your competitors' prices before determining the margin for your business.
If you buy groceries in India, a margin of just 5-10 rupees makes a huge difference. 
Thus, you should put extra thought into the pricing.
A healthy profit margin and the ability to offer better prices are the keys to beating your competitors. 
Repeat customers can benefit from merchandise deals and membership benefits in addition to loyalty programs. 
#7. Marketing 
Any successful business also relies on effective advertising.
Advertising helps your business reach the local community.
Your marketing campaign can involve advertising in newspapers, handing out flyers, and even giving first-time customers a discount.
Despite the fact that a majority of promotion at grocery stores occurs through word of mouth, having a launch event and advertising widely will also help. 
If you can, reserve a portion of the advertising budget for the grand opening to attract clients.
These things pique consumers' curiosity, and they'll definitely want to explore.
Marketing is an important aspect to consider when designing a business plan for a grocery store in India.
Your marketing techniques will also play a big part in making your company successful.
#8. Delivery Partners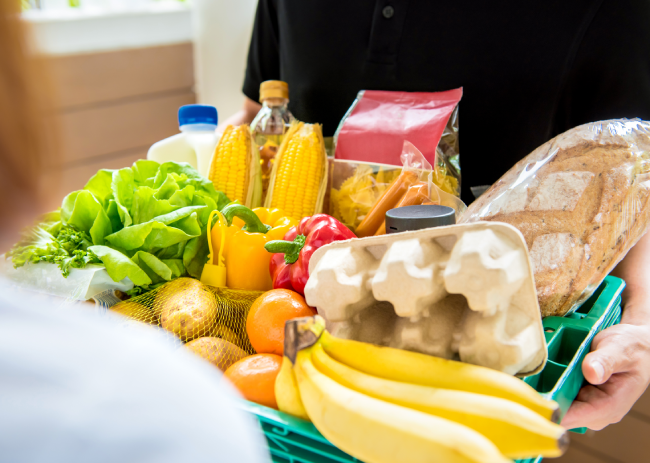 Customer attraction lies in the possibility of home delivery.
It doesn't matter if the products are ordered by phone, online, or in-store.
Your business needs a delivery partner to make sure that they deliver on time.
There can be a minimum purchase amount and range of distances within which you are willing to offer this service so you will not waste time and fuel. 
You can post delivery job postings on popular job sites and mention the salary range, and you may receive immediate responses.
To some extent, grocery margins are also affected by delivery schedules in India.
Faster delivery and more delivery slots will ensure customer loyalty.
#9. Set up a Business Account 
All businesses must have their own business account. You shouldn't use the same account for business and personal use.
Business assets and personal assets should be kept separate.
It protects from the risk that you could lose your personal assets and your business assets in case of loss or failure of your business.
Furthermore, loans for future businesses are much easier to obtain. As a result, accurate bookkeeping and proper tax payment will also be possible. 
The market is full of banks that offer great offers to companies looking for business accounts, so compare the offers and select the best option for your business.
#11. Business Insurance
No matter how well you plan, there will be times when things happen beyond your control.
It is essential to protect your assets against the possibility of future risks by purchasing insurance.
There are a variety of insurance policies available to businesses with unique risks, such as general insurance.
To protect your store from fire, it is advisable to have insurance. So, select an insurance plan that provides adequate coverage.
FAQs:
What are Common Grocery Items in India?
1. Spices
Natural spices such as coriander seeds, mustard seeds, fenugreek seeds, peppercorns, cumin seeds, red chillies powder, Kashmiri red chilli, tamarind, salt, asafoetida, sesame seeds, turmeric powder, baking soda, cardamom, cinnamon, carom seeds, dry ginger, black peppercorns, ground black pepper, cloves, bay leaves, whole dried red chilli, nutmeg, vinegar.
2. Dal/Lentils and Legumes
Toor dal, Bengal gram dal, green gram dal, yellow moong dal, chickpeas/garbanzo beans, kidney beans, brown chickpeas, whole pink lentils, moong dal, urad dal.
3. Dairy products
Organic cow milk, almond milk, oats milk, soya milk, coconut milk (tinned), milk cream, paneer, cheese. 
4. Sauces/Masala/Paste
Tomato paste, tomato puree, mayonnaise, pasta sauce, tomato ketchup, soy sauce, chilli sauce, tamarind sauce, Nutella. 
5. Oil/Fats
Ghee, cold-pressed peanut oil, cold-pressed mustard oil, rice bran oil, butter.
6. Coffee, tea and sugar
Coffee, sugar, jaggery, milk powder/dairy whitener, tetra pack milk, Assam tea leaves, green tea.
7. Rice
Basmati rice, biryani rice, raw rice, Jasmin rice, red matta rice, idli rice.
8. Flour
Wheat flour, besan, moong dal flour, ragi flour, maida, semolina, millet flour.
What is the Basic Grocery List?
Buying groceries can be a uniquely personal experience.
There are no two shopping lists alike.
Every person's grocery needs and situation evolve with time.
To make life easier, you can keep things like grains, spices, cooking oils, condiments, canned foods and frozen foods on hand so you can just grab them when you need them.
You should keep these in your kitchen for convenience because they have a long shelf life.
Nevertheless, you will need to go to the grocery store sometimes. Making your grocery trip a breeze is simple: Make a grocery list!
On an unplanned shopping trip, you'll make the mistake of buying things you don't really need and won't help you prepare your meal.
If you have to buy a lot of groceries just to prepare one recipe, cooking can seem overwhelming. If you have the basic items in your pantry, shopping becomes stress-free.
Is an Indian Grocery Store Profitable?
The importance of groceries cannot be overstated, and it is a profitable business.
Lockdowns reminded us of how essential groceries are.
There will never be a time when grocery stores are not needed, and that in itself is a good business reason.
Grocery stores generate an average profit margin of between 5% and 20%.
The primary objective of any business is to generate profits; in this case, as well, you will be looking to improve the margins day by day in the grocery shop.
Considering the fact that profit and costs are intertwined, calculations of the cost of opening a grocery store in India need to be done carefully before determining the profit.
The Indian grocery store market is one of the most lucrative markets in India and is, therefore, heavily contested by both local and foreign brands seeking to provide and improve their reach within the common man's market.
How Much a Grocery Store Earns in India?
Having a large cash reserve is a big advantage when it comes to retail in India.
As new stores take time to break even and become profitable, companies must balance the number of stable, profitable stores with the ones that are in the growth phase.
The grocery industry has often been cited as having the lowest profit margins of all types of businesses. It's true.
Grocery stores typically have profit margins ranging between 1% and 3%, depending on the merchandise.
Volume accounts for most of the profits at grocery stores.
Despite the fact that they make less on any one item, it's the rare customer who purchases just one item.
With only a minimal amount of effort, the grocery store sells you 20 items or more, resulting in more profit for them than if you had purchased only one item.
What are Indian groceries?
Grains: basmati rice, brown basmati rice, Rava, whole-wheat flour, millet flour, besan or chickpea flour.
Legumes: Toor dal, chana dal, urad dal, moong dal, masoor dal, rajma, chickpeas or chole or garbanzo beans, whole mung beans, whole masoor, peanuts.
Spices: red chilli powder, turmeric powder, black mustard seeds, cumin seeds, coriander seeds, fennel seeds, carom seeds, white poppy seeds, fenugreek seeds, white sesame seeds, saffron, cardamom, cloves, cinnamon, nutmeg, mace, whole black peppercorns, bay leaves, whole dry red chillies, asafoetida.
Oils: sesame oil, coconut oil, mustard oil.
Miscellaneous: jaggery, tamarind, papads, cashews, pistachios, coconut milk, alphonso mango pulp, Kasoori methi.
Fresh and frozen items: curry leaves, coriander leaves, mint leaves, shredded coconut, green chillies.
The Takeaway
The grocery industry is full of growth.
So, if you have a passion for business and have the needed capital, you can start setting up your own Indian grocery business.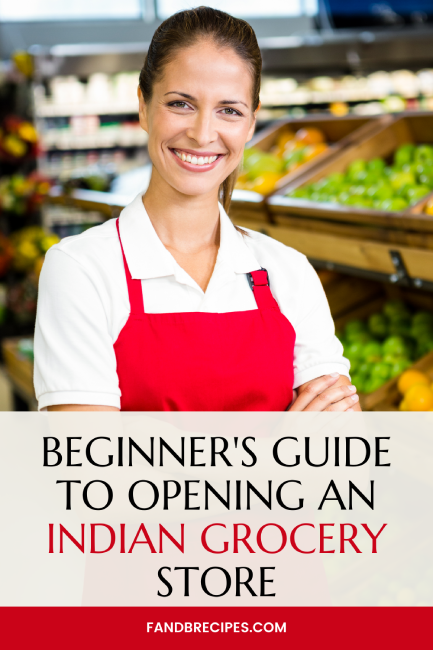 Dhruvi is a bubbly, affable person and a reading enthusiast. She would never set foot in the kitchen if not for an easy and exciting recipe.