9 Impressive Drinks for Your Next Get-Together
Just because your drink isn't alcoholic doesn't mean it has to be boring! Whether it's for you or your guests, these delicious drinks will give a refreshing change you need. Here are our favourite easy non-alcoholic recipes to try.
1. Mocha Cinnamon Shake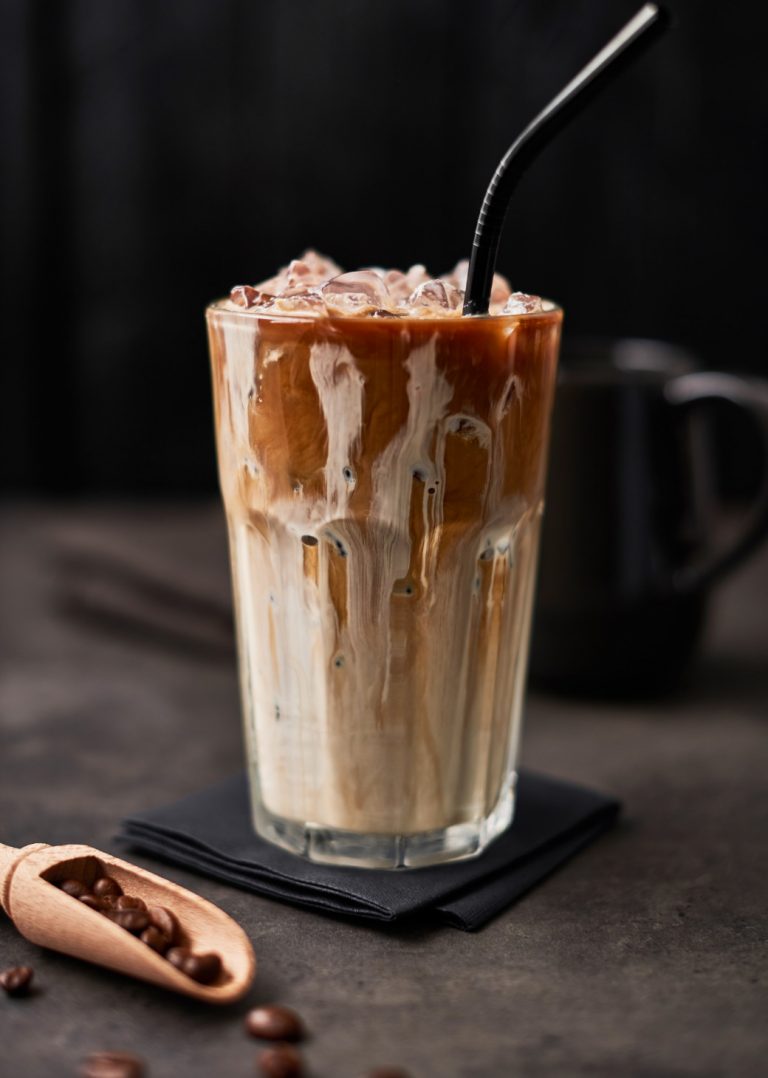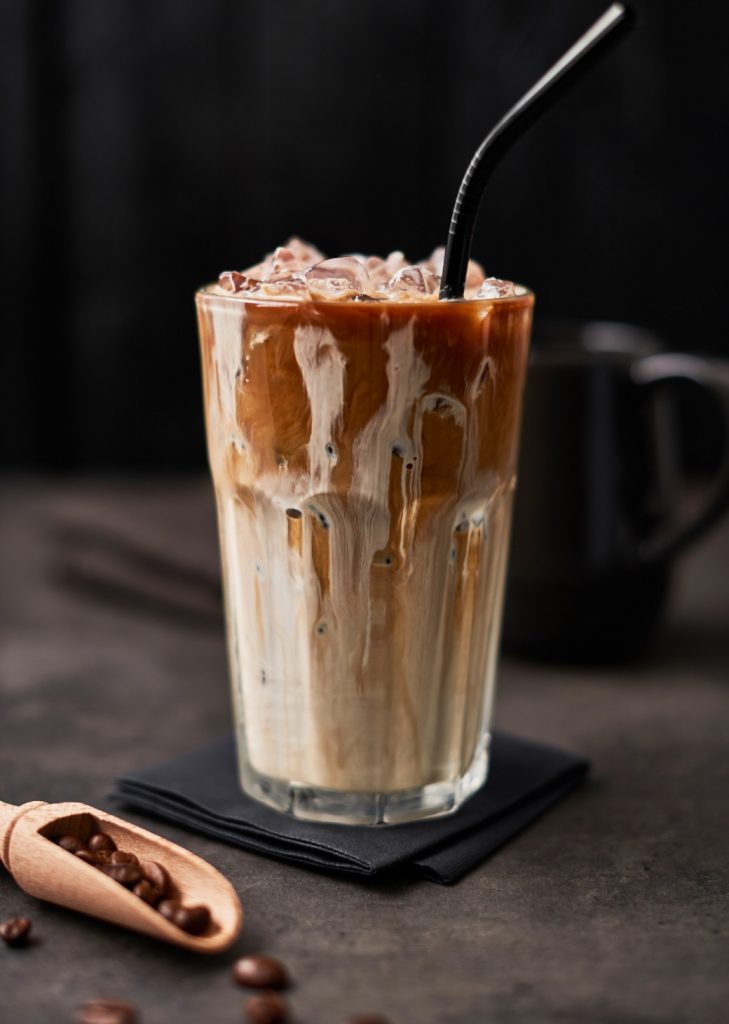 Cold coffee with a heavy cinnamon flavour. Try this recipe and you won't make it any other way!
Preparation time: 5 minutes
Serves: 1
Ingredients:
For each glass you'll need:
2-3 ice cubes
½ – 1 tsp coffee
A generous pinch of ground cinnamon
A few drops of vanilla essence
Sugar, to taste
¾ glass of milk
Method:
Heat a few tablespoons of milk and pour it over sugar and coffee. Stir to dissolve.

Crush ice manually or using a grinder jar. 

With the ice, put in the rest of the ingredients and blend until frothy. Serve immediately.
Variations:
Add a scoop of vanilla ice-cream or add a teaspoon of coffee liqueur or add a teaspoon of melted chocolate along with the coffee.
Also Try: Mocha Truffle Cake
2. Sharbat Sandal
A Sharbat that's easy to make and can be paired with anything.
Cooking time: 35-40 minutes
Makes: 1 bottle
Ingredients:
4 drops Kewra essence or 1 ½ dessert spoons ruh kewra 
1 ½ cups water
675 g sugar
1 cup of water
30 g sandalwood powder
Method:
Soak the sandalwood powder in 1 cup of water overnight. The next day, put it into the pressure cooker. As soon as the cooker reaches maximum pressure, reduce the heat and keep on fire for 10 minutes. Allow the pressure to drop on its own. Strain twice through a fine muslin cloth. 

Mix the sugar with the remaining water and cook till it reaches a one-thread consistency. Add the sandalwood extract and cook for another 10 minutes. Remove from fire, cool and add the ruh kewra or essence. 

Pour the sharbat into a bottle, seal if you like and store in a cool, dry place. 

To serve, top a few tablespoons of the concentrate with soda or water and crushed ice. 
3. Gulab Sharbat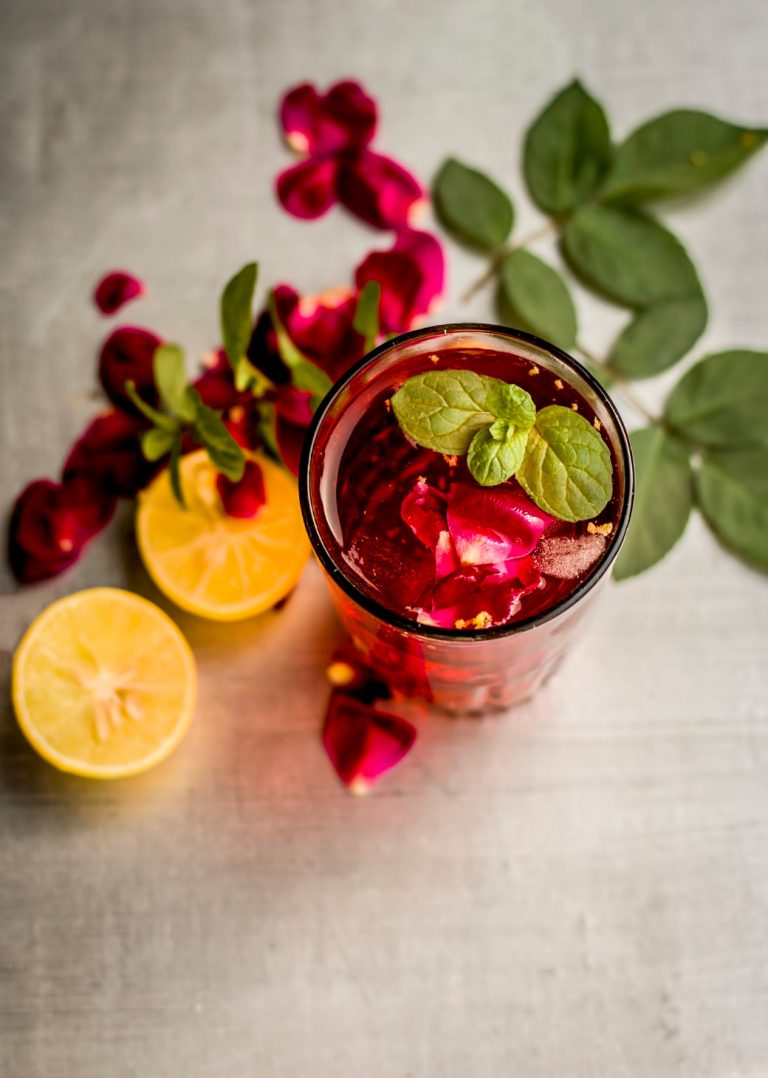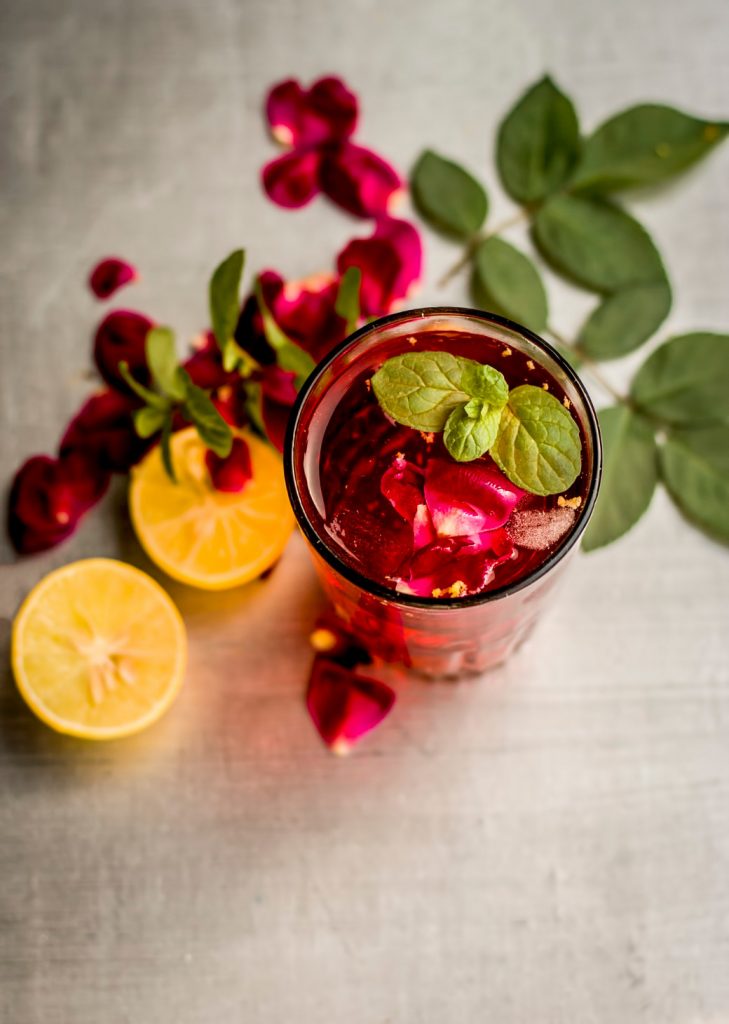 An elegant rose-flavoured cooler enriched with almonds, sunflower seeds and peppercorns.
Cooking time: 15 minutes
Serves: 4-5
Ingredients:
A few rose petals
2 tbsp rose water
2 cups of milk
Sugar, to taste
10 peppercorns
4 tbsp sunflower seeds
3 cups cold water
150 g almonds, blanched
Method:
Put the almonds, peppercorns, sunflower seeds and a cup of water in the grinder. Grind until smooth and add more water if the mixture seems too dry. 

Strain through a muslin cloth into a jug pressing to extract the maximum flavour. 

Return the mixture remaining in the cloth to the blender with the rest of the water. Blend and strain once more.

Add the milk and sugar. Stir and check sweetness.

Add the rose water and chill if needed.

Serve garnished with rose petals.
4. Aam Panna
A superb sweet and sour cooler for your guests. Make it as often as you can!
Cooking time: 20 minutes
Serves: 6
Ingredients:
6 mint leaves
A pinch of chaat masala
Black salt, to taste
4-5 tbsp sugar
2 cups of water
500 g mangoes
1 tsp cumin powder
Method:
Roast the cumin seeds lightly. Dry grind.

Wash the mangoes well. Cut off the tops and let the slightly oily substance ooze out.

Put them into the pressure cooker with the water. Close the cooker and allow it to reach the maximum pressure. Turn down the heat and keep it for 10 minutes.

Remove from fire but let the pressure reduce on its own. Open the cooker and remove the skins and seeds and whatever pulp is sticking to them. This is best done using your hands.

Put the water in the cooker along with the pulp and the rest of the ingredients except the mint leaves into the grinder jar. Blend until smooth. Check sweetness. 

To serve, pour some of the mango mixtures into a glass, top with crushed ice and water and a few mint leaves. 
5. Boorani
A cooling curd-based, mint-flavoured cooler that besides being refreshing is an excellent digestive. 
Preparation time: 10 minutes
Serves: 4-6
Ingredients:
6 cups of water
1 cup curds, lightly beaten
1 tsp black salt
5 whole peppercorns
1 tsp ground coriander leaves
1 ½ ground mint leaves
½ tsp coriander seeds
1 tsp cumin seeds
Method:
On a griddle, lightly roast the coriander, cumin and peppercorns. Dry grind to a fine powder.

Mix the water with the curds and stir in all the ingredients. Stand for half an hour then strain.

Serve chilled.
6. Pineapple Quencher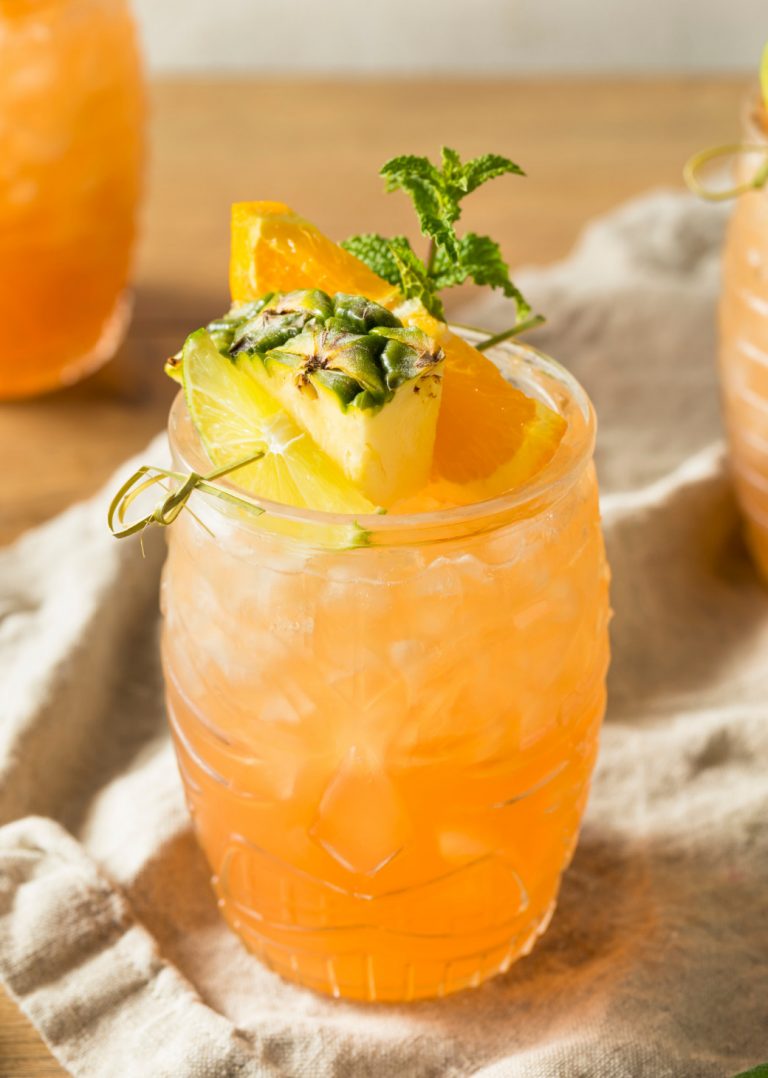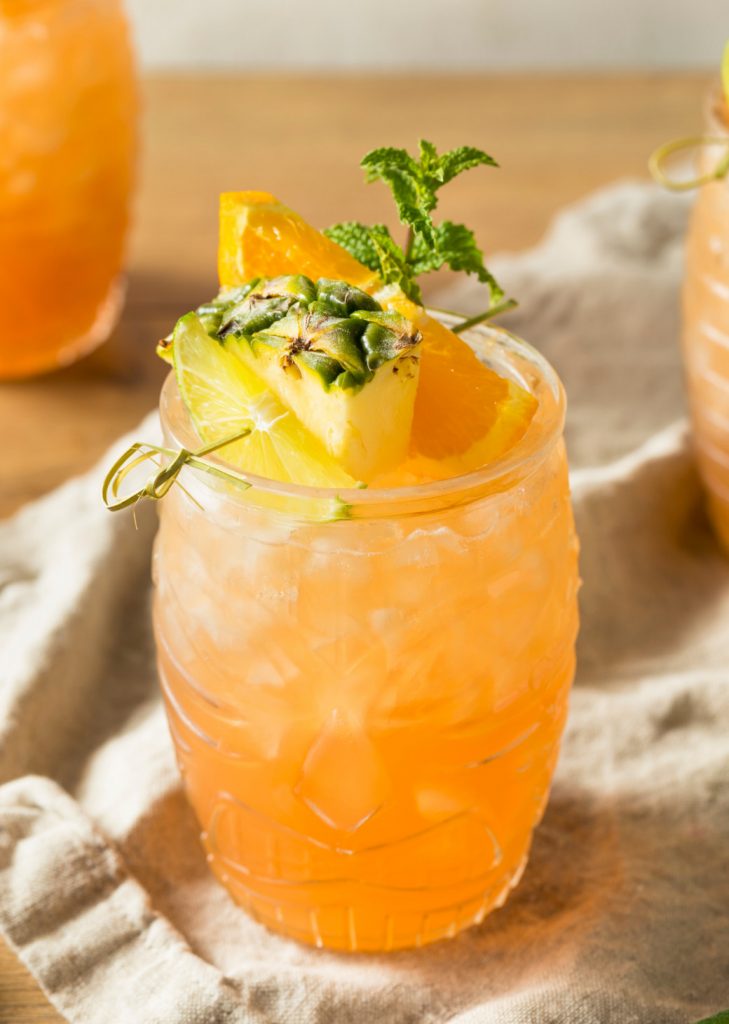 This is the Goan way to cooling down — a pineapple-flavoured drink laced with coconut feni guaranteed to start your evening the right way!
Preparation time: 5-10 minutes
Serves: 1
Ingredients: 
2 slices of pineapple
Crushed ice
1 measure coconut feni
1 measure lemon juice
3 tsp sugar
Method:
Cut the pineapple into chunks and blend with feni, sugar and lemon juice for 20 seconds. 

Pour the crushed ice into a tall glass. Pour over the blended drink and serve immediately, garnished if you like with half a slice of pineapple. 
7. Imli ka Amlana
This Rajasthani antidote to the summer heat is a superb sweet and sour cooler. 
Preparation time: 10-15 minutes
Serves: 6
Ingredients: 
12 mint leaves
Salt, to taste
4 tbsp sugar
½ tsp black salt
2 green cardamoms
A few peppercorns
12 cups water
1 cup seedless tamarind
Method:
Soak the tamarind in the water for 5 hours. Squeeze it gently with your hands then strain the pulp. The easiest way to do this is by using a muslin cloth or a large plastic strainer. Discard the fibres that may be left behind. 

If you need to, you may adjust the consistency of the tamarind liquid as you prefer i.e. make it a little thinner.

In the grinder, grind the cardamoms and pepper to a fine powder. Add it to the tamarind along with the rest of the ingredients. 

Stir, taste to check seasonings and serve chilled, garnished with mint.
8. Party Punch
An excellent alternative for those who want to drink something delightful. This party punch is a food idea when you're entertaining a large number of guests.   
Preparation time: 25-30 minutes
Serves: 14
Ingredients:
5 bottles of aerated orange drink
5 bottles of soda water
30-40 fresh mint leaves, washed and immersed in cold water
6-8 tsp ginger juice
100 g grapes
2-3 chikus
2 small bananas
6-8 oranges or other citrus fruit like malta or kinos
2 medium-sized apples
1 pear
6-8 tbsp sugar
4-5 lemons
Method:
Squeeze out the juice from the citrus fruit using a juicer. 

Extract the juice from the three lemons. Add to the juice of the fruits. Cit the remaining lemons into thin slices and keep them aside. 

Add sugar to the juices and check the sweetness. Add more sugar if needed.

Peel and chop all the remaining fruits into small, neat pieces. As you keep cutting, drop the pieces into the juice to stop them from discolouring. 

Add the ginger juice.

Chill the mixture for at least 4 hours.

To serve, put 2-3 tablespoons of the fruit mixture into a small glass and top up with equal quantities of soda and the orange drink. Garnish with a mint leaf and a thin slice of lemon. 
9. Kahwa
What can be better on a winter's day than the Kashmiri remedy for banishing the cold?
Cooking time: 15 minutes
Serves: 3
Ingredients:
3 tsp sugar
2 almonds, blanched and crushed or slivered
1 small piece of cinnamon
1 large green cardamom
2 strands saffron
½ – ¾ tsp green tea
Method:
Add the tea, crushed between your palms to the teapot, containing 2 cups of water and the saffron. While waiting for the water to boil, arrange 3 warmed cups and saucers on the tray.

In a dry gender, powder the cinnamon and cardamom.

Divide the almonds, cinnamon and cardamom equally between the cups.

As soon as the tea boils, add sugar, stir and strain into the cups. Serve piping hot.
Shristi is an avid reader, recipe developer and wellness enthusiast. She's probably making a mess in her kitchen right now.