Top 6 Indian Restaurants in Canada
Canada is known for its clean air and gorgeous landscapes that leave us all enthralled as we travel along the long coastline. It is a country filled with people of varying origins and upbringings most of whom happen to be super friendly. Canadians are can be found to be very passionate about sports, history, arts, etc. Which often reflects in other aspects of their day-to-day life, especially in their food.
The food in Canada is sprinkled with culture from all around the world. Most millennials even consider themselves foodies and are passionate about many international cuisines. 
One of the local, as well as tourist favourites, is Indian food. This cuisine has seen a world of change here in Canada, as many experiments with different versions and fusions. However, none can compare to the original and real roots of Indian cuisine. From its spicy dishes enveloping all your senses to its sweet syrupy desserts and finally some soothing chai to wash it all down, this cuisine leaves you wanting more every time. 
So here are 6 true-to-their-name Indian restaurants in Canada to keep you happy and satisfied with each bite.
With a rating of 4.4 Stars and over 1000 raving reviews, the infamous SULA Indian Restaurant satisfies your appetite for an authentic Indian meal. Its chic and rustic interiors, complete with a koi pond and a waterfall, make for a unique and relaxing dining experience. 
The food served here is said to be delicious and nothing short of spectacular. SULA offers a variety of options to pick from like street food, tandoor, curries, bread and desserts. Some highly recommended dishes are the Papdi Chaat, the Chicken Tikka Masala and the Chicken Kadai. Their menu is highly informative and gives you great alternatives with its vegetarian, gluten-free, vegan and dairy-free menus. SULA is the most highly recommended Indian restaurant in Canada.
Cost: CA$65 for two people (approx.) 
Locations: 
4172 Main Street, Vancouver BC
(604-874-5375)
1128 Commercial Drive, Vancouver BC
(604-337-2166)
Opening Hours: (Mon-Sun)
Indoor Dining: 12 PM to 9:30 PM (Dining Room Closes 10:30 PM – 11 PM) 
Home Delivery: 4:30 PM to 9:30 PM
Owned by celebrity chef Vikram Vij, this taste of Indian culture is a must-try. The service that is said to be excellent is only outdone by Vij's mouth-watering dishes. The pork spoon with apple-mint chutney and lamb popsicles has been a hit with most diners. The decor is classic complete with good Indian music. They are also gluten-free, dairy-free and vegan-friendly. 
Cost: CA$100 for two people (approx.) 
Location: 
3106 Cambie St. Vancouver, BC V5Z 2W2
(604 736-6664)
Opening Hours: (Mon-Sun)
Dine-in, Takeout and Delivery (via food apps): 5:30 PM – 10 PM
Walk-ins: Welcome at all times, but you can visit the reservations page to be sure to secure a table.
Advertised as authentic Indian Flavours, this local favourite holds up its reputation. This restaurant is quite popular due to its polite and welcoming staff, pleasant atmosphere and oh-so-delicious Indian cooking. The Chhole Bhature, Butter Chicken and delicious Mango lassi are just a few of the many recommended dishes you can try. There are both veg and non-veg options to pick from and they are also halal.
Cost: CA$30-$40 for two people (approx.) 
Location: 
610 Rideau St, Ottawa, ON, Canada
(+1 613-789-2220)
Opening Hours:
Dine- in (Mon – Sun): 11 AM – 9.30 PM
Buffet Hours (Mon – Fri): 11 AM – 3 PM
Spicy 6 is a popular restaurant located in Vancouver. It is renowned for its quick service, clean and neat presentation and polite staff. If you are looking for some delicious and reasonable food, this restaurant is your go-to. The Prawns Vindaloo and Daal Makhani served at Spicy 6 are highly recommended. It is an all-round great dining experience for your next spicy Indian food craving. They are also gluten-free, and vegan friendly.
Cost: 
Dinner– CA$50 for two people (approx.)  
Lunch- CA$30 for two people (approx.)
Location: 
1116 Robson St, Vancouver, BC, Canada
(+1 604-336-7999)
Opening Hours: (Mon-Sun)
11:30 AM – 10 PM
Located between Vancouver and Burnaby, this popular Indian restaurant really allows you to experience a true Indian dining experience. Often found to be one of the most delicious Indian restaurants in Canada, the authentic and flavourful food at Agra Tandoori is a must-have. The Dal Tudka and Lamb curry comes highly recommended as well as Fish Pakore. You can try out the specially curated meal for two with both vegetarian and non-vegetarian options. They also offer a Lunch special as well as a take-out special. 
Cost: CA$45 for two people (approx.) 
Location: 
3790 Canada Way, Burnaby, BC, Canada
(+1 604-430-1600)
Opening Hours: (Mon-Sun)
11 AM – 10 PM
This small slice of Indian Cuisine has much to show for its incredible service staff and welcoming ambience. The food quality is impeccable and really serves to satisfy your cravings for a genuine Indian meal. They cater to most unique dietary customers including vegetarians, vegans, gluten-free and halal. They also offer delivery and takeout. You can also try the lunch buffet for a great value meal.
Cost: CA$40 for two people (approx.) 
Location: 
255 Queen Street West, Toronto, ON M5V 1Z4
A 2-minute walk from the Osgoode subway station 
(416 205 9836)
Opening Hours: (Mon-Sun)
11:30 AM – 10 PM
In Conclusion
Of late, Indian Food has become one of the most popular international cuisines in Canada. It is comfort food to most and even a portal to home for a lot of Indian natives. This concise list of Indian restaurants will help you if you are searching for Indian chef jobs in Canada. In addition, it will not only give you an easier choice for your next night out but will hopefully bring you a step closer to appreciating the deliciousness that is Indian food. 
Have you tried any of these restaurants? How was your experience? Let us know in the comments section below!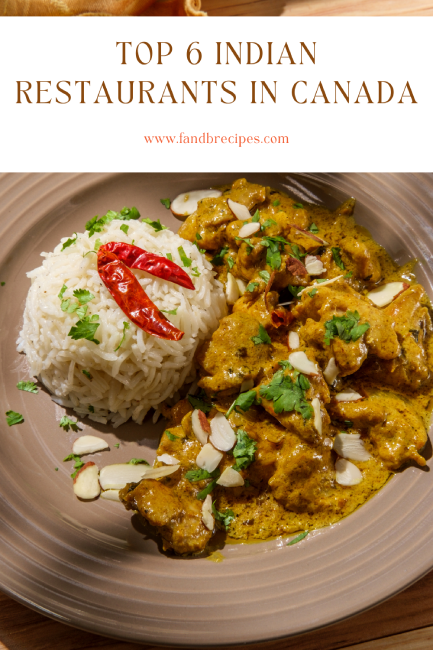 Danielle is a content writer with a love for books, music, and lifestyle blogs.