Great Indian Cuisine: Recipes From All Over India
Just like sports, food has a great way of bringing people together. Every region cooks a little differently than the other. However, no matter how different the taste may be, we all like trying out something new. Imagine a country where you just cannot choose a favourite food item – that's India for you! A special dish has its origin from every nook and corner of the country. The Great Indian cuisine has endless varieties. Be it the spicy Pani Puri or the piping hot sweet Jalebis. Indian cuisine as a whole has so many sub-cuisines. However, a lot of credit for the greatness of this cuisine goes to the Indian spices! 
India is known far and wide for its wide collection of herbs and spices. However, the country's natural abundance has a lot to add. This land of cultures is not just diverse in religion but in food as well. In fact, a lot of Indian cuisines are heavily influenced by religion. There are also plenty of staple Indian foods that are a regular part of the diet. For instance, rice, wheat, lentils and millets. These are foods which are found in almost every Indian home. Even certain pulses are super popular amongst the Indians. Therefore, Indian cuisine is rich and varied. The taste of the Tadka and the spice magic makes any dish Indian.
India is also a great place for vegetarians. Vegetarians often seem to lack food options. However, this country is home to an endless variety of vegetarian dishes. The cuisine makes you feel an entire package of different flavours. Be it sweet, hot or spicy, the Indian curries have it all. Be it your Malai kofta or the spicy chicken curry. Your curries can be a different colour as well as a different consistency. 
What is The Great Indian Cuisine?
Indian cuisine undoubtedly uses different flavours. However, its greatness lies in its influences. Each place that you visit, will give you a slightly different version of the same dish. The Idli-Sambar in Andhra Pradesh tastes way different than it does in Karnataka. Similarly, the famous Pav Bhaji has so many different versions within the same country. It in fact has different names in different regions! You will actually find people arguing over which version tastes better. Therefore, one can easily divide the country into four halves: north, south, west and east. Each half brings forth its own style and culture.
North Indian cuisine is definitely a dominant half. Almost every restaurant in India serves this cuisine. It is rich in flavours and definitely has a lot of famous curries under its name. Garam masala is the typical spice that is added to north Indian dishes. On the other hand, the south is an entirely different zone. Whenever people think of south Indian cuisine, they immediately think of Idli, Dosa and Sambar. However, there is so much more! Right from the lentils to the vegetables, one can easily notice the difference between north and south preparations. They have such distinct tastes. For instance, flatbread is replaced by rice.
The west is often looked at as a sweeter zone. Dishes coming from the west usually do have a little bit of sweetness in them. These places have also had a lot of influences from other countries. This is because of them being along the coastline. On the other hand, the east is famous for its sweets too. However, the non-vegetarians, especially the seafood in this part of the country, are amazing. This was a brief overview of the vast array of dishes that belong in the Great Indian Cuisine.
Great Indian Cuisine: Recipes From The North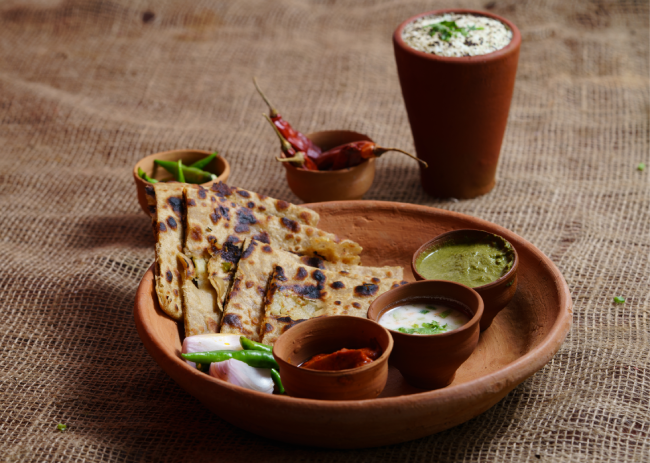 Pure desi ghee and fresh cream: you're already thinking about North Indian cuisine, aren't you? This cuisine is rich in spices and flavours. Here are some incredible recipes from the north:
Chole Bhature

: A hot plate of Chole Bhature in Delhi is all you need to get back any lost energy. The chickpeas are so flavourful and the fluffy Bhaturas are always a treat!

Butter Chicken

: If you are a non-vegetarian in India, this is not a dish you want to miss! It can be your perfect balance between creamy and spice.

Stuffed Parathas

: North Indians are known for their stuffed parathas. Some butter on top as well as the flavorful green chutney. Voila! Here's your north Indian breakfast.

Rajma Chawal

: This Punjabi red kidney bean curry with steamed white rice makes for a wholesome lunch!

Rogan Josh

: You can see the richness of the name on the dish too! The Kashmiri red chillies really come through in this lamb stew.

Dal Makhani

: This lentil recipe will leave you stunned. It is rich, creamy and the best with some garlic naan along. This is easily one of the dishes ordered at a North Indian restaurant.

Paneer: You have no idea the number of different curries that revolve around paneer. You get one in almost every flavour, be it Kadai, butter or shahi! 
Kheer

: This rice pudding is filled with cream and nuts. It is among the best Indian desserts to end your day with!

Dal-Baati

: This stuffed Baati from Rajasthan is another famous and authentic north Indian dish. Not a lot of people can make the perfect Dal-Baati Churma.
This is just a glimpse into some of the most popular dishes. However, North India has way more to offer. The parathas, the chaats and the endless collection of curries!
Great Indian Cuisine: Recipes From The South 
The flavours from south India are something else. They cannot be replicated that easily. The taste of their curry leaves hits the best only when in the south. Some of the most popular recipes from south India are: 
Dosa

: You have some stalls selling more than a hundred different varieties of this dosa today. This simple batter-based dish served with hot sambar and chutneys is the perfect combo.

Idli

: A South Indian breakfast is incomplete without the softest idlis! These are again the magic of batter and are amazingly simple to create. However, people still have a hard time making them right.

Vada

: Another great breakfast option you cannot miss. South Indians do love using their batter for different items. However tasty this option is, it is best dipped in a bowl of hot sambar.

Curd-rice

: Sounds simple, right? Just curd plus rice. It is simple indeed. However, you can feel the difference in taste within seconds. This is a typical south Indian lunch.

Sambar

: Not a lot of people get this right. A Sambar is a very authentic preparation of veggies and dal. It is packed with flavours and is a go-to South Indian side dish. 

Rasam: People often don't understand Rasam. They usually refer to it as soup. However, this spicy flavour bomb is a typical South Indian side dish.
Chicken curry

: You have your Chettinad style and your Andhra style. The cooking of chicken in southern India is spicier and distinct. 

Chicken Biryani

: The Hyderabadi Dum style is the only justice to this form of biryani. 
Rice and curry leaves have a huge role in the typical South Indian diet. You will find a huge variety in rice preparation and you will find a curry leaf in almost every dish!
Great Indian Cuisine: Recipes From The East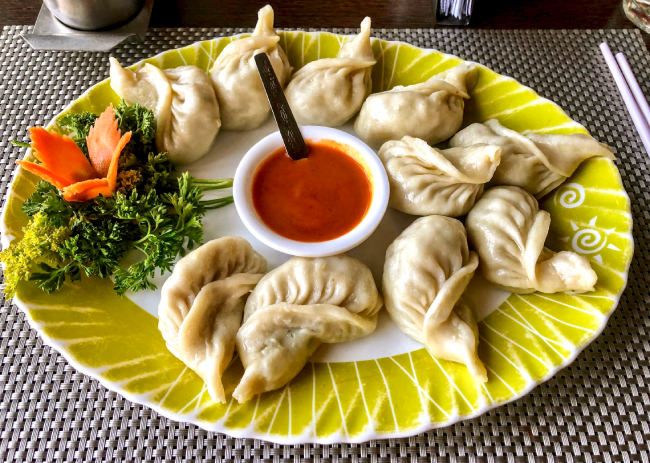 The East and its authenticity are unmistakable. The richness and vast difference between each corner of the East is the beauty of the Great Indian Cuisine. Here are some really popular dishes from the East:
Rasgulla

: Almost every Indian craves these round sweets from Kolkata. This popular syrup-based sweet looks like a dumpling. However, the taste is way different. 

Litti-Choka

: This Bihari dish dipped in pure desi ghee is a delight. It's only a stuffed ball of dough. However, its combination with the Choka makes it a lovely dish. The Choka is filled with a lot of spices alongside potatoes and eggplant.

Machcher Jhol

: Not a lot of places can match the taste of having fish curries in West Bengal. It's absolutely heavenly. It's super easy to cook and is a staple food in Bengali homes.

Momos

: Shocking to see this item make the list? You won't be so shocked after having momos from the state of Sikkim. This delicacy is the best tasted in North East India.

Dalma

: This Odisha Dish is made using chickpeas and veggies. It is healthy yet flavourful. Even in its original state, Dalma tastes different from place to place. That's the beauty of the Great Indian Cuisine.

Thukpa

: This soupy dish from the North East is flat noodle based. It is a dish which can be modified in terms of the veggies and meat you wish to add. However, it is a great comfort dish during winters.
Therefore, food from the east has its own distinct identity. Each state has a different way of preparation and different flavours to add. However, sweets from Kolkata are the best in the country. There is no beating the milk-based sweets which come from here. 
Great Indian Cuisine: Recipes From The West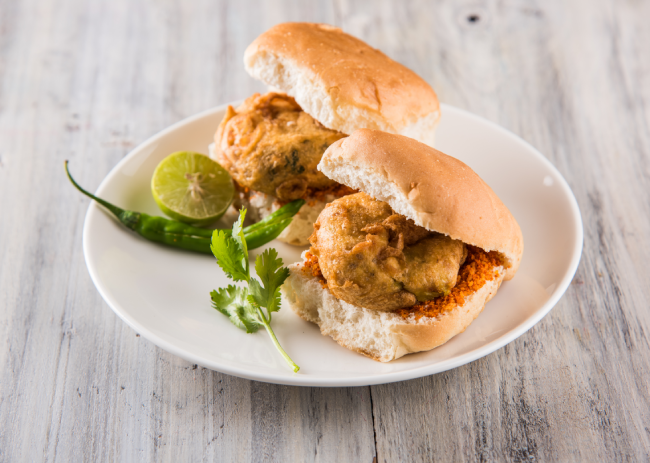 Dishes from the west do have it in them to possess a bit of sweetness. This cuisine is definitely meant for those with a sweet tooth. Here are some of the most popular food items from West India:
Vada Pav

: This obviously had to be here! No one can make a simple Vada Pav as good as the state of Maharashtra can. The people there as it is cannot survive without Pav. However, this snack item is just perfect with its spicy vada inside.

Bombil

: This fish from Bombay waters is super soft and delicate. Its marination makes it taste excellent after being deep-fried.

Thepla

: Gujaratis love their Thepla! Any journey they take is incomplete without it. It is simple yet packed with flavours. They are super thin and taste delicious with some pickle or chutney.

Goan fish curry:

This fish curry is a typical Goan dish. You can actually taste the tamarind and the coconut in the curry. This fish curry with a plate of steamed white rice is just incredible.

Dhokla

: This is one of the favourite Gujarati snacks. This yellow spongy dish is in fact refreshing to eat. It is a great evening snack with some coconut or tamarind chutney on the side.

Misal Pav

: This is a Maharashtrian favourite. The Misal is a very spicy curry usually made using moth beans. On the other hand, Maharashtrians prefer eating almost anything with a Pav on the side!
Therefore, the great Indian cuisine from the west is varied too. Every state has a different identity and taste. You may like some Jalebi Fafda in Gujarat while you may like your Samosa in a Pav in Maharashtra.
Other Famous Regional Recipes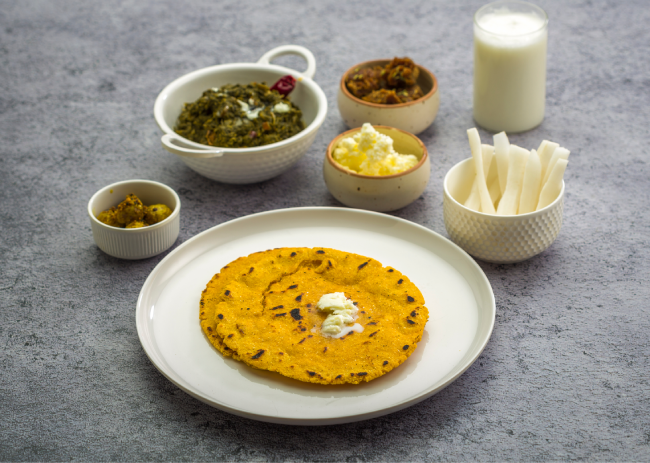 Some famous recipes just cannot be missed. Therefore, here are some famous regional recipes from the great Indian Cuisine:
Makki Di Roti with Sarson Da Saag

: Straight from Punjab, this corn and mustard meal is finger licking. Have this with a huge glass of Lassi and a lot of butter to be left spellbound.

Pongal

: This is a traditional Tamil dish is like porridge made with rice and Moong Dal. It is usually consumed during breakfast. People usually take either sambar or chutney with it. 

Papaya Khar

: This Assamese dish is made using raw papaya and pulses. You can also add your favourite meat to it. This entire curry is then passed through banana leaves and is eaten along with steamed rice.

Pootha Rekulu

: This famous sweet dish is from Andhra Pradesh and is made using rice batter. In addition, even ghee and sugar are added to it along with different dry fruits.

Kafulo

: This nutrition-packed dish is from Uttarakhand. This dish is made using fenugreek leaves and spinach leaves. It is served along with steamed white rice. 

Rugra

: This is another nutritional dish but it comes from Jharkhand. This particular vegetable tastes like mushrooms and is mostly available during the rainy season.
Decadent Desserts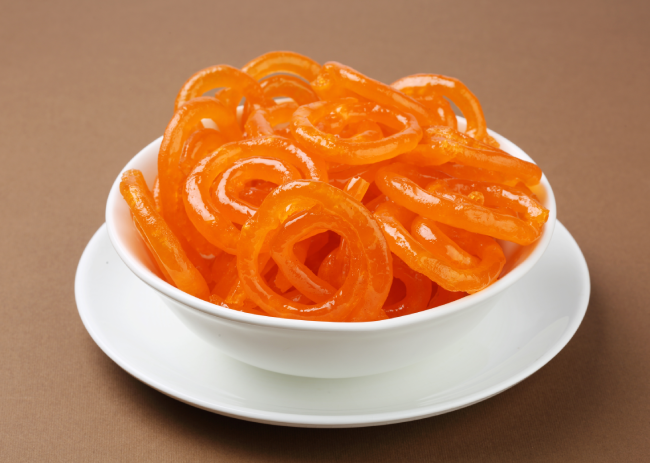 Indian sweets can have a big collection of their own. There are endless amounts of sweet varieties from every nook and corner of India. Some of the most popular decadent desserts from the great Indian cuisine are:
Gulab Jamun

: This round and soft ball of sugary delight is just what you need after a good meal. You know you have eaten the right gulab jamun when you taste that syrup in your mouth.

Kaju Katli

: This is a famous dry sweet that can be found in every Indian Puja. It is basically a fudge made out of cashews. They also have a silver layer on the top and are cut out in the shape of a diamond.

Mishti Doi

: The name itself takes you to the city of Kolkata. This dessert is in fact just sweetened yoghurt. However, be careful, you can get addicted!

Jalebi

: Just looking at a Jalebi being made is so satisfactory. The spiral shape and the crunchiness of hot jalebis is absolutely wonderful. Everyone wants to bite into it along with some thickened milk on top.

Halwa

: Be it Dal, Sooji, or Gajar, Halwa is this simple Indian dessert that is common to every household. People also add dry fruits to the Halwa to enhance its taste.

Aam Papad

: Imagine having mango jelly all throughout the year! This dessert made out of sun-dried mango pulp is super simple and yummy.

Malpua

: This is your Indian version of pancakes. However, way sweeter and eggless. They are super fluffy and absolutely delicious to eat.
The list of Indian desserts is never-ending. However, each sweet represents Indian flavours in the truest sense.
FAQs: 
What Is The Best Indian Food Ever?
Food is a very subjective topic. What one may like may not seem tasty to another. It is highly dependent on a person's taste buds and liking. In addition, choosing from the great Indian cuisine is a huge task. There are so many dishes that are so different in taste. Therefore, choosing the best Indian food is impossible! On the other hand, it is our Indian spices which actually make our food stand out. It is also our tradition and culture which reflects in these food dishes. Even if I were to give a personal answer, it would be impossible to choose.
What Is India's Famous Food?
There's no specific food which is famous as such. There have been quite some dishes which have gained worldwide recognition though. However, Indian curries are definitely the most popular. In fact, people immediately associate the word curry with Indian. The tomato-based gravy with a blend of spices and herbs: that's your typical Indian curry. Therefore, that's definitely India's famous food.
What Are The Top 10 Indian Dishes?
Ranking so many dishes from the great Indian cuisine is a huge task. However, if these were to be divided into broad categories, then these are some dishes you should try when in India:
The wide range of chaats including the famous Pani Puri

Traditional Thalis

Flatbreads especially Naan and Kulche

Biryani

The Rogan Josh

Seafood from the coastal regions

North Indian curries

The typical South Indian breakfast 

Sweets from Kolkata
What Is A Traditional Indian Meal?
Almost every state in India has something called their traditional Thali. This Thali represents the flavours of the typical meal in that region. Therefore, a traditional meal differs from place to place. For instance, a south Indian meal would have Sambar and Rasam. However, a north Indian meal would have Dal and Kadhi. Although there are some common items which are found in every traditional Indian meal such as flatbreads, steamed white rice and Dal (lentils). Each tradition also has curries typical to their region and culture.
Which State Food Is Best In India?
As mentioned earlier, such questions have very subjective answers. If you were to ask a person from any state, they would choose their own. It depends a lot on how a person feels about the taste of that state. A person with a very spicy palette, may not enjoy food from the western states. On the other hand, some may find that sweetness balanced and like it too. Therefore, it all depends on your tastes and preferences. Almost every state in India has food specialities one cannot ignore.
In Conclusion 
All in all, the Great Indian Cuisine is a massive fusion of several cultures and traditions into one. It represents a great blend of spices and diversity. However, globalisation has left its impact here as well. 
A lot of Indians are actually unaware of the different types of dishes they have in their own cuisine. However, there is a massive taking to American fast-food joints instead. There is also a lot of liking for Italian cuisine. People love having pizzas and pasta! However, how many of us really know about Litti-Chokha? Very few. That's the difference!
Indian food is not typical. It isn't so predictable either. This is because of the variety of ingredients that go into making each dish come to life. Even a plate of Bhel Puri or Sev Puri on the road has several things holding it together. It involves making that Puri followed by the filling which is also quite interesting. This is the beauty of how Indian dishes are flavourful and complex in their own ways. 
Desi ghee and oil are a huge part of how most dishes are cooked. However, the abundant usage of veggies balances that. Every part of India has something different and unique to offer, be it Rasam or Dal Makhani. Or be it your lovely Hyderabadi Dum biryani or Delhi's famous Chole Bhature. It's a treat to be on the road and explore your own taste palette along with tasting the best of the country!
What are your favourite dishes from the Great Indian cuisine? Is there a specific regional Thali that you really enjoy? Let us know in the comments section below!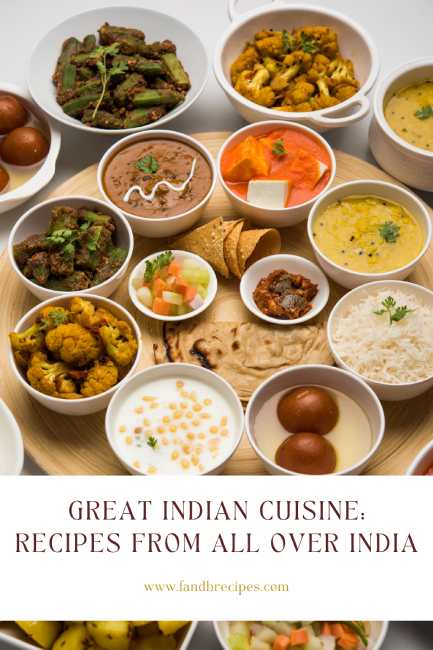 Paridhi Maheshwari is a content writer at F and B Recipes and Snazzy Women. She's an aspiring journalist aiming to cover human interest stories through the power of her words.