Masala Indian Cuisine: Flavourful Recipes Using Indian Spices
If you have ever had Indian food, there is one thing that definitely comes to mind: the spices. However, people often don't realise that these spices are not just to make dishes spicy and hot. These spices are also used to pack in a lot of different flavours in each dish. These are the ones that help curate the famous Masala Indian cuisine. 
Indian cuisine is known for its spices and herbs. Every savoury dish from India is incomplete without it. Each Indian home may or may not have vegetables but they will definitely have a masala box to store their spices. That's how important it is to Indian cuisine.
However, when it comes to objectively defining this cuisine, it isn't that easy. This is due to the amount of variety it has. Every place in India reflects its culture through a change in language, tradition and food. The same language may have numerous different ways of being spoken in a single state. The diversity is so wide. Therefore, food being influenced is no exception. Almost every state has a spice they specifically use the most. 
If Kashmiri households boast of the Kashmiri red chilli, a South Indian house is incomplete without its curry leaves Tadka. Each place boasts its own variety and range of spices. However, each is a part of the Masala Indian cuisine.
Therefore, Indian cuisine comes with a distinct colour, aroma and flavour. Our red curries are famous all around the world. Almost any foreigner will know about the famous Chicken Masala curry from India. You can actually experience the boldness of flavours while trying out the different Indian curries. They are strong and also a little typical. One can actually start to notice how certain curries have similarities in terms of taste. 
What is Masala Indian Cuisine?
Masala in normal language means 'spice'. These spices could be in the form of powder, seeds or whole. The masala we add to any Indian dish is a blend of spices added to pack some punch into it. Even the kebabs that are eaten are marinated first. This marination is mostly just spices. There is coriander, cinnamon, cumin and so many more that are added to each recipe. These dried spices and herbs are often mixed together in various combinations. These combinations vary based on the dish as well as the taste you are going for. 
These are also the heart and soul of any Indian savoury dish. Some of these herbs and spices also have medicinal properties. However, they can also be a cause of a lot of heat in your body when eaten too much. Therefore, they must be consumed in decent amounts. You must ensure that all spices together are in balance with the flavours of your dish. There are so many Indian spices one can choose from. Almost every preparation begins with the addition of these masalas. Therefore, they form a huge part of that ingredient list. In fact, the names of several Indian dishes contain the word "masala" in them. 
Understanding the compositions of these spice mixes is also important. One must know that before adding it to their food. This helps you prepare a balanced dish in terms of flavour and texture. Even a slight imbalance can make the taste really unpleasant. However, the right balance can make your Indian dish a tasty success! This is how masalas enhance Indian cuisine and form a core part of it. This is also another reason why many Indians think that food abroad is a little "bland" for their taste.
How Many Types Of Masala Are There In India?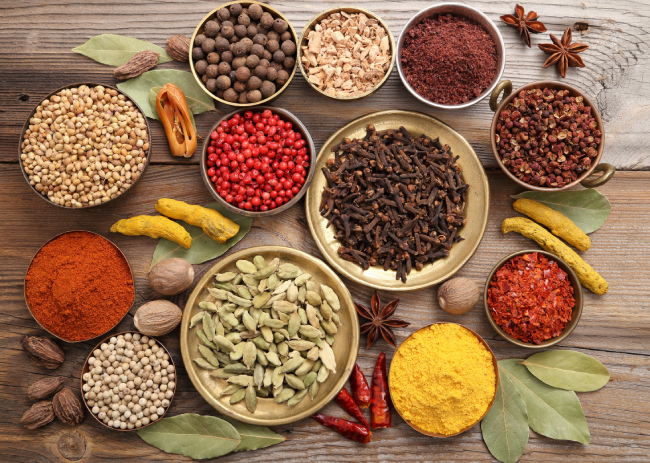 The right masala mix can either make or break your dish. While all these masalas can be purchased in stores and online, some are also made at home. Some of the most popular and used ones are:
Garam Masala: This is available in almost every Indian household. It has an intense taste and is usually roasted. They are roasted until brown and are ground into a light powder. The garam masala includes:
Black peppercorns

Cardamom Seeds

Cinnamon Stick

Cumin Seeds

Coriander seeds and cloves
Chaat Masala: As the name suggests, it is very much a masala like the normal Indian chaats: tangy and spicy. It has a very sharp flavour and gets it from dried unripe mango called Amchur. In addition, even black salt is added to this mix. They too have to be ground into a powder. This masala can be made using: 
Coriander and cumin seeds

Amchur

Ginger 

Salt and black salt

Black peppercorns and asafoetida
Sambar Masala: It's popular in South India. This masala is available in shops and can be made at home too. You roast the following spices and pound them into a fine powder. The spices used are:
Split chickpeas

Fenugreek and coriander seeds

Dried Red chilli 

Mustard seeds 
Gunpowder: This is another very famous masala combination from south India. Plenty of people actually just eat their idlis using this masala. The spices used while preparing gunpowder are:
Dried Red chilli 

White sesame seeds

Split chickpeas, as well as urad dal, are also roasted to help with the making of the gunpowder.
Tandoori Masala: This is a masala that's dominant in terms of flavours. It is made using the most commonly used spices in the Indian kitchen. They are:
Cloves and Cinnamon

Cumin and coriander seeds

Salt

Ginger and garlic

Turmeric and chilli powder.
Masala Indian Cuisine: Vegetarian Specialities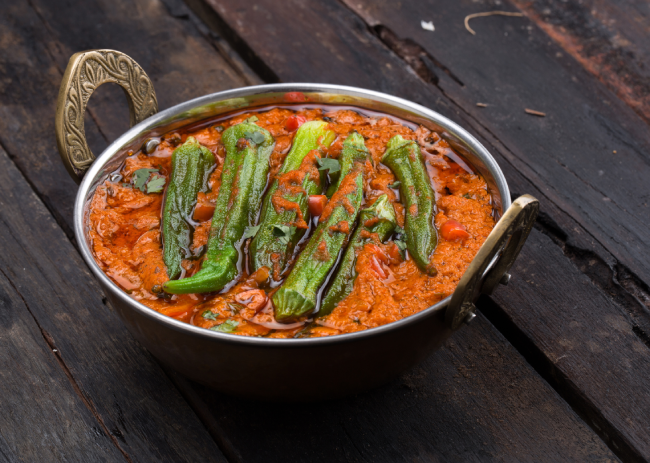 Almost any savoury dish in Indian cuisine includes masala. However, this masala Indian cuisine can be divided on the basis of its core ingredients. Here are some popular vegetarian specialities that you may enjoy:
Bhindi Masala

: Bhindi is okra. Garam masala is among the many spice mixes used while preparing this okra dish. It is also a super easy recipe to make. All you need to do is roast it with some garlic, coriander and onions. 

Chole

: This chickpea dish in fact also has a masala dedicated to it at stores. It is called the chana masala. The gravy of this dish is packed with spices and flavours. It is an absolute delight to have it with a flatbread or some fried Indian bread.

Chaats

: Be it some papdi chaat or samosa chaat, every chaat has some amount of red chilli powder, salt, pepper and chaat masala added to it. Without these elements, a chaat would not feel like itself. These minor spices play a huge role in their essence.

Dal

: The Indian dal is an absolute delight to eat. Be it any lentil, adding in some chillies and spices makes all the difference. It adds in that punch which will make you take another cup of dal. You may not even need rice on the side to help you eat.

Paneer Tikka

: This is a common Indian starter eaten by vegetarians. It is made using marination. This is similar to how kebabs are prepared. This is made using various different spices which are generally used to make the tandoori masala.

Samosas

: This mini conical delight is a loved snack by all Indians. However fried its outer surface is, the filling is extremely powerful. The mashed potato inside has too many spices, from amchur powder to garam masala.
Masala Indian Cuisine: Chicken Specialities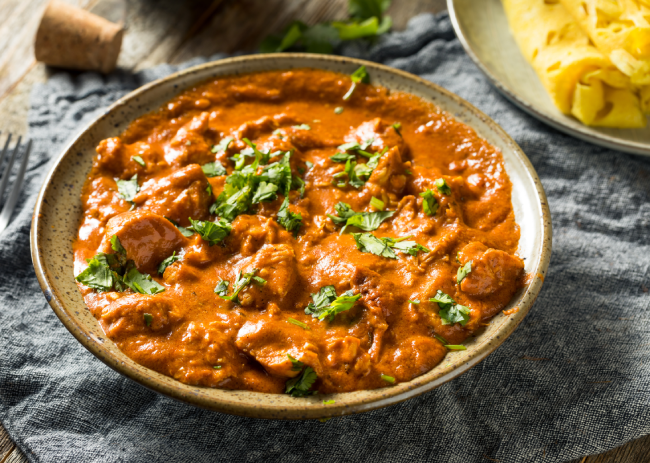 The Indian chicken dishes are super famous all around the world. Indians really do know how to prepare a wholesome chicken meal which is filling and flavourful. Here are some popular chicken items that are a big part of Masala Indian Cuisine:
Chicken Butter Masala

: Every Indian knows this dish. Even the ones who don't eat non-vegetarian food know of its existence. It's that popular and delicious. This dish is also sometimes called the

Murgh Makhani

. It is great magic between creamy yet spicy. The final dish is heavenly when eaten with some flatbread such as naan.

Chicken Tikka Masala

: Another chicken curry which needs no introduction. The marinated and grilled preparation before being added to the gravy really brings out the chicken's flavour. Both the marination as well as the gravy are packed with spices and herbs. This is what enriches its flavours.

Chettinad-style chicken curry

: This spicy South Indian version of chicken curry has a lot of spices. The ginger and garlic paste pack in even more flavour. The tenderness of the chicken as well the strong flavour makes this a spicy and irresistible combination. 

Chicken Biryani

: Be it the Hyderabadi style or the Mughal style, biryani needs spices! The flavour of any type of plain rice is bland and normal. Therefore, any rice preparation for that matter requires spices. However, when it is any form of meat biryani, the spices used are more focused on the meat. However, the usage of biryani masala is a must. 

Kadhai Chicken

: This recipe has plenty of different flavours in just one dish. It is super tangy and can be sweet-spicy in one bite. This dish also gets a little of its taste from tamarind, jaggery and lemon.
Masala Indian Cuisine: Lamb Specialities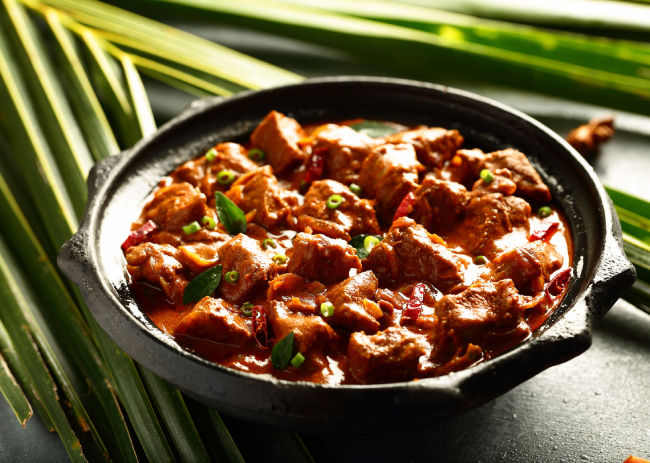 This may come as a surprise but mutton is actually pretty popular in India. From the Rajasthani Laal Maas to the Kashmiri Rogan Josh, all are excellent. Some mutton dishes of India are worth tasting once in your lifetime! Here are some popular lamb items which are a huge part of Masala Indian Cuisine:
The Laal Maas

: This particular lamb curry from Rajasthan is famous all over India. It is spicy and uses a special ingredient – the Kachri spice. This curry is hot and flavourful. Therefore, it is only for those who can tolerate a lot of spice.

Rogan Josh

: This curry is another spicy addition to the masala Indian cuisine. The Kashmiri red chilli and its flavour can be tasted while eating this curry. The well-cooked meat and the spices really make this Mughlai curry a special Kashmiri curry.

Mutton Korma

: This Korma is made using slowly cooked meat. This meat is slowly cooked in various spices and some cream. A lot of interesting ingredients go into making this Mughlai dish. It is a complicated yet super tasty lamb speciality.

The Chettinad Mutton Curry

: This curry is also called

Mutton Kuzhambu

. Chettinad is one place in Tamil Nadu famous for its spicy food items. Similarly, this dish is no less. It is made using a lot of freshly ground spices and is hot and spicy to eat. You can have this curry with some steamed rice or any Indian flatbread.

Kosha Mangsho

: This is the Bengali version of mutton curry. This mutton curry includes potatoes too! It has a very deep crimson colour and still maintains its balance of spices. The garam masala flavours run through this curry. 
Masala Indian Cuisine: Tandoori and Kebab Specialities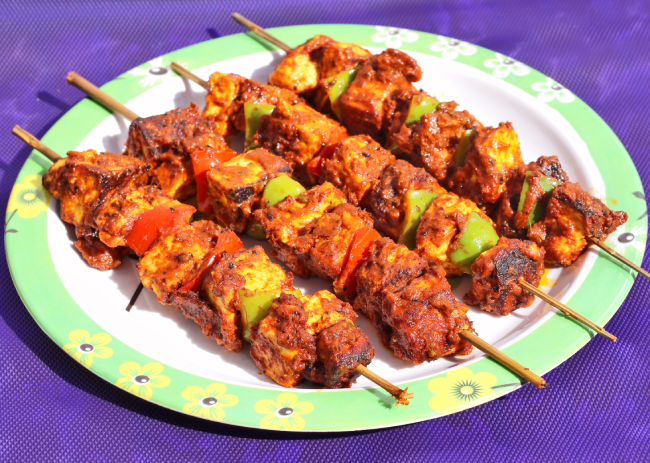 Everyone enjoys the charred and smoky flavour of items cooked on a tandoor. That's what gives it its unique taste. However, meat-lovers love it more. Here are some popular tandoori items which are a part of the masala Indian cuisine:
Tandoori Chicken

: This is absolutely a must-try for every chicken fan. The spice and yoghurt marination as well as the chicken pack in a lot of flavours. These chicken pieces and their aroma can make you drool all day long!

The Tandoori Naan

: Indians love their naan. This is among the most ordered flatbreads in restaurants. This could be because of how tough it is to get them right. Adding garlic to it makes it even better.

Tandoori Mushrooms

: Having your button mushrooms dipped in a rich thick and spicy marination is a sight to behold. Watching it cook on a tandoor is even better. You may not realise how much flavour those spices add to the mushroom. They make your mushroom taste way different.

Chicken tikka and its varieties

: If you've ever been to a kebab and tandoori place, you know the amount of variety you can select. You have kebabs and tikkas ranging from Malai to Haryali. Each different Tikka has a difference in its marination. However, its core marination of the tandoori spices remains mostly the same.

Seekh kebab

: Minced meat with spices and herbs? Wow, that sounds like a dream! It most definitely is. The smokiness from the tandoor makes the taste of this meat ten times better.

Reshmi Kebab:

This starter is a Mughlai starter. Its texture is so soft, hence its name. However, the kebab in itself is tender and juicy. The marination used is also pretty complex in terms of the elements used. There's a mix of spices and yoghurt. 
FAQs: 
What Is Masala In Indian Cuisine?
When a number of spices are used together, it is actually termed "masala." Masala is an essential part of Indian cuisine. This is what calls for "masala Indian cuisine." There are plenty of Indian spices. However, the way you use them may differ. Some you can use in the dry form while some you need to use like a paste. For instance, the famous garam masala is actually a combination of spices roasted together. These roasted spices are grounded into a fine powder. However, you can use this masala powder just like that or you may add all these spices separately. These masalas are spice blends used to add flavour and aroma to dishes.
What Are The Types Of Masala?
Different places in India have their own different types of spice blends. Therefore, there are numerous Indian masalas. Garam masala is among the most famous ones. The sambar masala, as well as the gunpowder, are pretty famous in the south. On the other hand, you will find masalas based on common curries too. For instance, chana masala and rajma masala. You will also find masalas such as:
Biryani masala

Chana masala

Tandoori masala

Panch phoron

Goda masala

Kolhapuri masala

Pav bhaji masala

Chettinad masala
What Is Indian Cuisine Famous For?
The masala Indian cuisine is famous for its Indian curries. The Indian curry preparation is unique and one of a kind. While it is common in India, people abroad don't really find such curries that easily. Indian curries are a spicy blend of spices and veggies. They are extremely rich in terms of flavours and texture. They make a great side dish and gravy. You can easily have them with flatbread or some rice. Indian cuisine is also popular for some of its chicken recipes. The preparation of spicy Indian chicken is well known worldwide. Items like Chicken Tikka, Tandoori Chicken and Chicken Tikka Masala are pretty famous. 
What Is Masala Made Of?
Masalas, as already mentioned, are actually spice blends. Therefore, these masalas comprise various spices. However, the spices used to make different masalas differ. The most commonly used spices are peppercorns, coriander seeds, cardamom and cinnamon. However, there are a lot more different spices that can be added to the list. Usually, these spices are either lightly or well roasted. After roasting, these spices are turned into powder. This powder is what is finally called a "masala." Masalas can be easily stored for around six months or so. 
Is Curry And Masala The Same?
No, not at all. Curry and masala are two different things. However, curry is incomplete without the addition of masala. Therefore, masala is just a spice blend which is added to a curry. However, a lot of people end up getting confused between curry powder and masala. This confusion is indeed valid. This is because both these powders are blended spice mixes which are added to dishes. The curry spice mix is the earthy mix. It usually includes elements like chilli powder, turmeric, ginger, etc. On the other hand, masala is typically your garam masala. However, both are very essential when it comes to preparing food items.
In Conclusion 
All in all, masalas are an integral part of Indian cuisine. Without these Indian spice blends, all Indian savoury dishes would be missing something. They will lack the beautiful aroma and flavours that signify Indian dishes. It is these flavours that make the dishes taste more than mere vegetables and herbs. In fact, some of the spices are also used by people to help with digestion. Some are also said to have medicinal powers. 
There are easily more than forty different Indian spices available. Some are easy to find while some may be tough to source. However, there are seven of them which are thought of as essential. These seven essential spices are:
Coriander seeds

Cumin seeds

Cloves

Cinnamon sticks

Cardamom

Fenugreek and Haldi/turmeric
Indian spices can be divided in terms of whole spices, spice blends and ground spices. Whole spices are used as they are. For instance, cumin seeds and bay leaves. On the other hand, there are spice blends which are the combination of several spices put together such as garam masala and sambar masala. Finally, there are the ground spices. These are spices which have been grounded into fine powder. For instance, turmeric or red chilli powder. All these different types of spices come together to create some of the best dishes India has to offer.
Most of these spices are for Indian curries. As already seen in the list of specialities before, most of the masala Indian cuisine is the typical Indian curries. Be it chicken Butter Masala or Paneer Butter Masala, your masala box is a necessity. If not available, it may lack the authentic touch. This is how significant all these spices are! 
Which are your favourite spices? Let us know in the comments section below!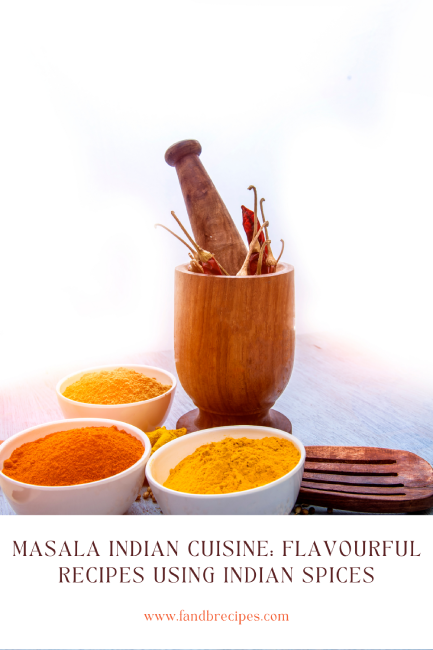 Paridhi Maheshwari is a content writer at F and B Recipes and Snazzy Women. She's an aspiring journalist aiming to cover human interest stories through the power of her words.