Pocket Coffee: Step-by-Step Recipe
The word coffee itself sounds so energising, right? Be it instant coffee or a good cup of espresso, almost all of us need our morning cup of coffee to start our day. Caffeine really does have the power to get us throughout the day. However, what if this daily delight could be a bar of random chocolate in your pocket? Yes, it's the pocket chocolate I am talking about! Life definitely gets easier when things you love come in compact forms. Makes it easy and comfortable to carry. Therefore, so does pocket coffee.
Italian coffee is among the most famous tastes of coffee around the world. It has a strong flavour and is usually made using Robusta coffee. However, there was a time when Italian coffee was exclusively made using Arabica beans. Although, the usage of Robusta is what gives Italy its thick and strong Italian coffee. Coffee culture has been a part of Italy for a long time now. This daily practice has definitely been perfected over all these years. You will easily find coffee bars spread all around Italy. Italians enjoy having a cup of coffee while having breakfast as well as after some good dessert. However, there is one more thing Italians are really good at making. Pizza? Well, yes but also chocolates! 
From Ferrero to Venchi, Italy is home to some of the most famous chocolate brands in the world. Italians use only the best cocoa beans in the world. This is the reason Italy's dark chocolate is worth its value. They try using the purest ingredients available. In fact, some chocolate shops in Italy still make "handmade" chocolates! Therefore, there is no doubt that pocket chocolate comes from Italy as well. These chocolates are your little pockets of Italian espresso. 
What Is Pocket Coffee? 
Pocket coffee is a chocolate with a pocket. These pockets are filled with the delight of coffee inside them. It is actually like a shot of espresso in the mouth. This pocket Coffee comes from the famous Italian chocolate brand: Ferrero. We all have heard about this brand, especially about the chocolate Ferrero Rocher. However, pocket coffee is way different in shape and texture. 
The idea of this chocolate after seeing no coffee bars back in the 60s. The chocolate's target audience was mostly people working long hours and needing that caffeine. Therefore, came this chocolate that had the goodness and energy of both strong ingredients. 
A lot of people have heard the names Rocher and Nutella. However, we have rarely come across pocket coffee. This could be because of its seasonality too. These chocolates are actually not sold during the warm months. This is done to avoid them from actually bursting into your pockets. Ultimately, in its centre is the liquid which is pretty concentrated. 
In addition, the centre is also very syrupy and has a sugar shell around it. This entire thing is covered all around with chocolate. However, the entire chocolate is actually very sweet despite the entire coffee taste that it gets. The chocolate helps to balance the flavours inside by adding a little creamy touch to it.
The best part about this pocket coffee is definitely how easy it is to make and carry! For instance, you are late to work and miss drinking your morning coffee. You need not worry if you have pocket coffee in your pocket. Just pop one in to feel a sudden burst of energy. Its portability and ease are its biggest advantages in addition to its great espresso taste.
Is It Possible To Make Pocket Coffee At Home? 
Isn't carrying along a pocket coffee so convenient? Coffee, for a lot of people, is like an addiction. Many people cannot function well without a good cup of coffee in the morning. There are some who do need coffee all throughout the day. Imagine these people on a road trip. They might just go insane without a good coffee bar down the road. This pocket coffee immediately solves that issue for you though. It is definitely not a coffee replacement. However, it is a great alternative in times of need. This does not mean that people would like to eat only when desperate. 
Pocket coffee works exactly like a shot. The flavour hits you quickly and leaves a sharp taste in your mouth. The taste isn't entirely coffee. However, the chocolate as well the sugary crunchiness really add to the espresso flavour.
As already mentioned, this is primarily seasonal chocolate. It is not available for most months. Therefore, it does make sense to be able to make it at home. You will be able to consume fresh batches as well as modify the change as per your wish. However, the process isn't that easy and the taste cannot be exact. 
The ingredients sourced to make these chocolates as well as the process used definitely have an influence on their taste. Although, you can still try making these pocket coffee from the comfort of your home. After all, this chocolate is literally one-third espresso shot filled inside dark chocolate. Also, you can make the coffee filling as strong or mild as you like. Therefore, this is a great way to modify the chocolate as per your wish. You are the one in control of the recipe apart from the techniques that go into making it.
Ingredients Required to Make Pocket Coffee 
The ingredients required to make pocket coffee can be easily found in your nearby supermarkets. However, you can also look for top-notch quality ingredients based on your liking. The ingredients required are:
1 ¾ cup of chopped dark chocolate 
¼ cup of Instant coffee
¼ cup of cocoa powder
½ cup of thick cream
½ cup of milk
1 ½ cup of sugar
All these ingredients help make around 36 chocolates. This also depends on the mould you will use.
Tools Required to Make Pocket Coffee 
The equipment or tools required to make pocket coffee are actually quite less. This recipe is not too complex in that way. It is your basic baking equipment which is often used. Therefore, the tools required to make pocket coffee are:
Saucepan

Silicone mould for the chocolate 

Heatproof bowl

Food thermometer 

Pastry brush
Pocket Coffee Recipe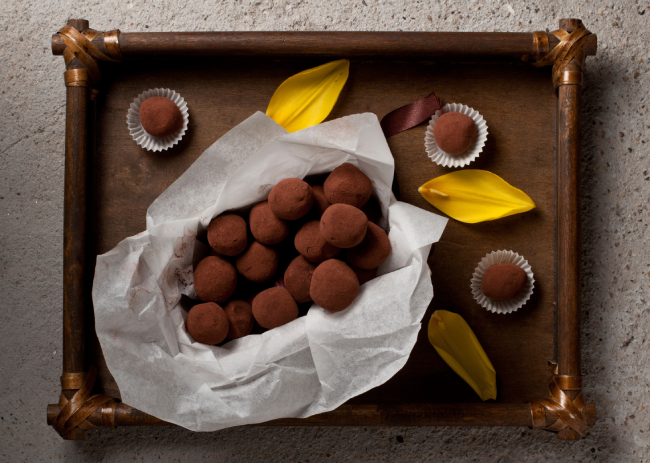 This pocket recipe is an easy cakewalk for bakers. It is simple, quick and will not take so long. However, ensure to pay careful attention in the first few steps so that you don't spoil the final assembly. Having the right composition and temperature is very important while making this chocolate. A small mistake may be the reason your entire chocolate may fall off. 
While making this recipe, you can also use a different filling based on your taste. This completely depends on your coffee preference. Some people like a very strong taste while some enjoy a slightly mild taste of coffee. You can make a simple pocket coffee by following the steps listed below: 
Serves: 36    Prep time: 15-20 minutes    Total time: 60 minutes    Cuisine: Italian    Course: Dessert/Chocolate
Ingredients required:
1 ¾ cup of chopped dark chocolate 
¼ cup of Instant coffee
¼ cup of cocoa powder
½ cup of thick cream
½ cup of milk
1 ½ cup of sugar
Step 1
Take a saucepan and place it on low heat. Add your cocoa powder as well as coffee into it. However, ensure to add the milk and sugar immediately into it. Stir it for about three minutes or so until the sugar has completely dissolved.
Slowly add in the cream and increase the stove heat to medium. Wait till your mixture comes to a boil and when it does, let it boil for over three minutes or so. Once it does, switch off the stove and leave your saucepan aside to cool down. 
All this process is done to prepare your coffee filling for the pocket. Be careful while preparing this and don't let anything overheat. Also, ensure stirring constantly while adding in the cream.
Step 2
This step is for your chocolate preparation. Firstly, use the ⅓rd of your dark chocolate and add the remaining into a heatproof bowl. Using a double boiler, melt your chocolate slowly. You can place this double boiler on medium heat for the chocolate to melt slowly. 
Ensure that the water doesn't touch your bowl at all. This much heat directly on the bowl may make your chocolate burnt. This spoils the texture of your chocolate as well as the taste. You will end up spoiling the entire flavour of the chocolate. Therefore, be very careful while doing this step.
Always use a thermometer to check the right time to remove your utensil from heat. Ensure that your chocolate reaches around fifty-seven degrees celsius before you take it off the heat. 
Before you put this chocolate back on. Check the consistency of the melted chocolate. Add the remaining ⅔ rd of the chocolate into the melted part. Stir it with all your force. Try ensuring a clockwise or anti-wise direction. 
Ensure that you haven't left behind some unmelted chunks of chocolate. If so, kindly remove it. Leaving these chunks can spoil the consistency and texture of your melted chocolate.
Let your chocolate cool down a little more. Check the temperature once again. If it is about twenty-seven degrees celsius, put it back on the stove. This chocolate again goes back on the double boiler. As soon as the temperature reaches about thirty-one degrees celsius, you can use it.
Step 3
Bring out your chocolate mould. Try using silicone moulds if possible. This is because they are non-stick. You end up finding them in lots of varieties and sizes and they are very durable.
Using a pastry brush, paint a very thin layer of chocolate on the moulds. Be very careful throughout the entire process. You don't want to leave any empty spaces while painting your moulds. Also, don't make your layer too thick, let it be a little thin because you will be repeating it again.
Finally, transfer your mould tray into your fridge and let it refrigerate for around 20 minutes. 
Step 4
Bring out the tray you kept inside the fridge after twenty minutes. Apply a second coating of your melted chocolate onto it. Try maintaining the same consistency as before while doing so. After completing, again transfer the tray back into the fridge. Leave it again for about twenty minutes or so. You must only bring out the mould tray when the chocolate has formed a hard layer.
Step 5
Finally, once the shells made by you are hard, bring them out. These shells are now ready to be filled. Bring out the cream and coffee mixture you had kept aside.  Scoop this mixture and carefully fill each shell. Don't fill it up to the brim. Leave some space on the top. Therefore, only take up about ¾th of the shell's space. Similarly, fill up all your shells. 
Once all the shells have been neatly filled. Now is the time to refrigerate them. This is done to ensure that your filling is a little hard before you apply your chocolate layer again. You don't want both to mix and make a clumsy mix. Therefore, let them harden a little. You could refrigerate them for about five to seven minutes or so. 
Step 6
Bring out your mould tray outside the refrigerator. Using your pastry brush, apply the melted chocolate as a layer on top of the pocket. This is to seal your pocket completely. Again, leave your tray back in the refrigerator for around twenty minutes. This time you must be careful that your shells have completely hardened. That is because you will finally bring them out. Very carefully and slowly remove the chocolate shells from your mould. 
Ensure that you are very gentle while doing this step. You don't want these to break. Voila! Your pocket coffees are good to go! You can easily eat them and modify them as you wish to. They are super easy to make. However, things become easier if you are a baker yourself. Small things like the melting of chocolate can become perfect. 
Both step 1 and step 2 are very important and crucial. Any mistake in both can spoil your entire chocolate.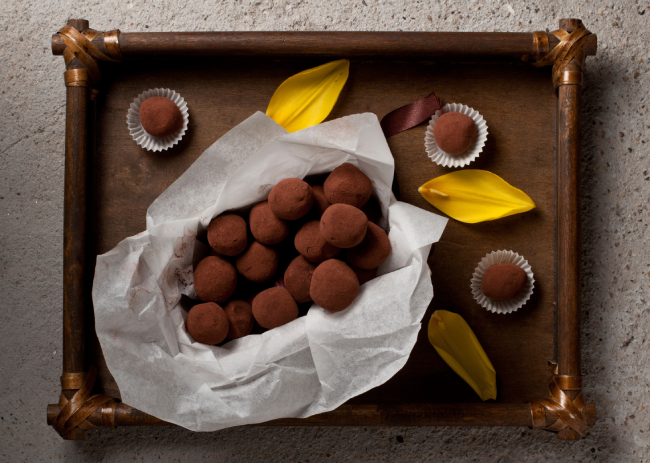 Pocket Coffee Recipe
Learn how to make Ferrero Rocher's Pocket Coffee at home by following these step-by-step instructions!
Ingredients
1¾

cup of

chopped dark chocolate

¼

cup of

Instant coffee

¼

cup of

cocoa powder

½

cup of

thick cream

½

cup of

milk

1½

cup of

sugar
Instructions
Add cocoa powder and coffee into a saucepan on low heat. Follow this by immediately adding milk and sugar. Stir until the sugar dissolves and later add in the cream. Increase the heat to medium flame and let it boil for over three minutes. Let it cool after this. This is your filling.

Prepare your chocolate shell by melting chocolate. Melt your chocolate using a double boiler. Don't do it all together. Add some chocolate during the process. Use a thermometer to get the temperatures right.

Apply a thin layer of chocolate to your moulds using a pastry brush. After doing this, leave the mould tray in the refrigerator for 15-20 mins.

Repeat the previous step.

Once your shells are hard, fill them with your filling from step 1. Only fill 3/4th of the shell and refrigerate it for another 5 minutes.

Apply a layer of chocolate again on the top to seal the shell shut. Refrigerate it for another twenty minutes. Bring it out and remove your shells gently from the mould. Voila, your Pocket coffee is ready!
Pocket Coffee: Nutritional Information 
Pocket coffee uses up ingredients in a very minor way. The best part is the usage of quality dark chocolate. Considering small servings, having one chocolate is not that many calories. It is only about 80 calories which are decent. However, do ensure not have a lot of them. Since it makes use of a good amount of sugar and cream. This is the nutritional information for one serving of this pocket coffee chocolate: 
Calories: 84 calories

Carbohydrates: 13.8mg

Protein: 0.9g

Fat: 3.2g

Saturated Fat: 2.2g

Sodium: 10mg 

Dietary Fibre: 0.5g

Total Sugars:  12.7g

potassium: 52 mg 

Calcium: 23 mg

Cholesterol: 4 mg
FAQs: 
How Do You Use Pocket Coffee?
Pocket Coffee as chocolate can definitely be used as a dessert. One can serve this after meals. You can also use this while making drinks. In fact, you will find certain coffee recipes that make use of the Ferrero pocket coffee. This can help add the perfect chocolate and coffee twist to your drink. You may also use this bite-sized chocolate while serving ice creams or any other type of dessert. Therefore, you can definitely use pocket coffee in several ways depending on your liking. It is a great way to add a coffee twist to any dessert.  
What Is Pocket Coffee From Italy?
Pocket Coffee is actually chocolate which has its origins in Italy. It is exactly like the term. It is coffee infused in chocolate pockets. You will find several chocolates in the market that serve coffee-flavoured toffees and chocolates. However, this chocolate is very different. It is like having a small shot of espresso inside the chocolate cover. In fact, if you aren't careful while eating it, you may spill some coffee on your clothes. Therefore it is that liquidy inside. This is the reason why this chocolate is not easily found during the summer in Italy. It can very easily melt and become gooey. 
What Is Ferrero Coffee?
Ferrero is a famous manufacturer of branded chocolate around the world. This is an Italian brand which has crafted its name worldwide with its famous chocolates like Ferrero Rocher. However, Ferrero coffee is actually chocolate called the Ferrero pocket coffee. It is a convenient way of consuming coffee while still enjoying the delight of chocolate. The chocolate was originally marketed for those people who had to work long and extra hours. It found its target audience among those who cannot always make coffee on the go despite wanting it. Therefore, this pocket coffee becomes a convenient option.
How Do You Make Ferrero Pocket Coffee?
Making a Ferrero pocket coffee is actually quite easy. However, you must be careful while preparing the filling inside as well as the outside shell. You can make the Ferrero pocket coffee at home by following the recipe mentioned above. However, the taste while making it at home is quite different. This is mainly because the coffee filling cannot be as exact as the one made by the Ferrero brand. The Ferrero pocket coffee's filling does actually taste like a shot of good espresso. It holds that coffee taste which is sharp yet balanced by its outer layers.
How Much Caffeine Does Pocket Coffee Have? 
Each piece of pocket coffee has about ⅓ rd amount of caffeine as a regular cup of espresso. It is exactly like a shot of espresso. The taste is sharp and quick. However, in case you are making this at home. You can change things as per your need. You can add in a little more or less amount of caffeine based on your liking. Therefore, these things differ while making a homemade pocket coffee. However, the amount in general for a single small serving is not so much. You can easily have it even if you are not a huge coffee fan.
In Conclusion 
All in all, pocket coffee is a very cute way of consuming coffee. However, it obviously cannot replace the role of your daily coffee in life. It is a quick and easy solution for those who frequently like sipping coffee and are unable to make it. Coffee and chocolate is anyway a very great combo loved and enjoyed by many. Therefore, this is also something which is a quite likeable form of dessert. Next time you visit Italy, don't forget to try this pocket coffee by Ferrero. If possible, try making them at your home too.
Have you ever tried pocket coffees? What changes would you make in the filling? Let us know in the comments section below!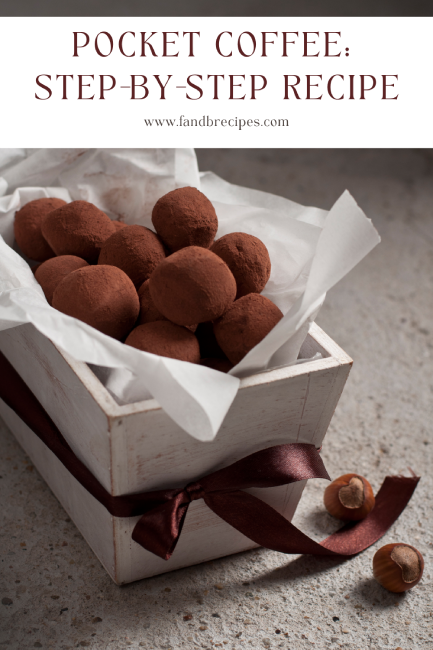 Paridhi Maheshwari is a content writer at F and B Recipes and Snazzy Women. She's an aspiring journalist aiming to cover human interest stories through the power of her words.