Royal Indian Cuisine: Recipes From The Kitchens of Maharajas
The first thing that comes to your mind when you hear Indian cuisine is definitely SPICES! The Natural Spices of India are loved and known worldwide. A country as large as India has so many states and regions. Each is diverse and different from the other. Be it the Vada Pav from the streets of Mumbai or the Kheer Kadam from Kolkata, the variety is endless. Indian food has a variety of flavours that come together in a single dish. In addition, there's a lot of texture no matter how easy the dish is. However, there's something special about Royal Indian cuisine.
Different regions and religions call for different eating habits. Some people are hard-core vegetarians while some just live on non-vegetarian food. Even foreign cuisines taste a lot different in India. For instance, the Chinese noodles you get on the Indian streets will have Indian spices and preparation. Our Indian Masala is what makes us stand out. Each region has their own unique blend of spices. In addition, how can one miss out on the essence of saffron in Indian dishes? Finally, the desi ghee! Any Indian dish is empty without the addition of pure desi ghee. That's the secret to the flavourful foods of India.
The vast change in eating habits in every corner of India is shocking. While North Indians need their flatbread, South Indians get their energy from rice. All you need is a traditional Indian Thali and you are good to go! Be it the Dal or the curries, having them placed all around your Thali is the Indian way of eating. Indian sweets cannot be missed while talking about the Royal Indian cuisine. Each state has its own speciality! You are truly missing out if you haven't had the Rasgullas of Kolkata.
What is Royal Indian Cuisine?
Well, Indian street food is something all of us have an idea of. What is the royal Indian cuisine though? India didn't come to be what it is today post-1947. Indian culture is ancient. Our country has seen it all: civilisations, kings, invaders, colonialism and democracy. If you have seen period drama, you know how the Royals eat! The gorgeous palace had its royal kitchens serving the best food. We Indians know how to royally treat our guests at home.
Even today, every state has a variety of dishes that are credited to imperial times. For instance, how about the famous Hyderabadi Biryani? From the Royal Kashmiri food to the Mughal delicacies, India is a land where food lacks no variety. In fact, the Indian food industry thrives on its variety. The Kashmir Wazwan is extremely different from the Rajasthani Dal Baati Churma. There is absolutely no comparison between these two dishes.
Each royal dish has a well-thought name behind it too! Who hasn't heard the words Shah and Nawabi used an endless amount of times in food dishes? However, the royal cuisine is only accessible to us due to five-star hotels and chefs. These chefs are particular about the ingredients as well the cooking methods. 
Did you know that dumplings were a part of Indian cuisine too? A dish called the Mossuru Bhutti is a rice dumpling from the Chola cuisine. Awadhi cuisine is another popular yet underrated Indian cuisine. 
Not a lot of Indians have an idea about the endless amount of Royal Indian cuisine which came from the Nawabs of Awadh. The chefs from Patiala's royal household have over 140 recipes for just Pulao! Isn't that shocking? Several cities in India have to date held their food heritage close in its most authentic form.
Royal Indian Cuisine: Vegetarian Specialities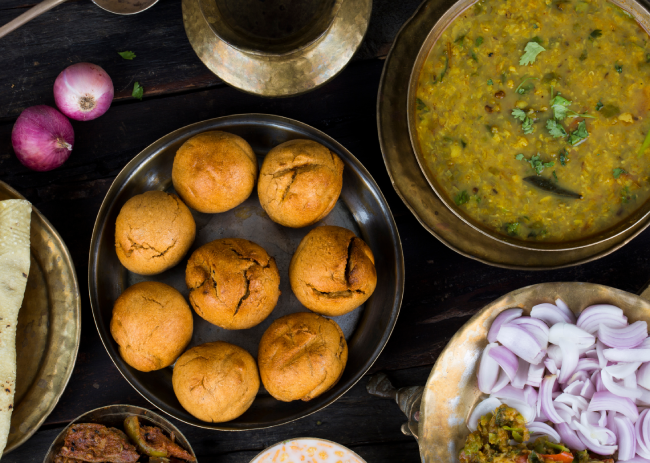 Vegetarians are often called out for the lack of variety in their food. However, Indian cuisine has endless dishes which are purely vegetarian. Here are a few of them: 
Dal Baati Churma

: If you have been to Rajasthan and still not had this dish, trust me, you were never there! It is the most popular Rajasthani dish. While Baati is a baked or fried wheat ball, the Dal is your lentils cooked in authentic Indian Tadka. This dish is made with lots of ghee and Churma on the side.

Shahi Gatte ki sabzi

: This popular gram flour dish is another Rajasthani delicacy loved by all. It is simple yet authentic. The gravy is packed with flavours and spices which also have curd.

Indrahar

: This interesting dish is made using various lentils. It has a very similar preparation to that of Dhokla. One can actually call it a protein cake! This dish comes from the Bagheli Cuisine which is from the royal kitchen of the King of Rewa.

Madra

: This is straight from the Himachal royal kitchens. It is made using curd, kidney beans and ghee. This is among the dishes served in Himachal's food festivals.

Sev Kadhi

: This is another vegetarian dish from the royal kitchens. That's popular in Rajasthan and Gujarat. Sev kadhi is the best when eaten with Bajra Roti. It is also a  healthy dish.

Avial

: This dish has its claimed origins in a massive feast at the Mysore Palace. However, it is mostly linked with Kerala and Tamil Nadu. It has a rich coconut and curry leaf seasoning and is typically eaten with rice.

Tehari

: This one-pot rice dish is from the Awadhi cuisine. It is a speciality of Uttar Pradesh's royal cuisine and is full of flavours.
Royal Indian Cuisine: Chicken Specialities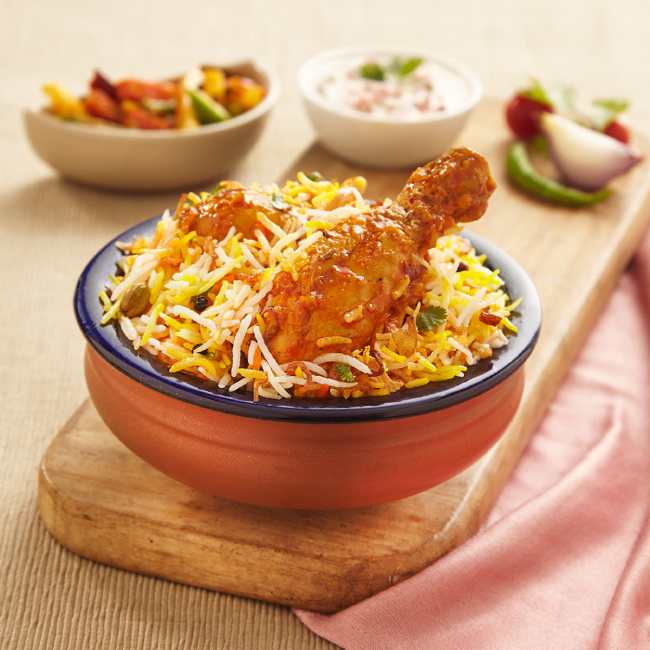 Chicken with spice is an absolutely killer combination. In addition, if it's Indian spices, then it's even better. Here are some chicken specialities which hold a place in the Royal Indian Cuisine:
Chicken Kolhapuri

: This is the most important dish in royal Kolhapuri cuisine. It is spicy and made with a lot of different spices. This savoury dish is made in coconut gravy. However, the main flavour of this dish is primarily because of the freshly roasted ground spices. This chicken curry tastes brilliant with steamed rice and roti.

Changezi Murgh

: This chicken curry is another amazing royal recipe. Apparently, the name comes from the 13th-century warrior Changez Khan. However, it has strong Mughlai flavours. It has a beautifully coloured creamy gravy which would taste heavenly with some butter naan.

Murgh Mughlai

: Just like the very name suggests, this is another gem from the royal Mughal kitchens. It has a good balance and a great blend of royal flavours. You will also find a bit of nutty and creamy flavour to it. This dish is best served with steamed white rice or flatbreads!

Hyderabadi Chicken dum Biryani

: Yes, we know…we could have just called it perfection instead! Biryani doesn't get better than this. Straight from the royal kitchens of the Nizams. It is made with basmati rice and various spices and herbs. It is authentic and extremely flavourful.

Chicken Bagheli:

This delicacy is from the Kingdom of Rewa. The chicken is cooked slowly and locally sourced spices add to its taste. Curd is an important part of this dish.
Royal Indian Cuisine: Lamb Specialities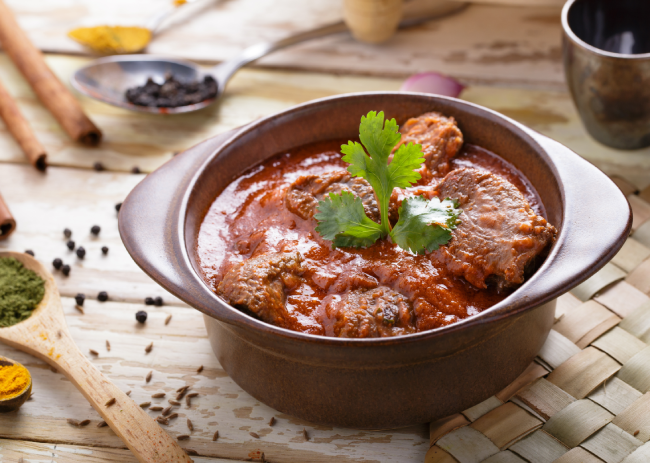 Surprisingly, India is home to several mouth-watering delicacies. Here are some lamb specialities that are a part of the Royal Indian Cuisine:
Laal Maas

: Lal Maas is Rajasthan's must-try non-vegetarian dish. It's flavourful and extremely spicy. This is a dish that belongs to the Rajasthan Royalty. Some even say that it is the Rajputs' favourite dish. The preparation, as well as the ingredients, wonderfully define this flavour-packed dish! Every meat lover must try it once in their lifetime.

Rogan Josh

: This is yet another famous meat dish loved by all. This dish belongs to the royal Kashmiri cuisine. It was brought to India by the Mughals. The red colour of the dish is mostly due to the rich Kashmiri spices that go into it. It is definitely a Royal Indian treat!

Lukhmi

: These are like your royal samosas. Flaky fried dough stuffed with meat (minced). Lukhmi is often served along with keema. It is your Hyderabadi twist on the typical samosas. They are shaped in little squares and also served with chutney.

Kesari Maas

: This particular recipe is from the Royal kitchens of Thanjavur Maratha Cuisine. It is your minced mutton with spices. This entire dish is cooked dry. However, the process of making it is tiring. The objective is to make each strand look like saffron.

Dhanedar Shunti

: This is another signature dish from the royal kitchens of Thanjavur. These are basically lamb meatballs which have been pounded by hand. It's a spicy dish.

Rampuri Gosht Korma

: Rampuri food has had several influences from Awadhi cuisine to Kashmiri Cuisine. It also has subtle Mughlai flavours. Rampuri Gosht Korma is one such royal dish prepared in the

Dum style

. It is known for its flavours and spices.
Royal Indian Cuisine: Tandoori and Kebab Specialities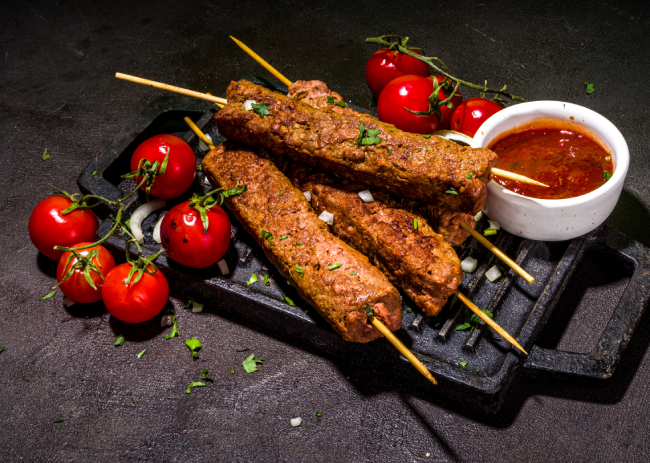 India is home to a lot of Tandoori and kebab specialities. You would have heard of the endless variety of kebabs Indians eat. This is due to major Mughal influence. Here are some kebab specialities straight from the Royal Indian Cuisine:
Shikampuri Kebab

: This kebab is popular for its exotic flavours. It is from the royal kitchens of Hyderabad. It is a great appetizer and is also extremely unique.

Rampuri Chapli Kebab:

This is just packed with too many flavours. Made with minced lamb meat, these kebabs are a famous part of the Rampuri Cuisine. 

Galouti Kebab

: This kebab is not very unheard of. In fact, people say that it took over 150 spices to make this originally. It is also said that this was made for the toothless king. So, one can imagine the soft texture! This meaty kebab comes from the city of Nawabs: Lucknow. This filling kebab is from the famous Awadhi Cuisine.

Murgh Noorjahani Tikka

: As the name says, this comes from the royal kitchens of the Mughals. This Tikka is made through your typical spicy Indian marination and later grilled.
Side Orders, Beverages and Bread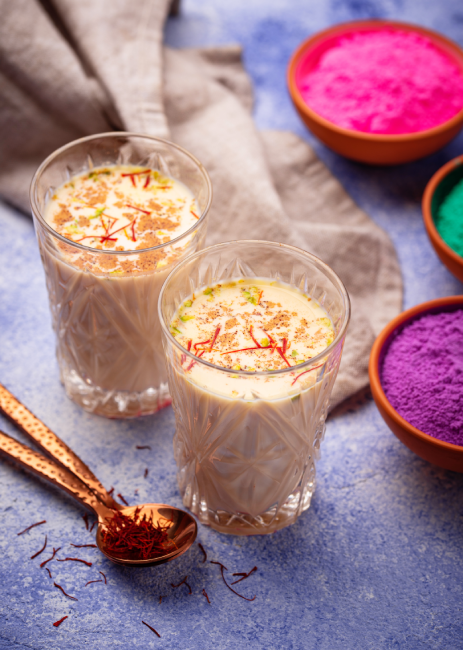 Indians rarely make a dish which can stand alone. Most Indian curries require bread along with them. In addition, even biryanis have their side dishes. Here are a few side dishes which are a part of the Royal Indian Cuisine: 
Kulchas

: This wheat flour flatbread is served with curries. You actually find places that serve stuffed kulchas too. That was the same case in royal kitchens. Kulchas were either stuffed with meat or veggies. This flatbread was also a part of the Hyderabadi state flag! This was because it was the official symbol of the Asaf Jahi dynasty. However, kulcha is today famous as Amritsari Kulcha.

Mirchi Ka Salan: If you have ever been to a typical South Indian restaurant and asked for biryani, you know what this is. In the South, especially in Hyderabad, Biryani is missing without raita and the Mirchi Ka Salan. This is a legendary dish from the Hyderabadi Royal Cuisine. A lot of various chillies and spices go into making this gravy side dish.
Taftan

: Taftan is light and flaky. This is baked in a Tandoor and people often add something to it. That could be either saffron or cardamom. Taftan is a very famous part of the royal Awadhi cuisine.

Naan

: Naan is famous in Indian restaurants. This tandoor-baked flatbread finds its mention in old royal texts. Apparently, this was eaten along with kebabs and keema and was a part of the Mughal breakfast.

Roti

: The word Roti has been a part of old texts such as the word

Rotika

. Flatbreads have been a part of 16th-century literature. In fact, Roti apparently was a royal favourite. Famous Mughal texts mention Akbar being fond of this flatbread, ghee, and sugar. It is indeed surprising how Indians still continue eating roti with ghee and sugar.
Indian Desserts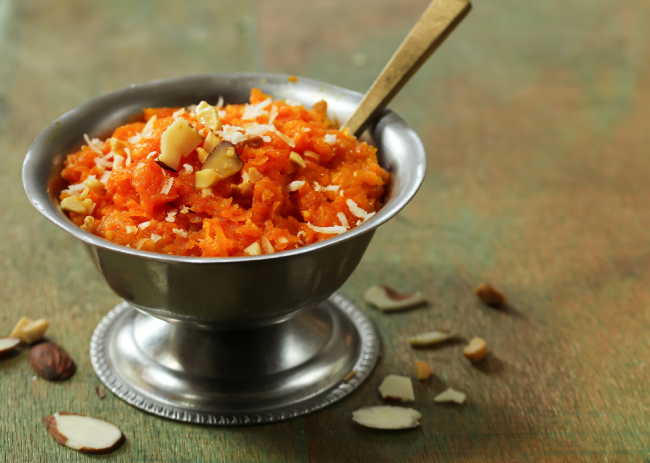 We are all familiar with Gulab Jamuns and Jalebis. These are your common sweets which can be found in every corner of India. However, there are some traditional sweets not many people know about. Here are some sweet dishes that are a part of the Royal Indian cuisine: 
Lapsi:

This Bikaneri dessert is very famous. This royal Indian sweet dish has a lot of variants. It is made using broken wheat. A lot of ghee, as well as milk, is added to it. It is also heavily added with dry fruits to make it taste richer.

Daal Halwa

: This Daal Halwa is prepared using moong dal. It is a famous Rajasthani sweet dish rich in milk and khoya. It is your proper Royal Indian dessert.

Agra ka Petha

: Saw the Taj Mahal and did not have a Petha there? Impossible! These actually are from the royal kitchens of the Mughals. People say that it was Shah Jahan who ordered a sweet to be made. A sweet which looked as white as his beloved Taj Mahal!

Mysore Pak

: Ghee, sugar and gram flour and voila, you have the power of the Mysore royal kitchens! This famous sweet dish is a must-have at Mysore. You cannot miss this at any cost. It is actually from the reign of King Krishna Raja Wodeyar

Shahi Tukda

: Here is another sweet delicacy from the Mughal kitchens. Therefore, it is called "Shahi Tukda". It is bread dipped in sugary milk and cream. In addition, it's sprinkled with dry fruits on top. 

Gajar ka Halwa

: The classic carrot halwa also owes its origin to the Mughal kitchens. Your typical ghee, sugar and milk with just loads of carrots.

Gil-e-Firdaus:

This milk pudding made of bottle gourd and milk is from the Nawabi era.
FAQs: 
What Do Indian Royals Eat?
When one actually dives deep into what the Indian royals ate or eat, it is generally sophisticated dishes. You will find long names that represent royalty. However, the most interesting thing to be noted is what goes into it. 
Royals didn't just pick anything available and made something out of it. All that they ate was made out of the best ingredients. Also, Indian royals ate meat. This meat was freshly hunted and therefore had an even better taste. 
Although some dishes with origins in royal cuisine are today available to replicate, some have died over time or remain a royal secret. For instance, today, Indians have a lot of access to most Mughlai cuisine. What makes the difference is just the quality of the food.
What Is Royal Cuisine?
In simple words, these are the food items that were eaten by the royals of India at some point in time. Only people living in the palaces had the luxury of eating this food. It was cooked by the best chefs with the best ingredients. These dishes have been carried down since imperial times. Therefore, they are now called Royal Cuisine. 
Which Is The King Of Indian Food?
Well, this is actually a personal question. Some people may call your daily Dal Chawal the king while some may prefer crowning kebabs. It is a subjective question. There is no food item which has been crowned king or queen. However, if I had to pick one, it would be the Indian Biryani! Despite not originating in India, biryani feels only Indian. There are so many variations of this food dish. 
While the Mughals brought this to India, almost every state added a twist of its own. You have the Hyderabadi and Lucknowi style. You also have the Kashmir and the Chettinadu style. Apart from that, biryani is the perfect blend of rice and spices together.
What Is Unique Indian Cuisine?
The Royal Indian cuisine has a huge variety of speciality dishes. The fact that these dishes are today not common restaurant staples makes them unique. For instance, a lot of Indian sweet dishes do not receive centre stage commercially. These could be your Shahi Tukda or even Lapsi. You will not find them easily around you. 
Even a lot of Rampuri, Awadhi and Rajasthani cuisine is not famous all around India. Their popularity is restricted to their regions only. This is the reason why dishes like Dal Baati Churma are treated as a speciality dish in the Northern parts of India.
Is Indian Cuisine Best In The World?
This is a subjective question. If India can itself have so many different types of cuisine, the world is a large place. There are plenty of cuisines that people need to try in order to come to a conclusion. Therefore, it is definitely difficult to determine the best. 
However, Italian cuisine is considered among the most popular cuisines in the world. No doubt that every Indian restaurant serves pizza and pasta today! In terms of popularity, Indian food is among the top ten popular cuisine choices though. The reasons for these rankings also depend on a lot of taste palettes. Not everyone can tolerate the spices of India.
In Conclusion 
India has a vast variety of undiscovered flavours and dishes. Unfortunately, we continue to shorten our menu cards and replace our authenticity. Restaurants today feel the need to be continental. In fact, the continental is also restricted to the famous Italian and Chinese dishes that people prefer. 
We continue to remove our traditional dishes to make more room for International cuisine. However, this is the reason we are losing out on our traditional cuisine. Another important thing to observe is the massive influence of Mughlai cuisine. This is one royal cuisine which has struck chords with Indians. However, one must try out the endless amount of royal varieties from every corner of India.
Only a select number of posh hotels in India have chefs that create these forgotten dishes. Royal Indian cuisine is a relishing experience one should definitely try. This type of cuisine has a charm of its own. It feels grand to be eating something which was once only made for royals. Therefore, ensure making the most of the Royal Indian food experience!
What do you think of the Royal Indian Cuisine? Which are your favourite dishes? Tell us in the comments section below!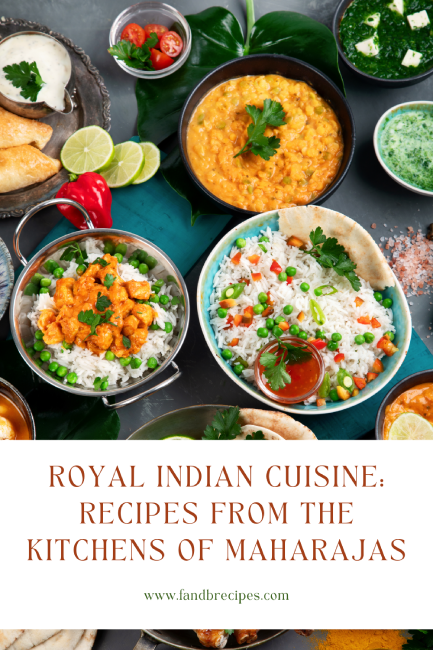 Paridhi Maheshwari is a content writer at F and B Recipes and Snazzy Women. She's an aspiring journalist aiming to cover human interest stories through the power of her words.