2 Gosht Recipes that are Perfect For the Weekend
Unbelievably simple to cook yet so full of flavour, these gosht recipes in silky smooth sauces is one of our specialities.
These recipes are appetising to look at but even more tasty to bite into.
These traditional meat recipes are usually made with goat's mutton.
To make these recipes, the mutton is cooked with a blend of spices which enhances the flavour of the curries.
The dishes are generally cooked together until a dry but velvety gravy is received and all the spices have infused well.
If you are hosting a dinner/party, then these recipes have to be on the menu as they will leave a lasting impression on everyone's mind. 
Sheal Gosht
A superb Sindhi recipe that effortlessly gets cooked. It's an excellent recipe for an occasion when you want to serve meat without worrying about frying onions and masalas. 
Serves: 6-8
Cooking time: 45-60 minutes
Ingredients: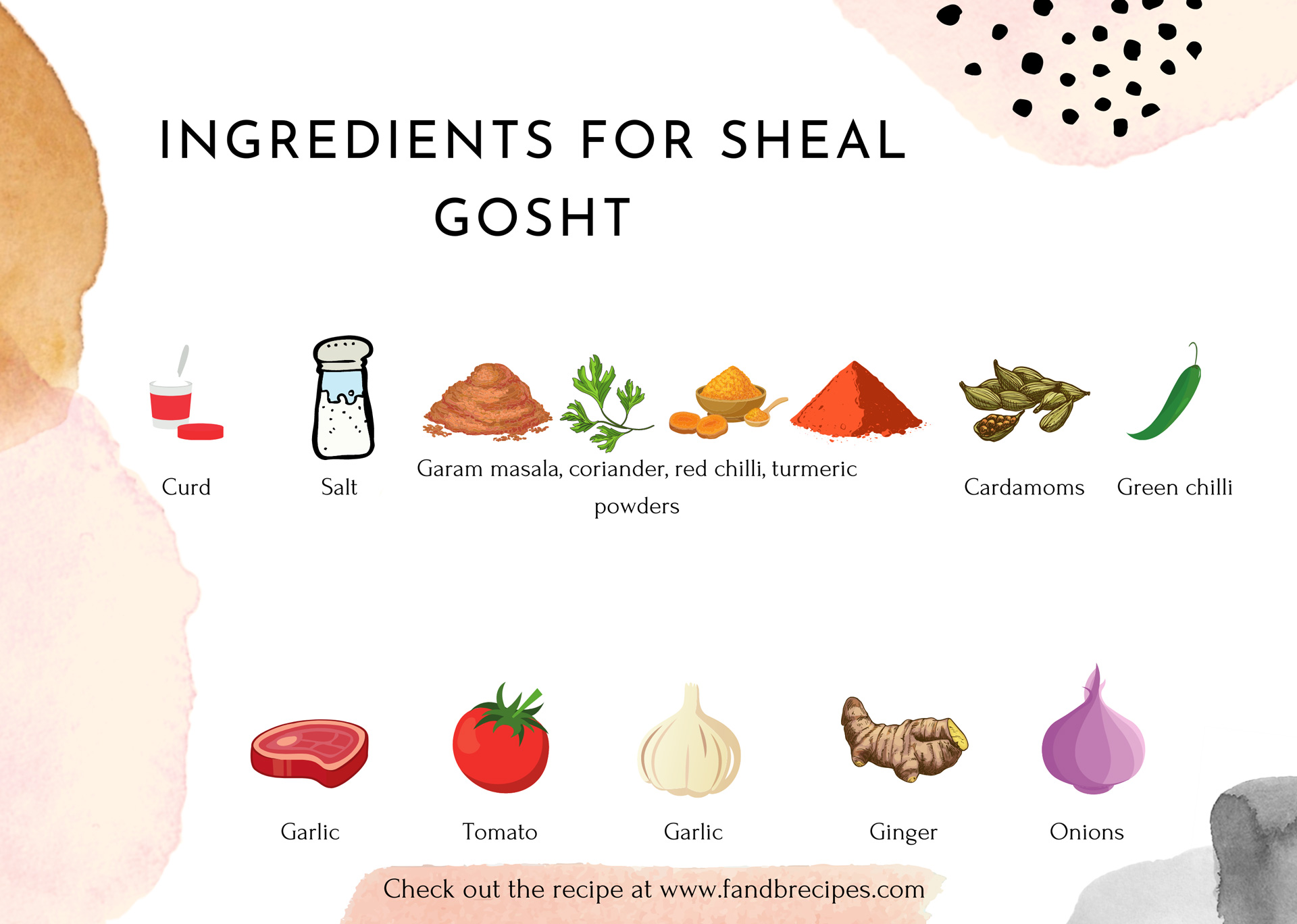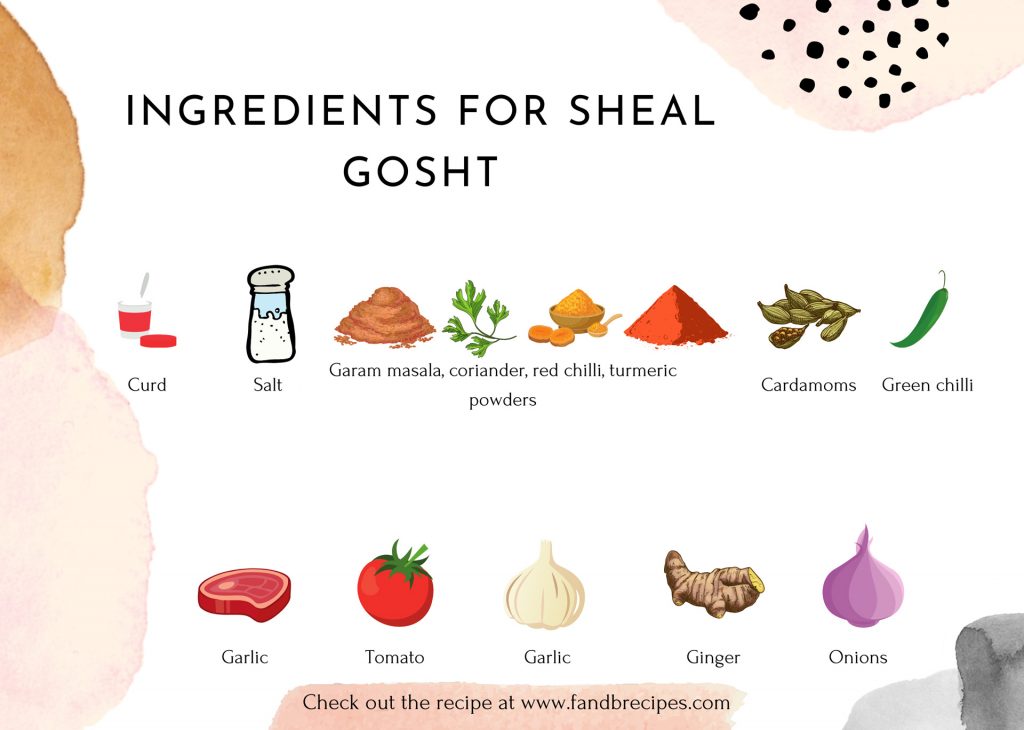 Salt to taste
4 tbsp oil
¾ cup curd, lightly beaten
1 tsp garam masala powder
2 tsp coriander powder
 ¼ tsp red chilli powder
½ tsp turmeric powder
4 cardamoms, crushed
Green chillies, to taste
1 kg meat (preferably from the leg), cleaned and washed
2 tomatoes
8 cloves of garlic
1" piece ginger
4 onions
Method:
Peel and finely chop the garlic, ginger and onions. In a grinder, puree the tomatoes (without removing the skins).

Mix all the ingredients except oil and salt with the meat. Set aside for 60 minutes.

About an hour before you want to serve, prepare the multicooker. Lay a piece of foil on the bottom (perforated disc can be removed). Put in the meat, at this stage adding to it the oil and salt over it. Press down all along the edges to seal well. Switch the cooker on. 

Depending on its quality, the meat will cook in about 45-60 minutes. Stir well before serving. This dish can be served with

naans

,

rotis

or

kulche

.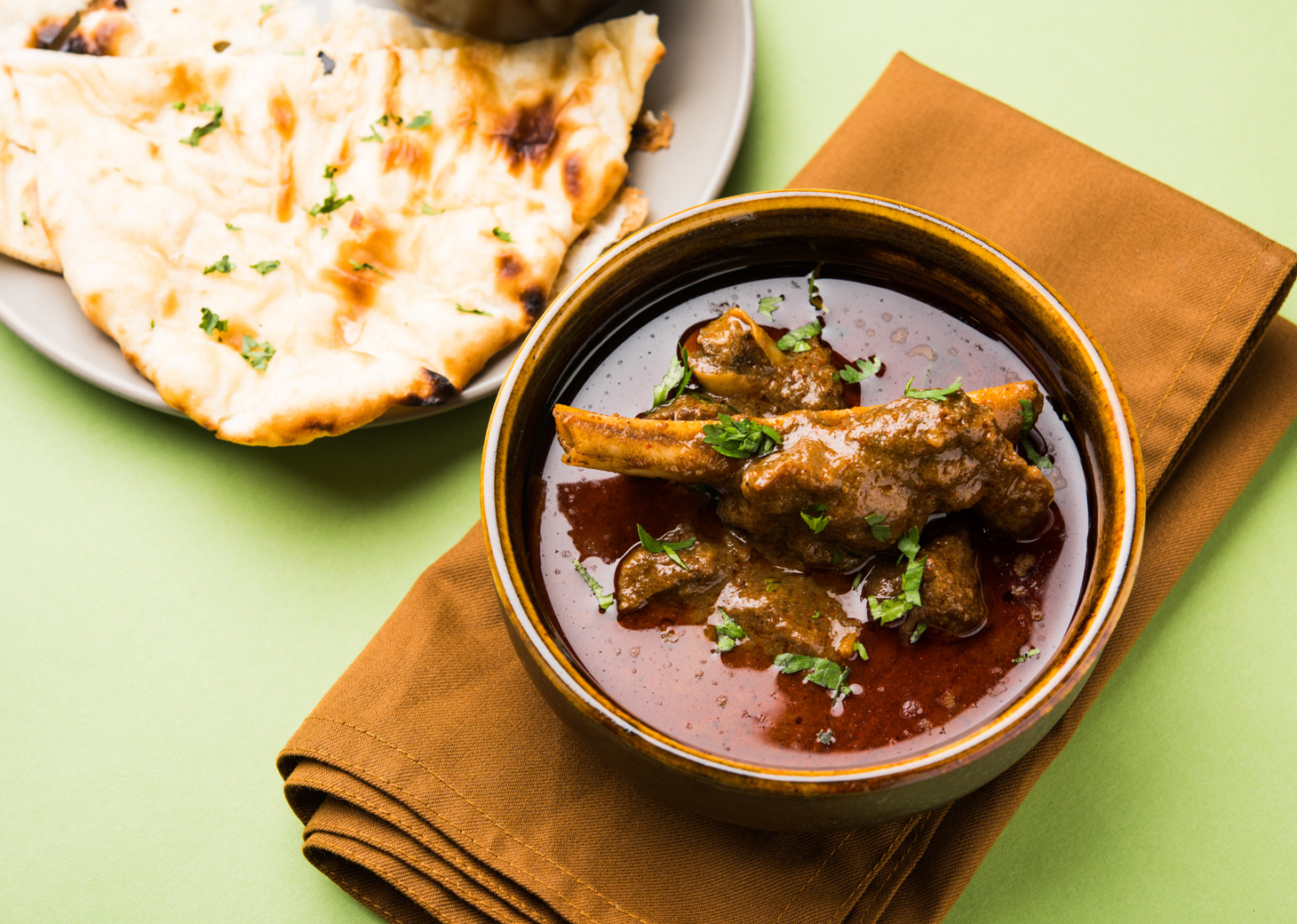 Til-Adrakwala Gosht
A delicious recipe that has a hint of chilli, sweet and sour and a delightful finishing touch of roasted sesame seeds. 
Serves: 6-8 
Cooking time: 60 minutes
Ingredients: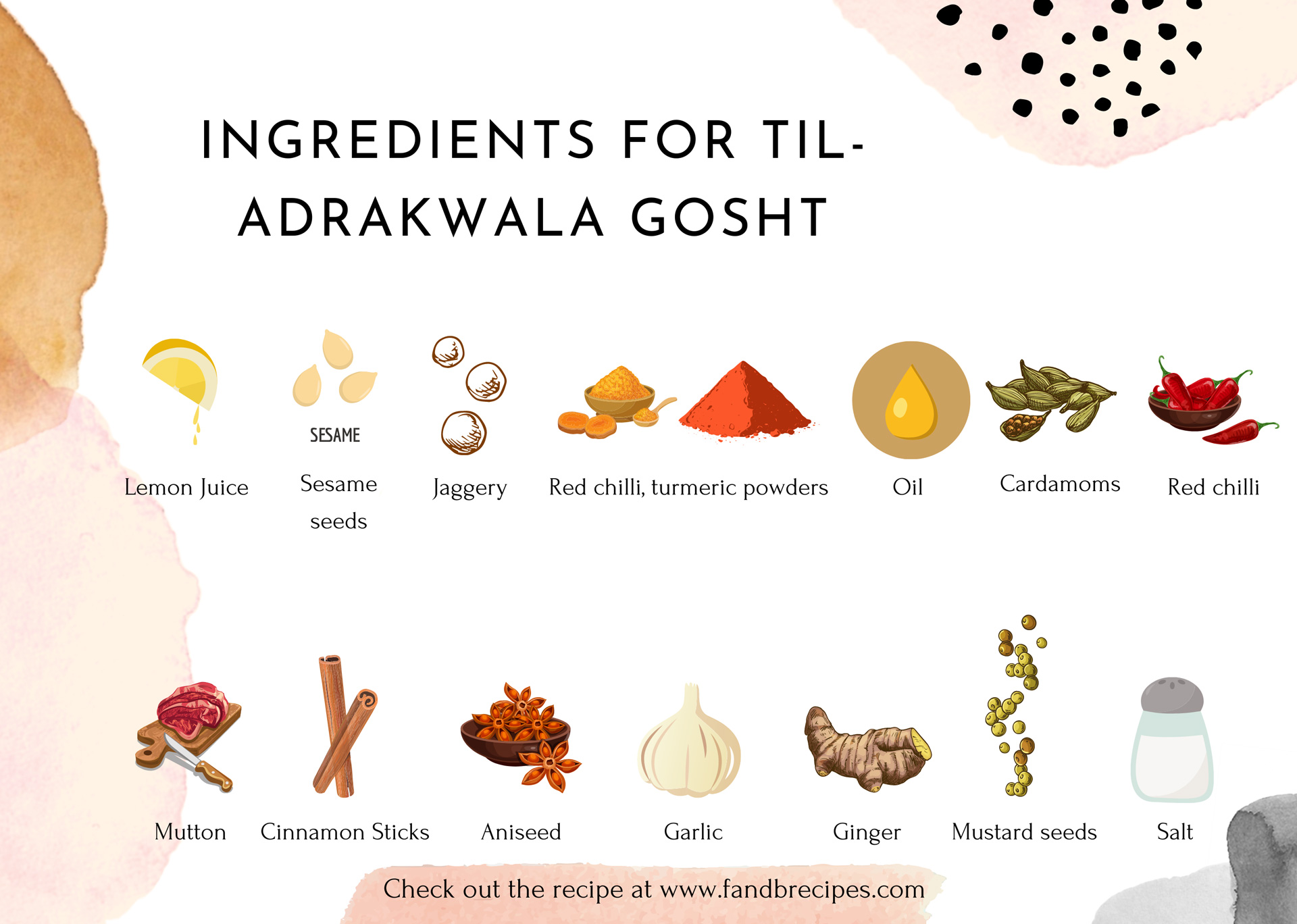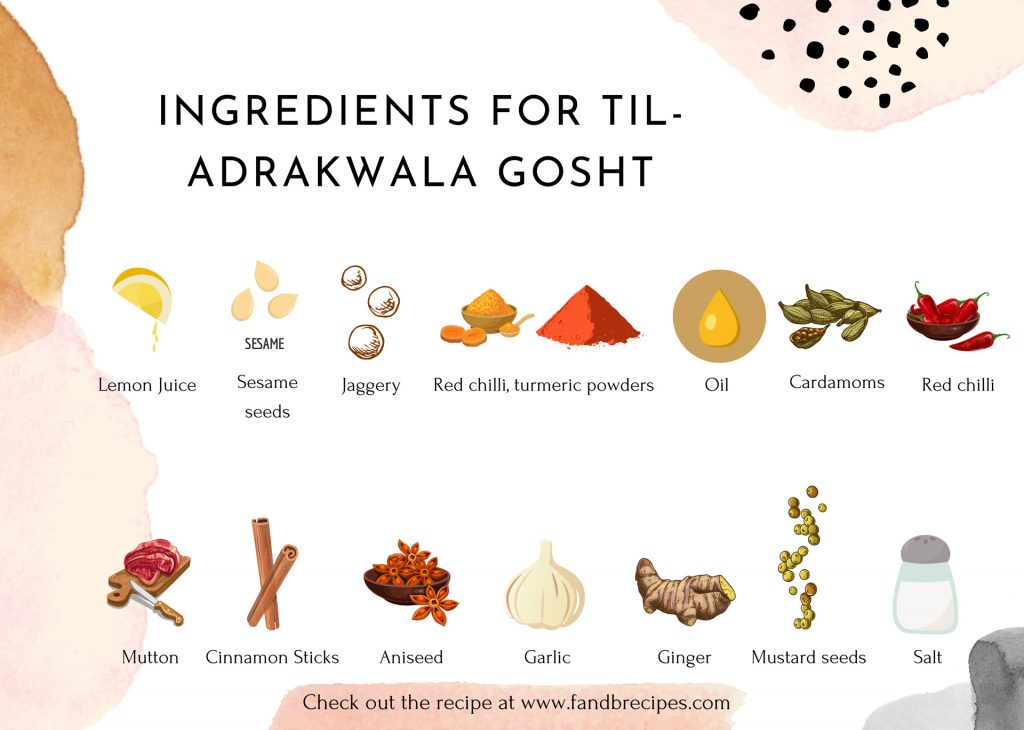 1 tsp lemon juice
1 tsp sesame seeds, roasted
3 tsp ginger sticks
½ tsp turmeric powder
2 tsp chilli powder
1 kg cleaned mutton
5 dry red chillies
1 tsp mustard seeds
4 tsp oil
1 small cinnamon stick
1 tsp aniseed
6 cardamoms
8 cloves of garlic
1 tbsp poppy seeds
Lemon sized ball of crushed jaggery
Salt to taste
10-12 cloves of garlic
2" piece of ginger
Method:
Grind garlic and ginger in the grinder with a little water. Add jaggery and salt to the mix. The jaggery can be first crushed with a rolling pin or broken roughly and put into the dry grinder for a few seconds. Rub the meat all over with this paste. Let it marinate for an hour.

Roast cinnamon, aniseed, cardamom, garlic and poppy seeds lightly on a griddle. Dry grind them to a fine powder.

Heat oil in a pressure cooker. Add whole chillies and mustard seeds. As the mustard seeds start spluttering, add the meat. Fry it until it evenly browns. 

Add ground spices, ginger sticks, turmeric and chilli powder. Stir well. Add a cup of water and close the cooker. Let it come to the maximum pressure. Reduce the heat and continue to cook for 20-25 minutes. Allow pressure to reduce. Open the cooker and check if the mutton has tenderised and all the water has evaporated. 

Sprinkle roasted sesame seeds and stir in the lemon juice. Serve immediately.
Wrap Up
The secret of making great recipes is following them as it is.
Although it may seem difficult, it becomes quite easy once you have made them a few times.
So, get ready with the ingredients and your apron to try your hand at these mouth-watering recipes.
Both the Gosht recipes make a satiating combo with rotis, naans and laccha parathas, and pulaos. 
Which of our Gosht recipes did you try? Let us know in the comments section below. 
Katie writes for F and B Recipes. She lives in New York with her dog Coco. When not writing, she can be found baking (and eating) chocolate chip cookies.