11 Easy and Delicious Party Snack Ideas
Parties are fun affairs. What better way to spend time together with friends and loved ones than a celebration over food? 
For party hosts, however, it's a totally different story. They have the (big) responsibility of getting the entire shindig together without missing a beat. And by the whole party, this covers EVERYTHING—from the venue down to the food. 
Party planning is one thing. It'll have you looking at decorations and printing invites. On the other hand, menu planning is a different ballpark in the big party planning umbrella. What is the best food for your soiree? Will the crowd love it?
Do you have no idea where to start? Don't worry—we got you covered. These yummy bites will please any hungry tummy.
The Classic Crowd Pleasers
These next few items are a hit with most crowds on any occasion. So don't be surprised if people come for seconds.
#1. Pizza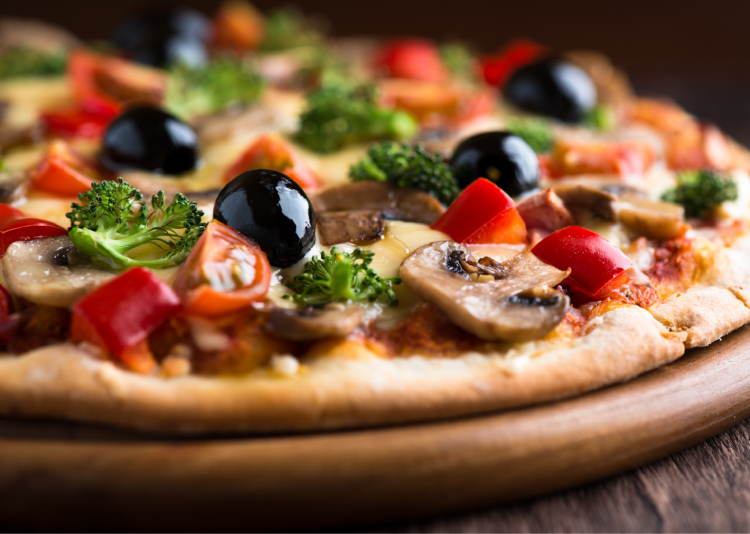 Who doesn't love a slice of pizza? This humble pie is a favorite among many people of all ages. Regardless of your party's theme, you can always bet on pizza to make anyone happy. So if you feel like unleashing your inner Iron Chef, go ahead and make one from scratch! Pizza-making is a labor of love that many will thank you for. 
Are you stuck in a pinch and don't have all the ingredients? Don't worry! You can always whip up a pie using whatever you have in your pantry. Or if you're feeling a little lazy (which we 100% understand, we've been there!), just call and order from your favorite joint.  
#2. Chicken Wings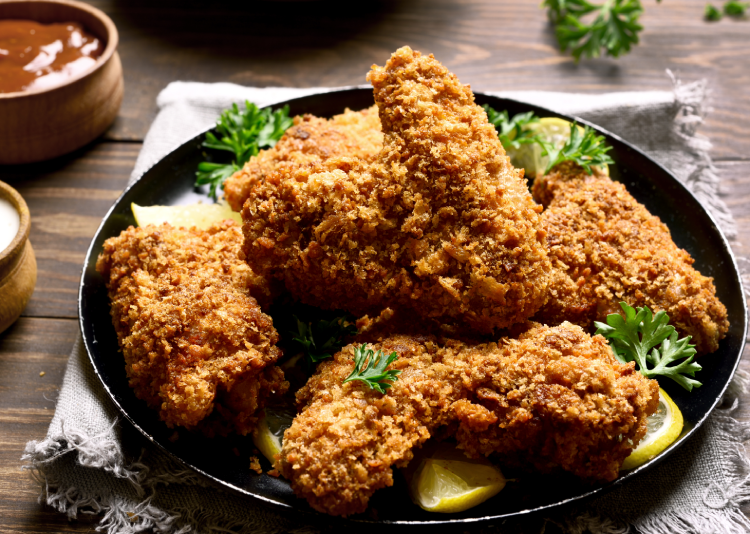 Wings are popular party eats because they're quick, easy, and versatile. If you've been to a Superbowl (or any football game, for that matter) watch party, you know that these babies are staples. Whether you fry, grill, or bake them, they'll still come out looking and tasting great. 
For faster prep time, buy the party wings variant so you won't have to cut them yourself. Also, this kind is much easier for guests to eat. As for the cooking part, feel free to experiment with your flavors! There are tons of different options out there, from the classic Buffalo to the crunch almond-crusted kind.
#3. Chips and Dip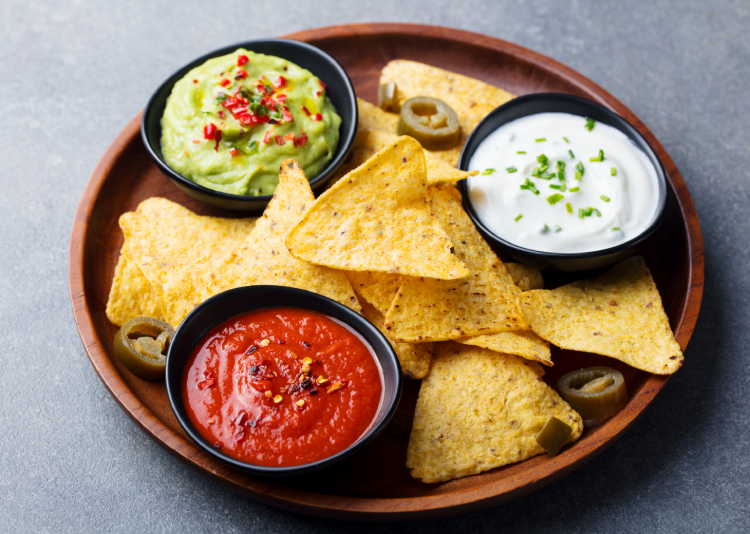 Here's another quick and easy party snack that's a hit with the masses. The combination of crunchy chips and rich dips is just one of those pairs that make total sense, you know?
Like chicken wings, chips and dip are a versatile party snack. Chip choices are endless; you can go for the good ol' potato or a healthy option like kale. Dip varieties vary, too—from salsa to tzatziki, the options are aplenty. And the best part? All you need is pantry items to get you started.
When making this party hit, your dips shouldn't be too thick; otherwise, it'll break the chips when your guests try to scoop them up.
#4. Deviled Eggs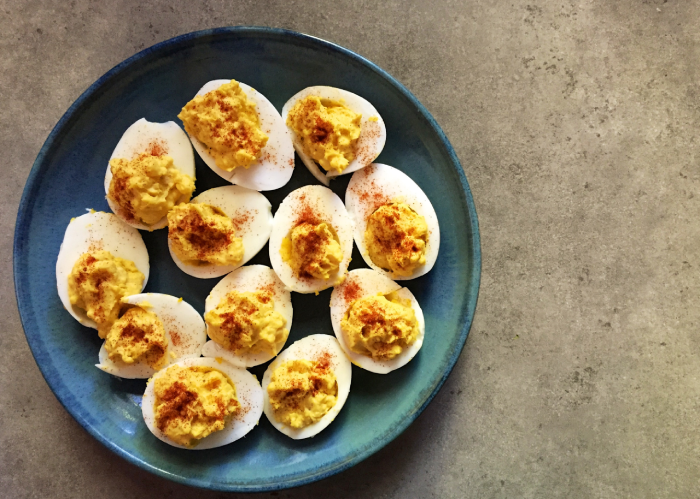 A party isn't a party without this appetizer. Fun fact: did you know that this party classic was born in ancient Rome? Are you surprised? So are we.
Although they're a spring and Easter staple, deviled eggs are perfect for any season. They're pretty convenient to make partly because you only need a few ingredients. However, boiling them can get a bit tricky since they have to come out perfectly, so be mindful from the moment your pot gets get cracking.
Deviled eggs are awesome snacks due to their simple nature. You don't need to add much to make it a show-stopper. 
#5. Popcorn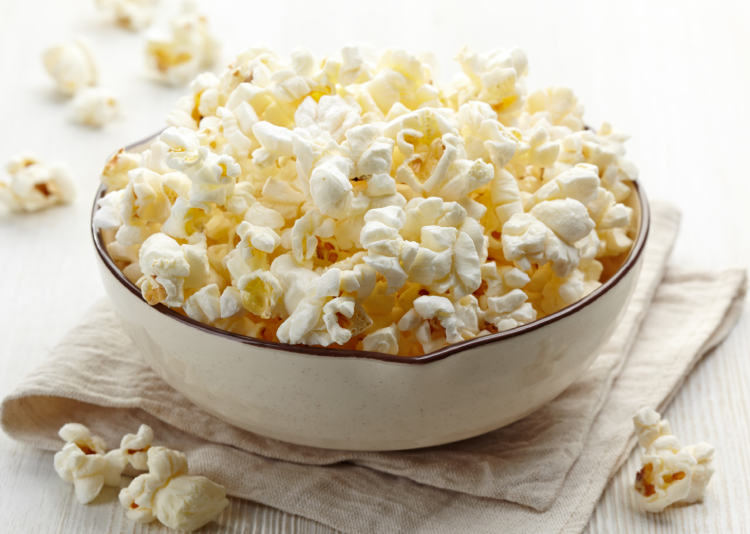 Think popcorn only belongs in movie theaters? We don't think so. This timeless snack has a place at any party.
Crunchy, crumbly, and fluffy, popcorn is a familiar presence to most taste buds. You can serve them in all their natural glory during parties or jazz them up for extra fun. Caramel on kernels is a no-brainer since their contrasting natures make for a delicious flavor explosion in people's mouths. Want something classic? No problem? Just drizzle some melted butter, and you're good to go. For sweet-toothed guests, try drizzling some chocolate and add treats like pretzels for an exciting mix.
The Fancy Stuff
Are you throwing a fancy shindig? Have we got the snacks for you! Get your guests eating and talking with these sophisticated starters.
#6. Antipasto Platter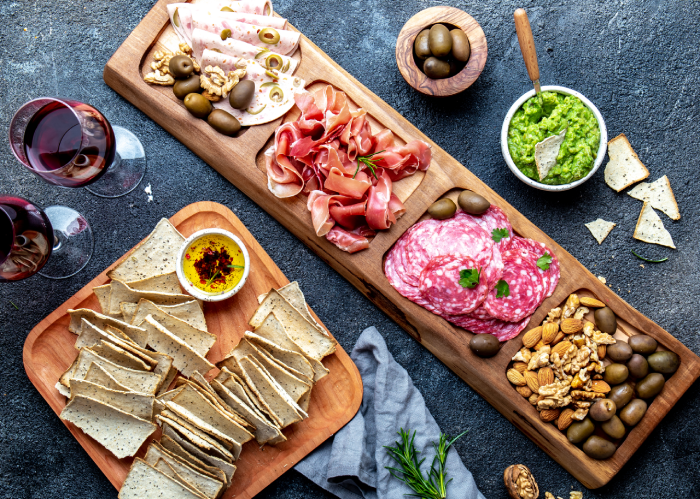 This Italian staple gets tastebuds excited due to its wealth of flavors and textures. But, of course, it helps that it looks great, too.  
Assembling a platter may seem daunting, but it's a lot less stressful than it looks. Just find the meat and cheese combination that works for you. Your veggies (regardless if they're fresh, cooked, or marinated) should be good to go as well, especially if you're in a hurry. Feel free to add extras like sliced fruits and nuts for pizzazz. Lastly, your plate should be big enough for everything to fit. Trust us—you don't want extra cleanups courtesy of spills.
#7. Crostini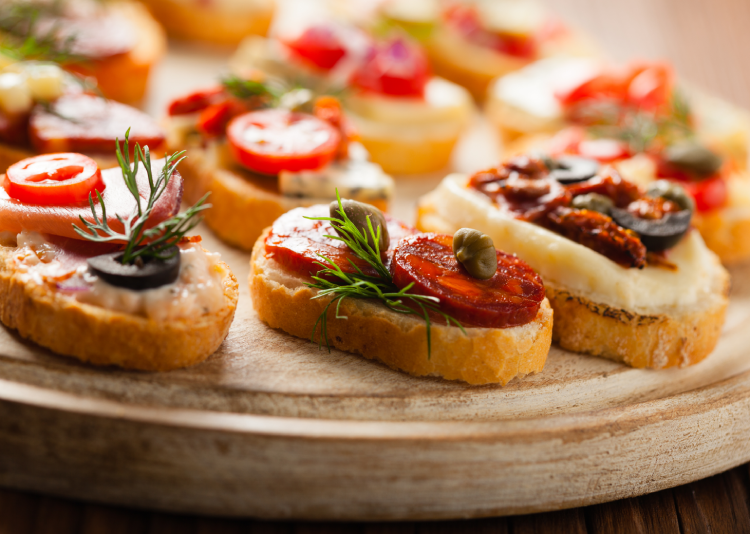 We're not heading away from the Italian menu just yet. 
You may think this entry is just an average piece of bread. But the thing is, these "mini-toasts" are far from boring, especially when paired with the right toppings. Who says no to sliced baguettes?
Crostinis are great with either sweet or savory additions. Since they come in bite-sized pieces, we're sure you'll be having seconds. Fancy some lox? No problem. Just prepare them the way you like your favorite bagel. Want extra sophistication? Top your crostini with brie (another party favorite we'll bring up later) and cranberry sauce for the perfect marriage of flavors.
#8. Puff Pastry Twists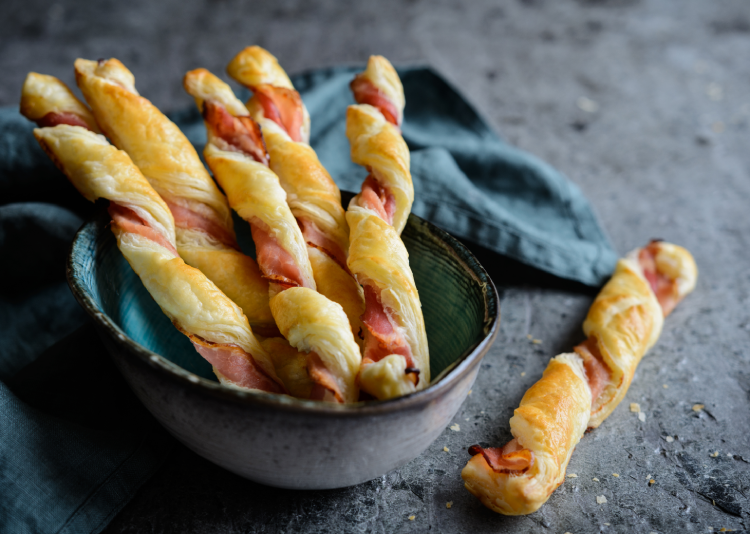 Puff pastry is one of life's simple pleasures in edible form. Who can resist the buttery, flakey, and crispy goodness they give? Certainly not us!
Do you know what'll make puff pastry even better? Twist it with things like cheese or bacon, and you've got yourself a crowd-pleaser. This gastronomic reunion is so filling; your twists will be gone before you know it!
If you've got the time, making these twists from scratch is worth the effort. You'll be amazed at how something so simple is satisfyingly delicious. But if you're in a hurry, store-bought frozen puff pastry is 100% fine.
The Sweet Little Things
Don't think we forgot about the sweet stuff. Satisfy your sweet tooth with these niblets!
#9. Tartlets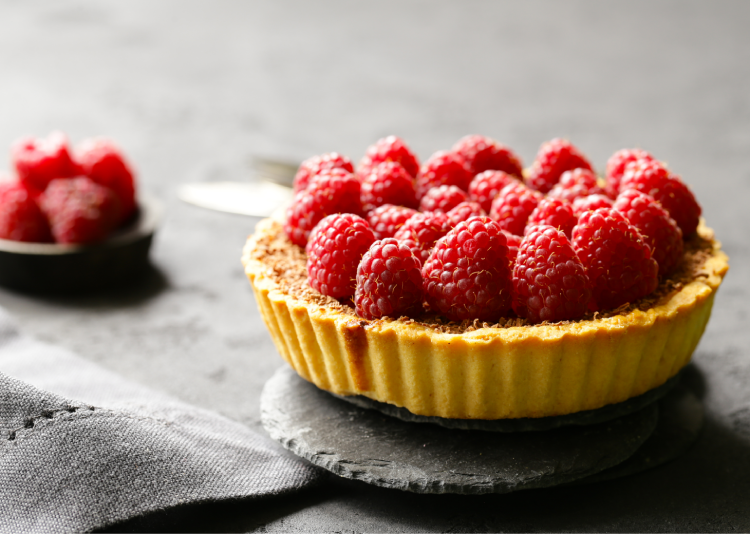 Don't let their small size fool you: tartlets pack the same amount of sweetness as their larger counterparts. Since they're bite-sized, you won't have to worry about overeating them. Tartlets come in various flavors, from decadent chocolate to fruity lime. 
Save time by buying pre-made shells—nobody will know anyway. Believe us when we say that they'll be a hit during your next celebration.
#10. Cheesecake Bites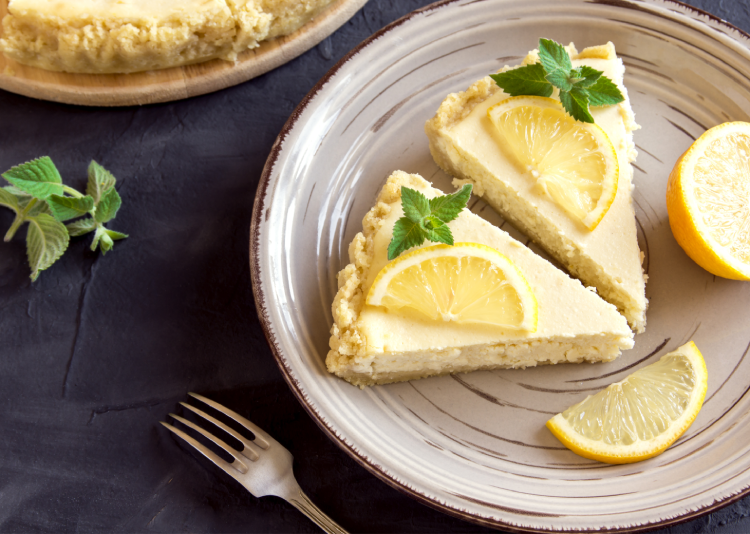 Cheesecakes are such an irresistible treat that even ancient Olympians (yes, you read that right!) enjoy. Since slices can get overwhelming, get your guests buzzing by serving them in small squares! Experiment with flavor choices to add variety to your table.  
#11. Fudge Bars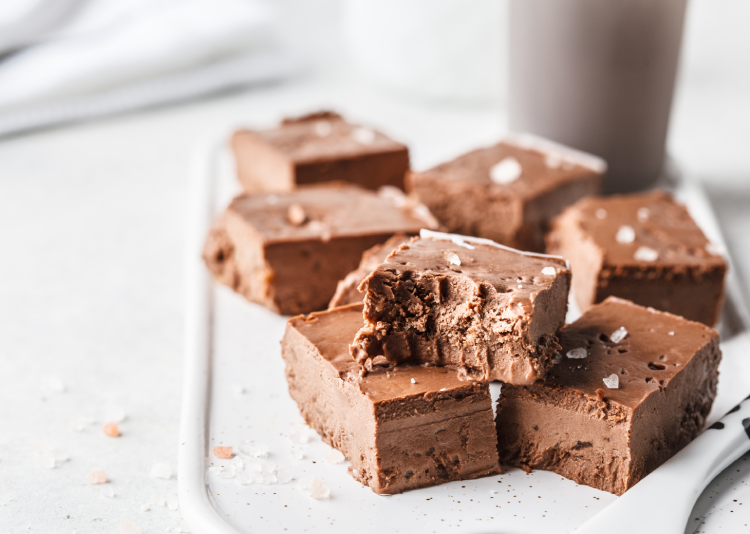 Get your chocolate fix through these decadent tiny squares! Combine them with nuts or fruits for added texture and flavor. We recommend walnuts or cherries for excellent contrast.
These are just some of our recommendations, so feel free to go beyond this list. Have fun and don't forget to enjoy your party!