The 11 Best Pantry Renovation Ideas
For a lot of families, the pantry is probably the busiest room in most houses. Creating a system for neatly organising dry items, snack foods, paper goods, and all jarred and canned items is a struggle that many of us are quite familiar with. This is especially true in busy households in which everybody is continually using these products. Besides that, there is also the issue of lack of space to consider. Whether you've got a few kitchen cupboards or a large pantry, we all can conclude that there is never enough space for it all. This may be due to a lack of pantry renovation ideas available to you.
It is an issue of fine design to fix this problem. The easiest way to make sure you're getting the best out of your space is to install clever new features. Or renovate your household to build a new pantry. Pantries are such a focal point for house owners that several designers are also devoting quite a bit of thought to them as they do to a more public place. If you have the space, a butler's pantry, that incorporates a tiny sink as well as other add-ons that make entertaining far simpler, is a growing trend.
Pantries are a good place to indulge in stunning flooring, floating shelves, brass hardware, and personal cabinets. If a large project is not possible, you may also have to get clever and install a pantry somewhere else. 
Not only are mudrooms used to hang jackets, scarves and sports gear, but they are often used to discuss storage requirements for bigger items such as large purchases of basics. And also a spot to stash away less regularly used kitchenware and dishware. Take a look at some of the features that designers are incorporating to maximise organisation and fashion in these areas to get ideas for your pantry task.
In this article, we will discuss some of the best pantry renovation ideas for you to implement in your kitchen. You can also choose from some of the best and most innovative ideas.
#1. Sliding Baskets
There are many ways for you to optimise your pantry. First on the list of pantry renovation ideas are sliding baskets. Mesh bins, keep vegetables and fruits fresher for longer. You can also put the basket on the lower shelves of the pantry for easy access.
#2. Bread Bins and Baskets
These next pantry renovation ideas are a great indulgence for foodies. More specifically for anybody who enjoys a delicious sandwich. Rather than stashing bread on that counter, store it in a drawer entirely devoted to all the bread you adore. You will also reduce the stress of mushed bread again, for an added bonus.
#3. Roll Out Bar
One more nominee for pantry renovation ideas? Bottles of alcohol. This cabinet has a design with 2 levels of roll-out bins, one is for tall bottles while the other holds bottles which can lay on their sides.
#4. Cabinets with Glass-fronts
Next on the pantry renovation ideas list are glass-door cabinets. As fewer households have china cabinets in which to showcase serving objects, the issue of where to keep these rarely used items persists. A butler's pantry is a useful place to store serving plates, bowls, tea cups, as well as other party essentials. Glass-front doors also allow you to see every item with a good look while keeping dust at bay.
#5. A Proper Workspace
You should also think about adding a decent workspace. If you can get more use out of such a space, you can explain adding a butler's pantry to the home. Combining workspaces for uninterrupted work is such an excellent way to accomplish this. 
#6. Strong Design Features
Going inside a pantry that is as trendy as the remainder of your home brightens your day. This next option on the pantry renovation ideas list helps you with just that. Dark cupboards and decorative tiles can help make this workable space stick out. The open shelves on top are perfect for keeping everyday items. In addition, the kitchen cupboards on the bottom also provide additional storage.
#7. Door Pockets
The act of opening a door can also restrict your kitchen layout. This is especially important if the door keeps whacking the counter or a cabinet. Door pockets are another ingenious option for your pantry renovation ideas. You can save a lot of space by installing a pocket door in a smaller pantry.
#8. Door with Mesh Fronts
You can also opt for mesh-front doors on your cabinets. This allows a good amount of circulation to take place in the drawers. Besides that, it is also a good feature that allows you to see your items without viewing the clutter.
#9. A Wine Cupboard
If you aren't doing a butler's pantry, you can think about other small spaces that you can reorganise. For instance, a wine dispenser or a wine station is also a great way to make use of small spaces.
#10. Shelf Platters
Next on the list of pantry renovation ideas is open shelving. This helps you access all your items like serving bowls, platters, etc. You can also convert a cabinet into some small cubbies. Remove the doors of the cabinet and simply place the shelves at the correct height.
#11. A Cleaning Supply Closet
The last option on the list of pantry renovation ideas is supply closets. A good way to organise your kitchen is to create a cleaning supply closet. You can stash your brooms, mops and other supplies in here. You could also create cubbies with pull-out drawers for your smaller tools.
In Conclusion
A pantry seems to be the kitchen's workhorse. It makes it easier to go and get supper (or snacks or brunch) on the table while also keeping foods clean and refreshing. However, as with any hard-working environment, it can become a tiny bit disorganised. This is why it might be a good thing to get some pantry renovation ideas.
Any type of pantry will improve kitchen functionality. They are an excellent way to add storage space to your kitchen layout. You can also create a convenient pantry with visual beauty in your kitchen.
You can install open shelves or a supply closet. Or you may also choose to add a good workspace or put in some roll-out bins and baskets. Some people also choose to convert their pantries into wine cupboards.
What are some other pantry renovation ideas? How can you beautify your pantry? Let us know in the comments below.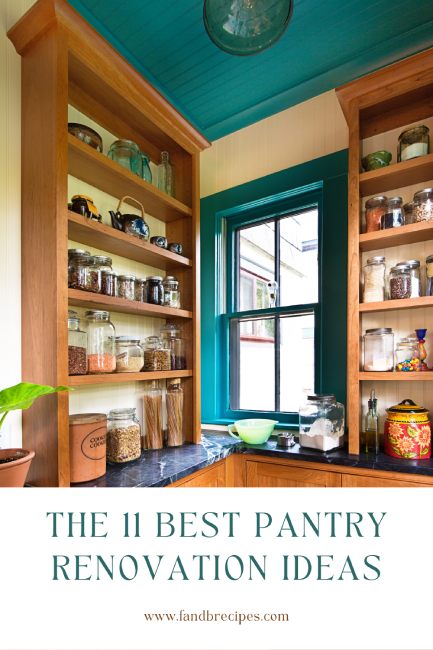 Danielle is a content writer with a love for books, music, and lifestyle blogs.