8 Common Kitchen Renovation Mistakes to Avoid
Kitchen renovation mistakes are quite common when you're just starting out. They can range from tiny placement errors to poor lighting and cramped space. It is important to be aware of the various places people can go wrong with kitchen renovations. 
So, before you delve into your remodelling, keep in mind these 8 common kitchen renovation mistakes.
#1. Making your aisle too narrow. 
Narrow aisle spaces are one of the biggest kitchen renovation mistakes. Kitchen aisles should be wide enough to allow to cater to all the actions taking place there. Many people must be able to quickly get into the area and shift around one another without colliding. When you design your new kitchen, ensure that all aisles are around 44 to 48 inches wide. This includes those in the middle of walls, appliances, and worktops.  While placing important items like ranges and a kitchen sink, think about creating a balance. This is so that people don't bump into each other.
#2. Overloading your island space.
Kitchen islands help to increase your prep and storage space. But, they only work if you have enough room. Islands in a small kitchen area could end up being kitchen renovation mistakes.
In a large room, it is better to have two islands rather than one. It is also a bad idea to widen your island. Because anything that is too long is tricky to navigate. Also, reaching the centre of an island is difficult if it is too deep. A similar situation arises when there is too much dinnerware, baskets, and other items. It is important that you don't overstuff your island.  Ensure that no island space spreads beyond the countertop's rim.
Something else that can cause a problem is poor placement. If you put your island in the wrong place you will end up restricting movement in the kitchen. It can destroy your flow when you need to access different things like the sink, fridge and stove. 
#3. Not planning your storage space. 
A clever design adapts storage to the items that you commonly use in different zones. There are a variety of storage choices available, such as open storage, shelves, and cabinets. Consider the remodel's goal as well. If you choose glass window cabinets for a sleek look, then keep the insides simple and neat.
If you have a small kitchen you can opt for a peninsula rather than an island. Keep an eye on your space while planning the remodel. Try not to make kitchen renovation mistakes like overwhelming small spaces.
Besides that, don't neglect minor add-ons and storage aspects such as additional drawer compartments. Or cabinet extensions such as pantry pullouts. Such specifics will improve the storage efficiency of your kitchen. It will also save you funds since they are more expensive to add on later.
#4. Not prioritising your essentials.
Not thinking about everything you need in the kitchen is next on this list of kitchen renovation mistakes.
Before you choose your tiles, countertops or layout, first ask yourself these questions:
How much time do you spend in the kitchen?

Do you want to eat in the kitchen?

How much space do you need for storage?

Which electrical gadgets can't you do without?

How can you dispose of our waste?

Do you need to childproof anything?
When you're clear about what you need and what you want, you will find it easier to make decisions. 
#5. Making impulsive decisions regarding the design.
Materials may show up differently in a showroom than at home. Making major decisions about design is the next on this kitchen renovation mistakes list. For instance, you can get countertop or floor samples at home to see how they look in your kitchen. You may also want to check the samples under the same lighting conditions that will be used in the new place.
Don't prioritise style over functionality. This can be a costly mistake for your kitchen. Ensure that your floor is stain and moisture-resistant. You should also make sure that it is easy to clean. Besides that, choose your wallpaper specifically for humidity purposes.
#6. Forgetting about lighting and electricity.
Also on the kitchen renovation mistakes list is allowing all-natural light to enter areas like the family room or main bedroom while leaving the kitchen dark. 
A stunning kitchen does not equate to a well-functioning kitchen. Sadly, in the rush to renovate and make something remarkable, some people dismiss electricity and lighting. 
This leaves the space too dull to work in. They may also lack outlets to handle different equipment. Or they may have dangerous ventilation.  Experts say this is usually due to people focusing overly on workspaces and ignoring other areas. Fixtures, switches, and connectors all add to the general look and utility of the space. Thus they should not be neglected. Smart electrical layout, such as outlets below the kitchen cupboards, on the countertop, and in the cabinet, will keep your space functional for years.
#7. Not planning a proper layout.
To save you a lot of time and frustration, plan your kitchen layout ahead of time. It will become a headache later on if your dishwasher and kitchen aren't close to each other. You don't want to be dripping water and creating potential safety hazards.
Besides that, neglecting window placements, heights of ceilings and depths of walls are all common kitchen renovation mistakes. It is important to consider your passage ducts as well. Also, try not to make any rash decisions on colours, finishes, or add-ons that can look out of place later.
Before committing to any layout, consider how and where different elements will open. For instance, check where your cupboards and drawers open. How your fridge is placed as well as the dishwasher. You should consider how people will move around in this space.  
#8. Forgetting about appliances.
Next on the kitchen renovation mistakes list is choosing your kitchen appliances at the end. Think about the size of your doors and the direction in which they open. You should also consider where your appliances and cabinets will go accordingly. Measure your appliances that require more space like ovens and fridges. Walk around the space to understand how cramped or spacious your layout is.
Also, it is important to understand the features of electrical gadgets. Many of them require much more space than just the actual appliance. And, most importantly, don't change your mind about appliances after you have designed the cabinets and layout.
In Conclusion
There are many common kitchen renovation mistakes that people make. You should be aware of them so that you can save money and unnecessary do-overs. Some of the mistakes you should avoid are:
Making your aisle too narrow.
Not planning your storage spaces.
Not prioritising your essentials.
Impulsive decisions about design.
Forgetting lights and electricity.
Poor planning of layouts.
Forgetting to measure appliances. 
What are the mistakes you have seen people make in their kitchens? How do you think you can combat kitchen renovation mistakes? Let us know in the comments section below.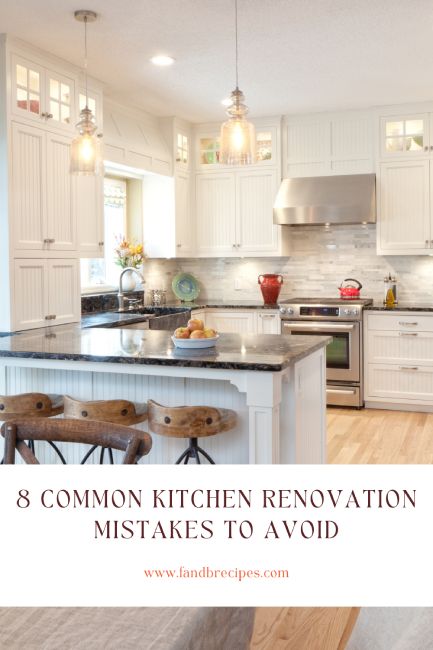 Danielle is a content writer with a love for books, music, and lifestyle blogs.