10 Kitchen Trends That Will Never Go Out of Style
There is no limit to the kitchen trends that have seeped into everyone's homes. If you're looking to redo your kitchen there are a few things you can keep in mind to make your kitchen stylish and trendy.
For instance, you can use different colours in the upholstery of your kitchen furniture to create an eye-catching look.
You could also go for a fully white kitchen. Because the colour helps to reflect sunlight, which makes your space appear larger. Plus, a white kitchen can go with any other texture or colour you want to combine. 
Besides that, you could also use different materials to make a one-of-a-kind look and texture in the kitchen. This could be even if it's only in minor details that are scattered about.
#1. White colour palette
A white kitchen is a part of the timeless kitchen trends that will never go out of style. It gives your kitchen a new, clean and modern look. It also allows you to make changes to your kitchen. This prevents you from having to create a new look every time.
But, a white kitchen can appear sterile or plain. So, it's important to include shades and soft details through other features. For instance, you can add earthy and warm tones such as wood and brick. This can counter the coolness of the white colour. You can add textures and pops of colour with various light fixtures, appliances, and backsplashes. They also add dimension to your kitchen.
#2. Fluted stripe technique
Fluted detailing is next on the list of kitchen trends. It is a tasteful vertical stripe technique that has become quite popular in recent years. They can be on cupboard doors and fireplace mantels.
Though it seems subtle, this fluted design has great detail that gives your kitchen a contemporary look. This look is not bound to go out of style anytime soon. But, don't overdo it. You can instead choose one area to put this detail. It helps to make a statement.
#3. Countertops made of Quartz
Next on the list of kitchen trends to go for is the quartzite countertop. Marble countertops make your kitchen look impressive. But, sometimes it requires too much maintenance. If you want an alternative, then white quartzite is a great option to consider. Though it appears like marble, it is much more durable. You can also choose Caesarstone. You can choose a straight countertop instead of a decorated edge.
#4. Pretty island lights
You should also invest in good lighting and light fixtures. They are important to your kitchen because you need to work here. Think about this as an opportunity to combine form and function. You can select decorative lights that complement your space. It also speaks about your personal style. Get some geometric chandeliers or sophisticated globes. Stylish light fixtures are also high on the list of kitchen trends.
#5. Contrasting yet complementary details
When it comes to kitchen trends, matching colours, cabinetry, and fixtures may seem like the obvious choice. But, try applying contrast with both texture and colour. Since you aren't keeping any one style, then you can mix different stains or colours for a more evergreen look. This allows you to stay trendy while also being timeless.
Top and bottom cabinets are great places to experiment with different colour palettes and stains. These spaces serve as a great foundation for the entirety of your kitchen's layout. And, they also make great statement pieces
#6. Co-ordinating cabinets
Next on the list of kitchen trends includes incorporating appliances into the design. Sleek, built-in cooktop hoods that turn on instantly are one way to bring this trend into your kitchen design. Other common choices for creating a uniform look to appliances include induction cooktops and below-counter appliances.
You can also opt for integrated cabinets. These are coordinated fronts of cabinets. They help conceal your fridge and dishwasher which may appear monotonous. But, integrated equipment is less clunky than individual appliances. Also, they save room and make your kitchen cosy.
#7. Hidden Storage
Hidden storage options are built into the wall surfaces of the kitchen. Cabinets created with hidden storage space in mind, mix with the background. It also opens up with a touch, rather than having apparent handles, pulls, and cabinet moulding.
Outer cupboard hardware is either absent or minimal. But even so, you do not have to go too minimalist in order to get into this option of kitchen trends. Hide your trash can behind gentle-close cabinets or include stylish drawers and cabinets in your centre island for concealed storage.
#8. Natural and raw material
Natural materials, such as stone, wood and others, are always trending in some way. This makes them among the kitchen trends that will never stale.  You can find t his style in gunmetal and pewter kitchen hardware, furniture and accents made of wood. It is also found in leather cabinet door pulls, and other places.
In addition, because of the different hues, graphic texture, and organic grains, real wood is a stunning choice. Many home buyers prefer real wood. So, installing it can increase the value of your home. Hardwood floors can also be softer for your feet than concrete or tile. Thus reducing back and knee strain.
#9. Blend of modern and vintage designs
Several contemporary kitchen designs add classic elements to give the space a vintage feel. You can include raw materials to bring a vintage look to your modern kitchen.
You can also achieve this look with lighting and antique fixtures. 
Pendant lighting and textures that contrast are seen in kitchen trends very often. And, so by blending modern and vintage elements you can capture an excellent look for your kitchen.
#10. Staying neutral or Working with colours
Matte black seems to be a common finish in kitchen trends. You can find it on hardware decors, kitchen lamps, shaker cabinets, and other items. It can also bring your kitchen a bit of drama and elegance without overpowering it. In addition, full-white kitchens are also trendy because they provide a graceful and smooth look to your house.
A neutral or light colour palette is nearly always trendy in the kitchen. But pops of colour can be as well. 
You can find bolder or brighter colours in kitchens in cabinets, upholstery as well as two-toned kitchens. You can choose whether you want a statement or accent piece through the colours you choose.
In conclusion
There are various kitchen trends that have been around for ages now. From two-tone designs to a full white colour palette. Many people also choose to go with natural materials like hardwood for their styling. 
Besides that, you can also choose to blend different, colours and styles. For instance, a combination of modern and vintage pieces makes for a stylish kitchen. Also, you should think about integrating your appliances and storage space into the look of your kitchen. Finally, don't forget to make your kitchen shine bright with some great light fixtures.
Did you find this article helpful? What are some of the best kitchen trends you know? Let us know in the comments section below.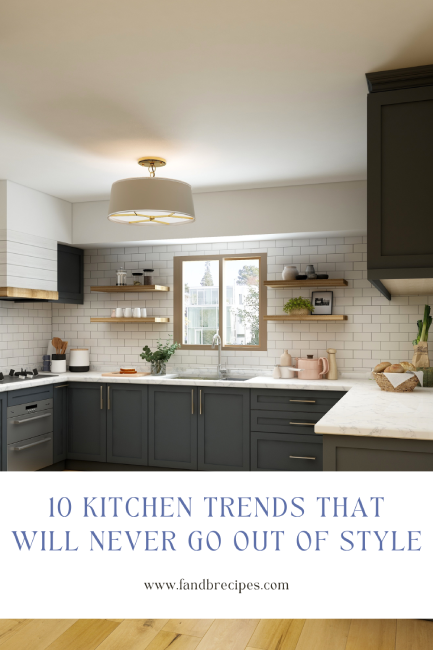 Danielle is a content writer with a love for books, music, and lifestyle blogs.