Fish Recipes For People Who Don't Like Fish
Fish is easy to make, nutritious and one of the healthiest food options on the planet. They say there's always a black sheep in the family who isn't fond of fish. We bring you a mix of tuna, salmon, cod and more fish recipes for people who don't like fish. 
Benefits of eating fish
To begin with, fish has an abundance of vitamin D, protein and other important nutrients.
It's also a great source of omega-3 fatty acids that's vital for your brain and body. 
Apart from that, are 10 benefits of eating fish (supported by research):
1. Loaded with nutrients
Fish is loaded with protein, minerals and vitamins that people are deficient or generally lack. 
Fatty species are often believed to be the healthiest.
The reason is simple, fatty fish such as mackerel, tuna, sardines, trout, and salmon contain more fat-based nutrients. 
Consuming fish on a regular basis is important for the optimal survival of the brain and body and is linked to a reduced risk of a number of diseases. 
2. Reduces the risk of heart attacks
Did you know that strokes and heart attacks are the most common causes of premature death?
Fish is one of the best heart-healthy food you can consume. 
How do we know that?
A number of studies have shown that people who consumed fish regularly had a lower risk of strokes, heart attacks or death from heart disease. 
In another study, more than 40,000 men from the USA who regularly are one more servings of fish each week had a 15% less risk of heart disease. 
3. High in nutrients important during development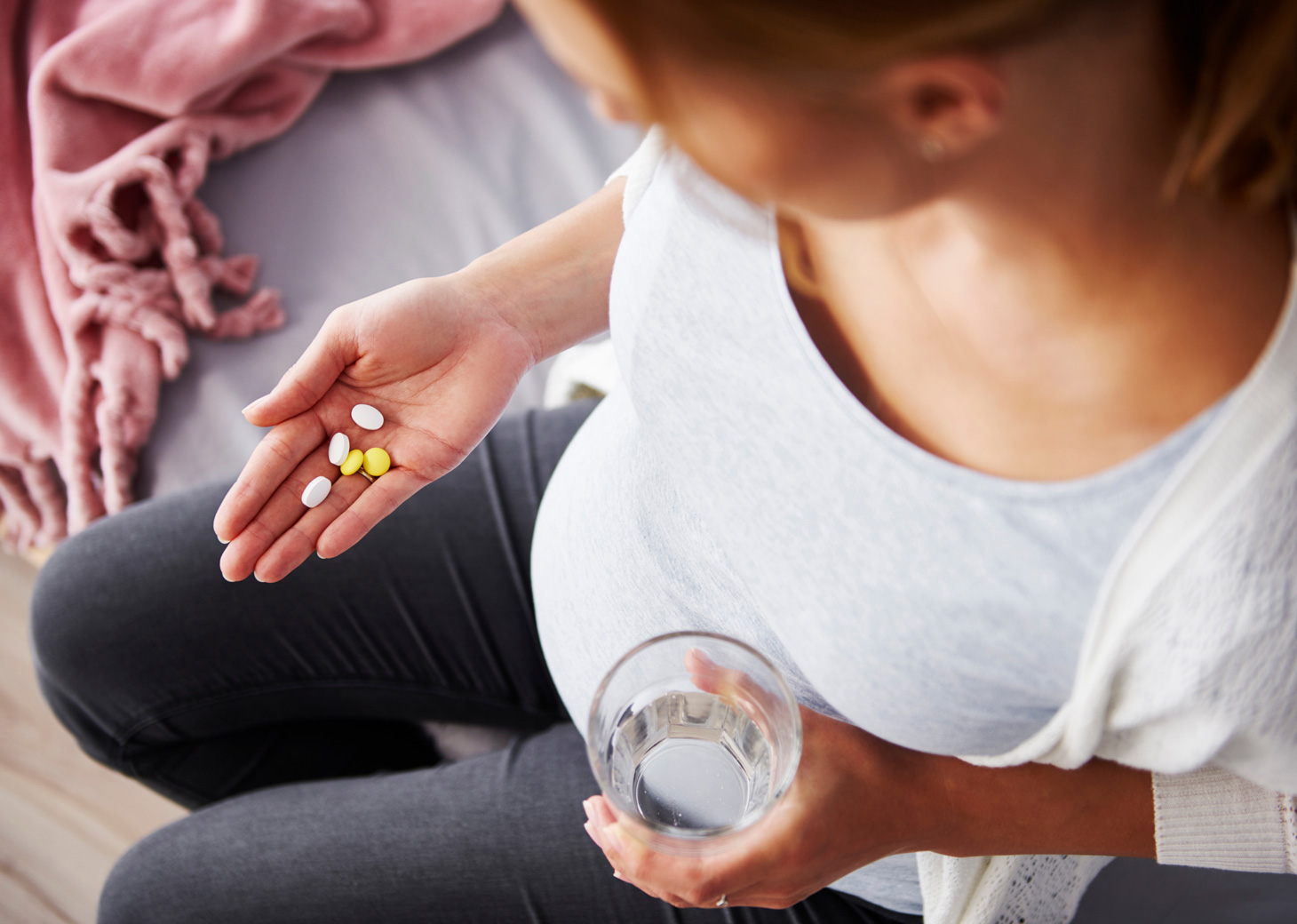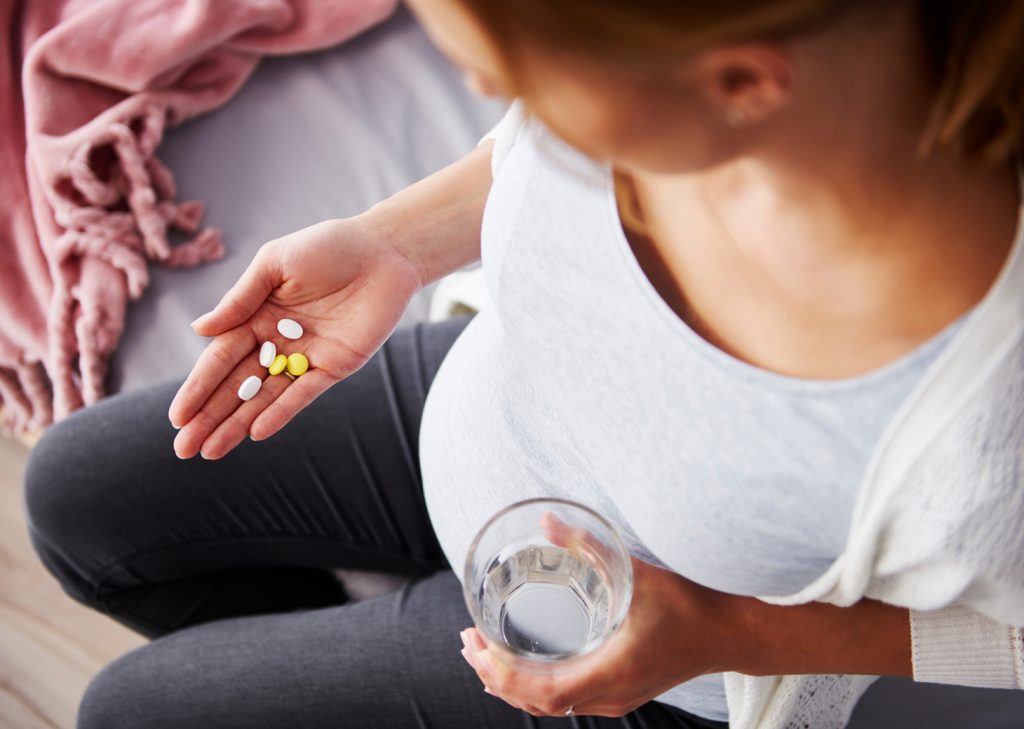 It's no surprise that omega-3 fatty acids especially DHA (docosahexaenoic acid) are required for proper development and growth. 
For this reason, it's recommended that pregnant or breastfeeding women consume enough omega-3 fatty acids. 
A word of caution: some fish contains high amounts of mercury which is linked to brain development problems. 
Thus, stick to eating low mercury fish like trout, sardines and salmon especially if you're pregnant or breastfeeding. Limit the servings to no more than 340 grams each week. 
Also, avoid uncooked or raw fish as it might contain microorganisms that harm the fetus. 
4. Boosts brain health
Your brain slows and declines with age. 
While a mild mental decline is acceptable, the risk of serious ailments like Alzheimer's can be reduced. 
Observational studies have shown that the brains of people who consume fish decline slower than those who don't.
Studies also show that people who consume fish on a regular basis have more grey matter (brain's major functional tissue) responsible for regulating memory and emotion.
5. Helps prevent depression
Depression is one of the most common mental conditions. 
Often characterised by loss of interest in activities or in life, decreased energy, sadness or low mood, it's undoubtedly one of the world's biggest health problems. 
Studies have revealed that people who consume fish on a regular basis are less likely to feel depressed. 
Fish is also known to aid bipolar disorder.
6. Good source of Vitamin D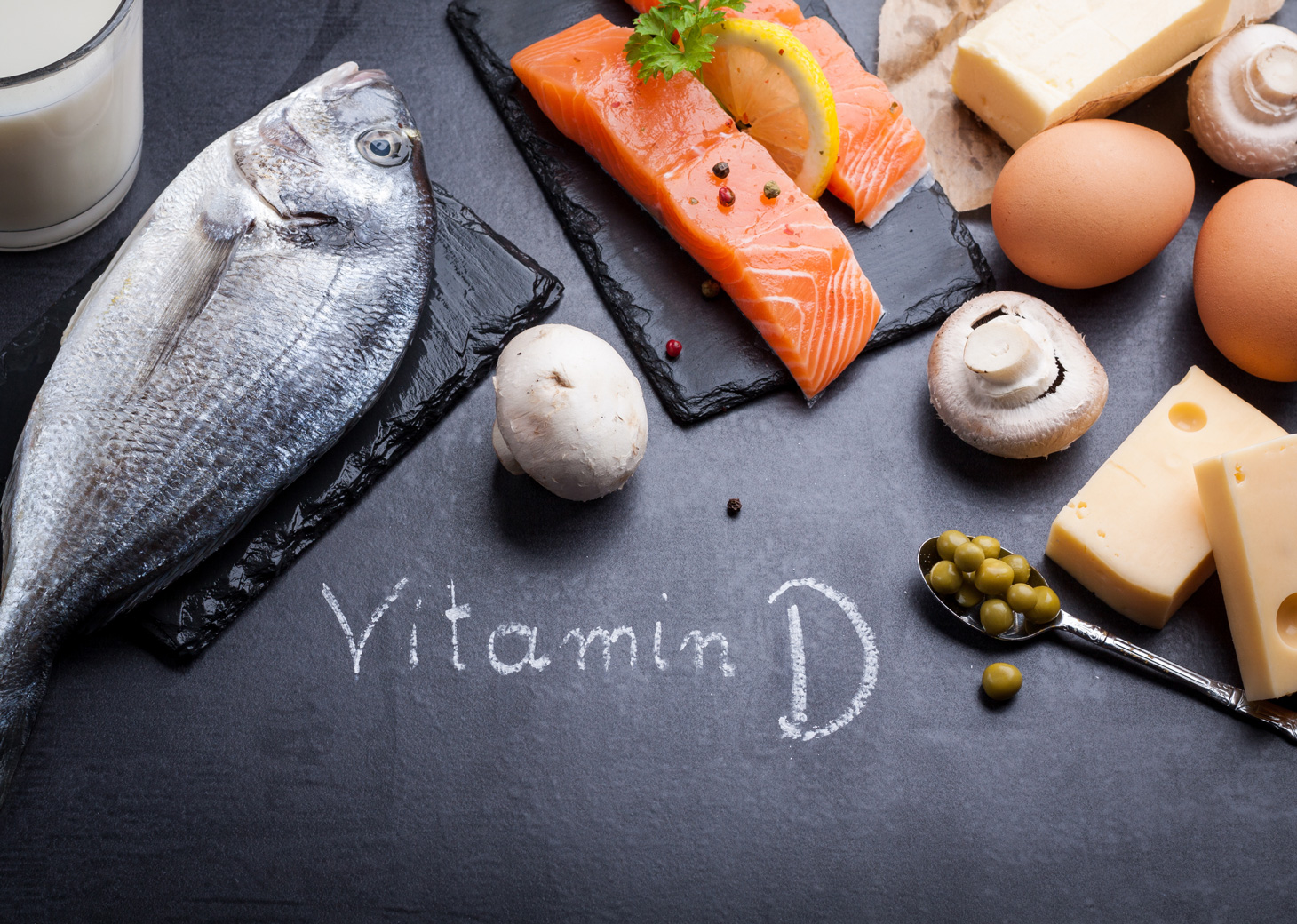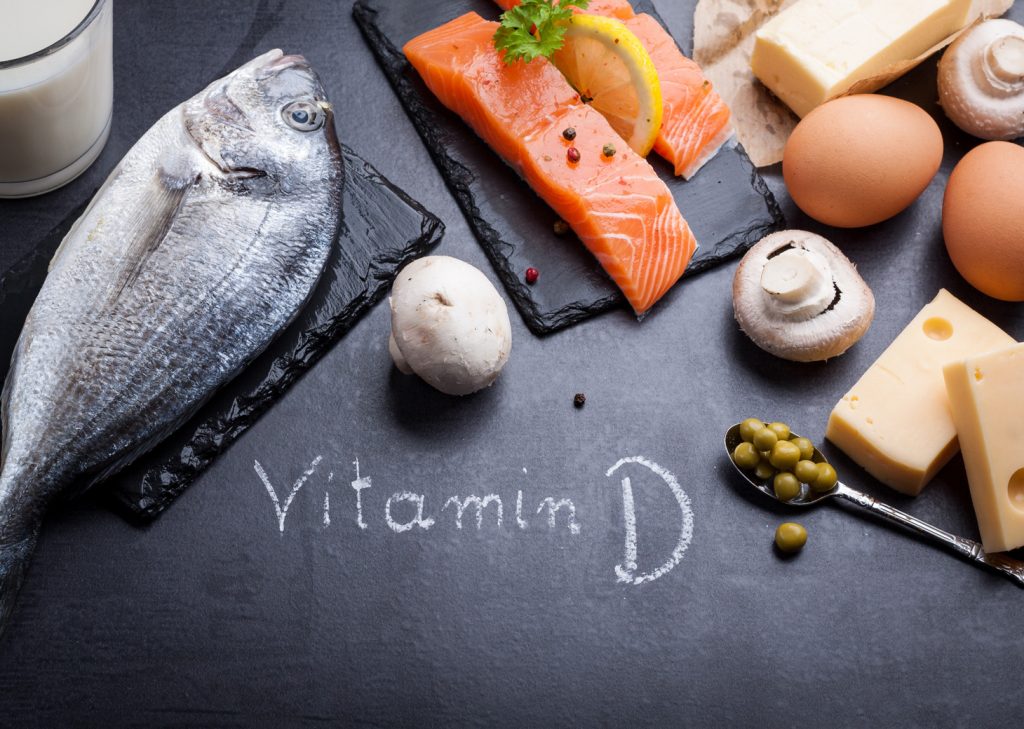 Did you know that 41.6% of Americans are vitamin D deficient? 
You should think about consuming fish if you're someone who doesn't step out in the sun too often or doesn't take supplements.
Fish products and fish such as herring and salmon are the best dietary sources of vitamin D. 
7. Helps prevent asthma in kids
The percentage of children suffering from Asthma has increased dramatically over the past few years. 
Studies have shown that children have a 24% lower risk of asthma if they consume fish regularly. 
8. Protects vision in old age
Older adults are commonly affected by blindness and vision impairment. 
Evidence suggests that fish protects against these diseases. 
One study revealed a 42% lower risk of these diseases in women. 
9. Improves sleep quality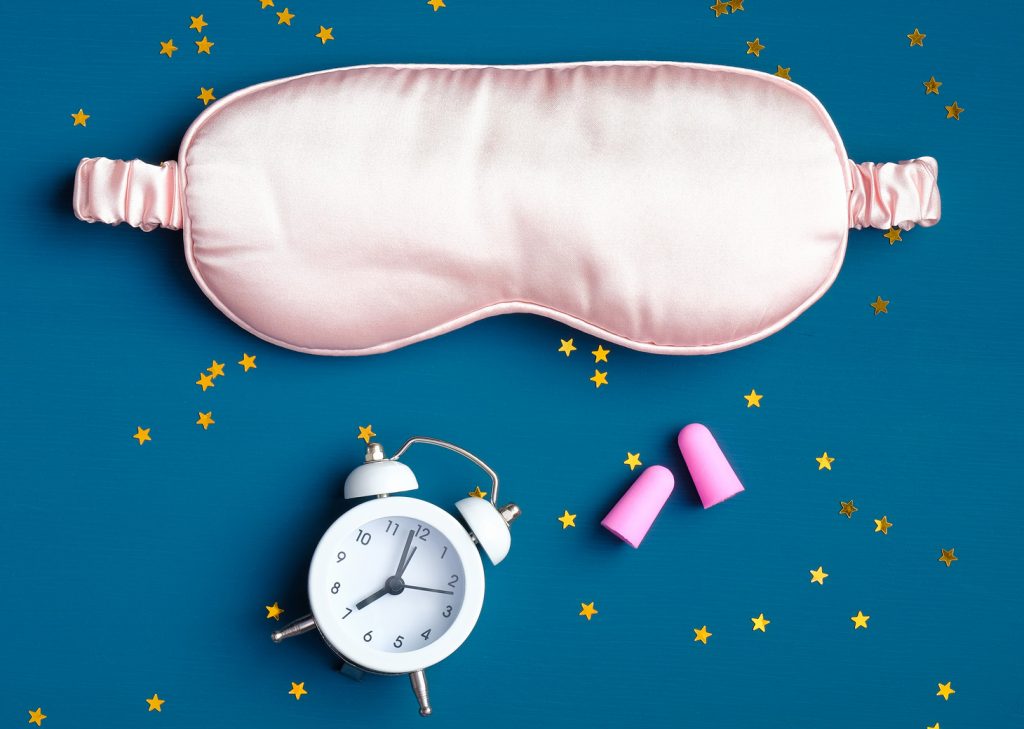 Sleep disorders are another problem that has increased worldwide. 
A study conducted on 95 men over 6 months showed improvement in daily functioning and sleep when they consumed salmon 3 times every week. 
10. Easy to make and delicious
I know, right? For this reason alone, you must incorporate it into your meals. 
You will be able to see the difference in your functioning and health if you start consuming the fish just once or twice per week if not more. 
I suggest you choose fresh fish rather than farmed when possible.
Wild fish or fresh fish tends to have higher amounts of omega-3 fatty acids and fewer pollutants. 
Fish Recipes For People Who Don't Like Fish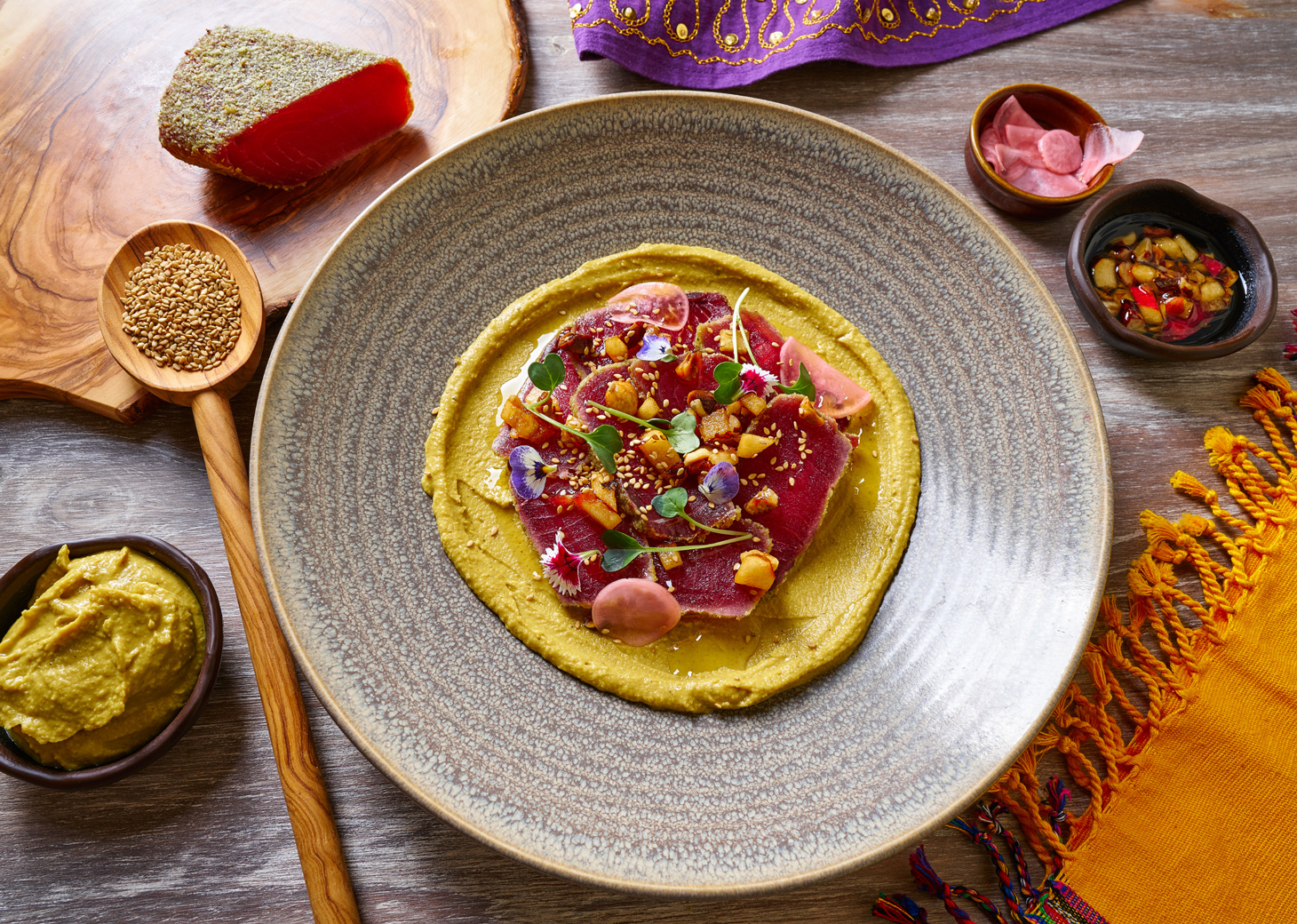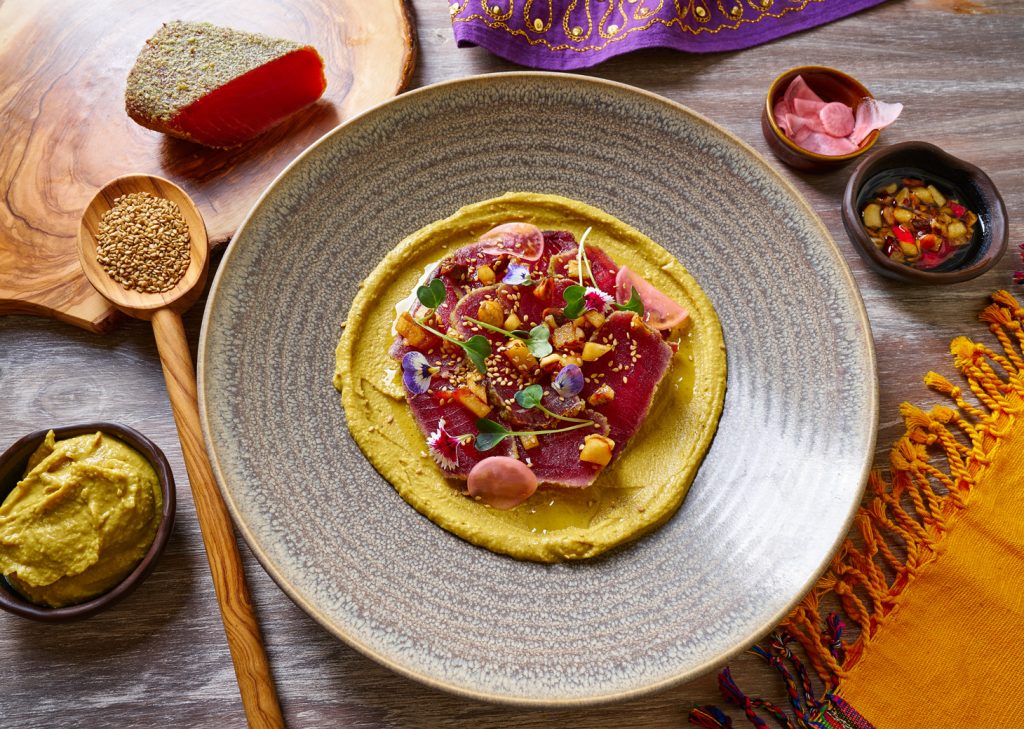 I've divided the article into three parts for you to navigate better:
Salad recipes

Soup recipes

Appetizer recipes
Salad Recipes
These recipes are light, aromatic and tangy and will hit the right spot!
1. Grapefruit Fish Salad
Time required: 33 minutes
Servings: 1 
Ingredients:
A dash of black pepper
½ tsp salt
1 squeeze lemon juice
1 ½ tsp white sugar
2 cloves garlic, finely chopped
2 scallions, chopped
½ pink grapefruit
½ lettuce, cut into strips
A pinch of salt
1 sole fillet
3 tbsp coconut oil
Directions:
Melt a tablespoon of oil in a grill pan on medium heat. Add the sole fillet and season it with salt. Grill for 4-5 minutes per side or until opaque. Trim the discard the skin. 

Place lettuce in a bowl. Using a thick knife, scoop out each segment from the grapefruit and add to the bowl of lettuce. Flake sole fillet into pieces and add it to the lettuce and grapefruit. Add garlic and scallions. 

In another bowl, mix the remaining oil, pepper, salt and lemon juice. Pour over the salad. Gently mix everything until well-combined. Serve immediately.
2. Swordfish Salad
This sweet and sour salad is perfect for a hot summer night.
The contrasting flavours of the fish and salad will go off like fireworks in your mouth.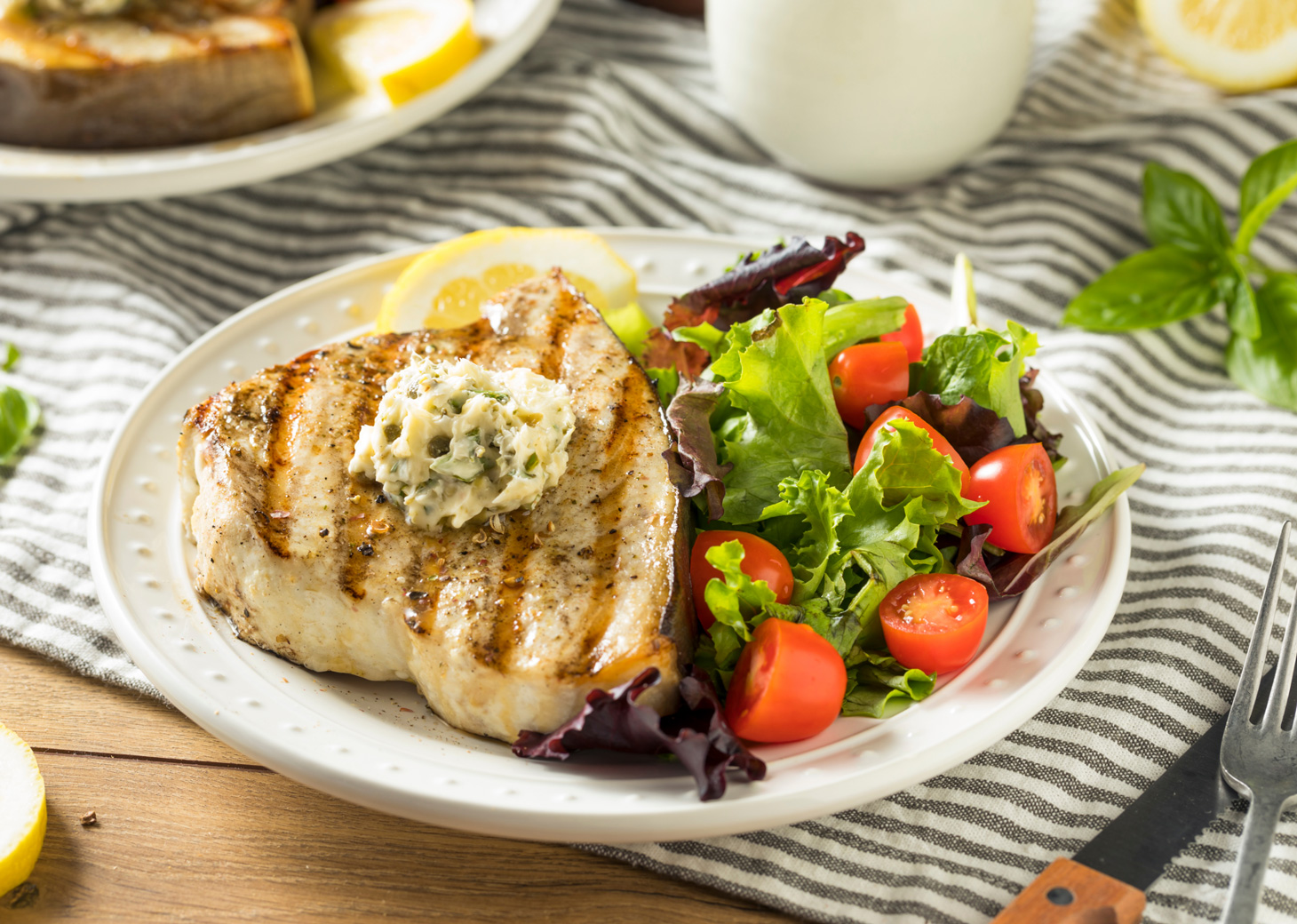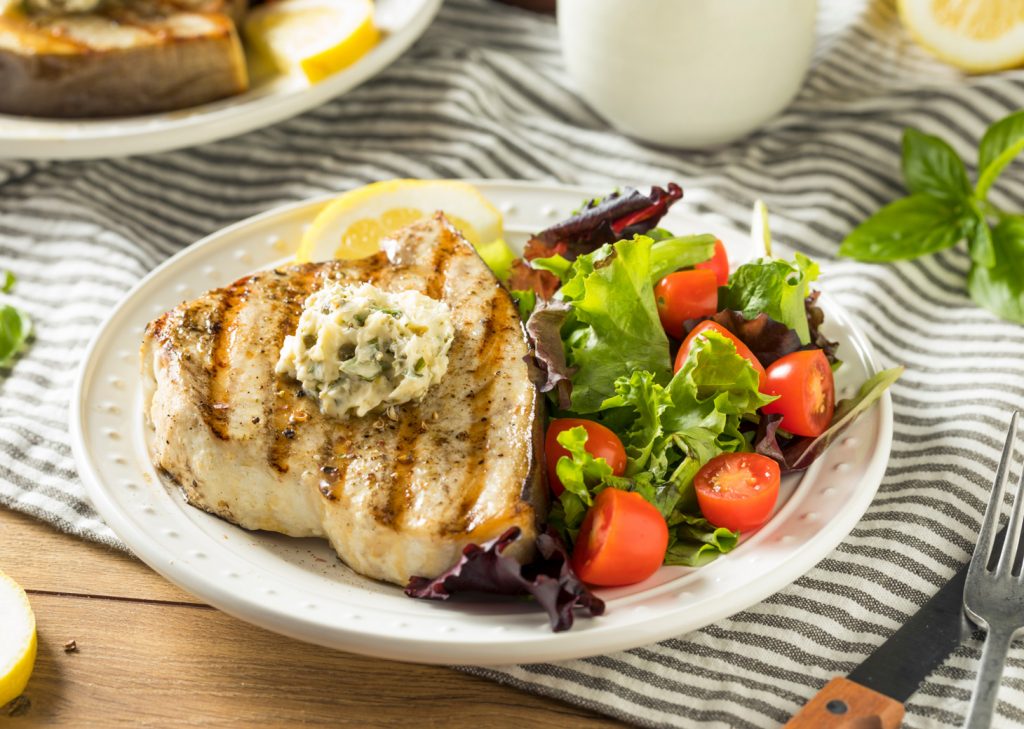 Time required: 35 minutes
Servings: 4
Ingredients:
⅓ cup balsamic vinegar
⅓ cup extra virgin olive oil
8 kumquats without refuse, trimmed, quartered lengthwise
8 cherry tomatoes, quartered
1 bundle of baby spinach
2 ripe mangoes, peeled, sliced and pitted
4 swordfish steaks
1 tbsp olive oil
Directions:
Preheat a grill on medium-high heat. Brush the grill grate with oil and place the grate 4 inches away from the source of heat. 

Brush oil on mango slices and swordfish steaks. 

Cook the steaks on the grill for 5-7 minutes, turning once or twice on each side or until brown. Arrange the mango slices over the steak and continue to cook for another 5 minutes. 

In a bowl, add kumquats, tomatoes and spinach, whisk together balsamic vinegar and the remaining olive oil. Pour the mixture in the spinach bowl and toss until well coated. To serve, divide the salad into 4 portions and top each portion with swordfish and mango. 
3. Tuna and Potato Salad
Looking for an easy weeknight dinner for two? Tuna and potato salad to the rescue. It takes half an hour to prepare, is spicy, savoury and hearty. 
Time required: 30 minutes
Servings: 2
Ingredients:
Lettuce, shredded
2 scallions, minced
1 jalapeno, minced
⅓ cup pickles, diced
2 tbsp parsley, minced
4 tbsp mayonnaise
2 cans of tuna, drained
Salt and pepper, to taste
2 medium-sized potatoes, cubed and boiled
Directions:
In a bowl, mix everything together apart from the lettuce until well combined.

To serve, prepare a bed of lettuce and add the salad on top.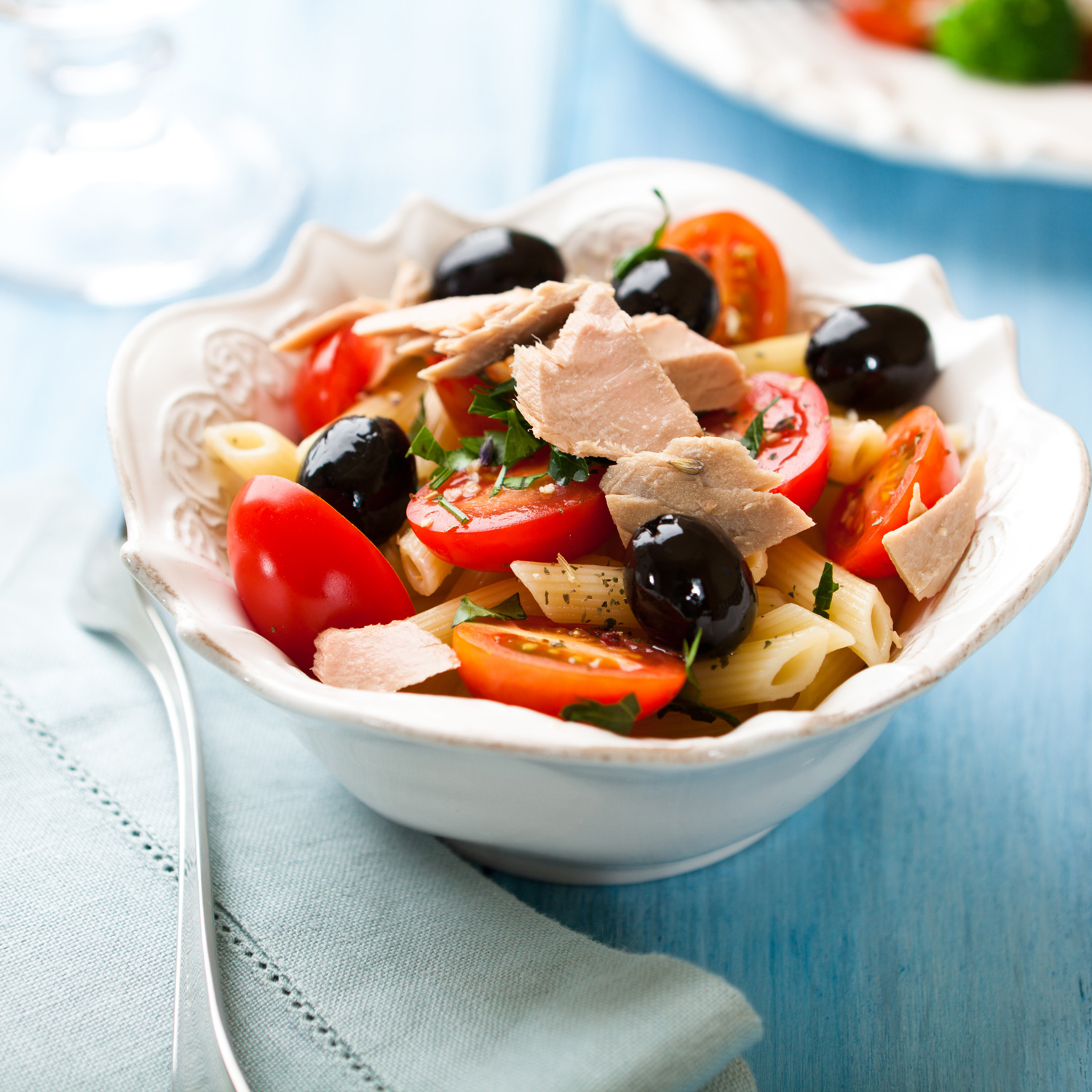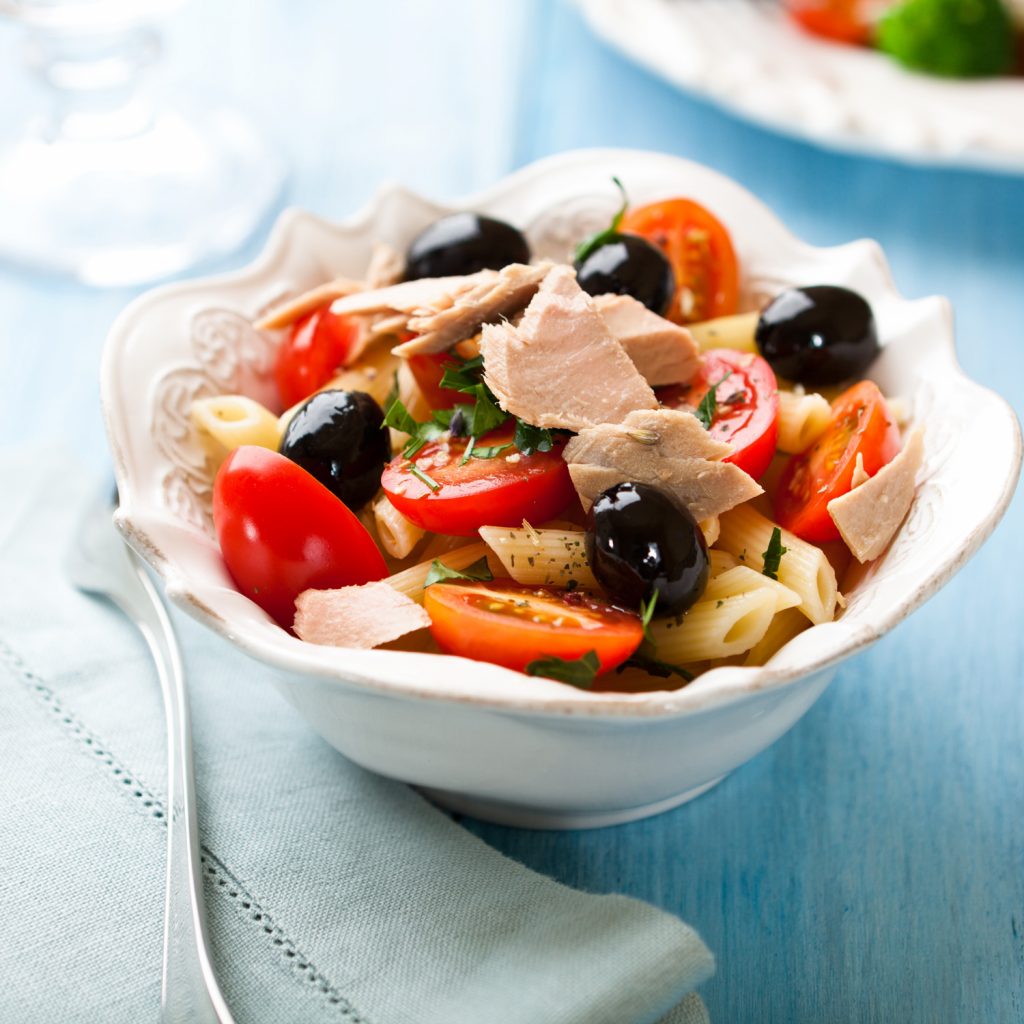 4. Macaroni Tuna Salad
This classic salad recipe is one of the best cold salads to make for your next picnic.
It's an easy side dish thrown together with simple ingredients such as mayonnaise, celery, pasta and tuna — everything that's fresh and full of flavour!
Time required: 20 minutes
Servings: 8
Ingredients:
Salt and pepper, to taste
2 cans tuna, drained
1 cup mayonnaise
½ medium-sized onion, minced
4 stalks of celery, diced
16 ounces macaroni, cooked al dente
Directions:
Combine all the ingredients together and serve immediately. 
5. Salmon and Quinoa Salad
Robust textures and flavours make it one of the best fish recipes for people who don't like fish.
This salad is a complete meal by itself and is also a perfect make-ahead option when you're busy.
Turnips, fresh grapefruit, fluffy quinoa, flaked salmon, crunchy cabbage and grated carrots tossed in vinaigrette is all that you need after a tiring day. 
Time required: 65 minutes
Servings: 4
Ingredients:
2 tsp olive oil
½ lemon
2 tsp agave or honey
½ grapefruit juice
Mustard seeds, to taste
Salt and pepper, to taste
½ grapefruit
2 white mushrooms
5 cabbage leaves
1 Chinese cabbage
1 small turnip
2 carrots with leaves
125 white quinoa, cooked
Mustard, to taste
5 sprigs of cilantro
1 tsp olive oil
½ clove of garlic
2 fresh salmon fillets
Directions:
Grind the coriander, olive oil and garlic using a mortar until a smooth green paste is obtained. Rub the paste on both the sides of the salmon. Season it with ground mustard seeds and salt. Put the salmon in the oven and bake for 20-30 minutes at 180C. 

Remove the salmon, remove the skin and keep aside and bake again for 10 more minutes so that it becomes crispy. 

Cook the cabbage and savoy in boiling water for a few minutes to make them crunchy. 

Grate the carrots and mince it. Julienne the cabbage, grapefruit and turnip. Add flaked salmon after removing the fine spines. Add mushrooms and the skin of the salmon along with everything else. Serve immediately. 
6. Goat Cheese and Smoked Cod Salad
Serve this salad with crackers, flatbreads or rustic bread to bring out the flavours. 
Time required: 25 minutes
Servings: 2
Ingredients:
Balsamic vinegar
Oil
Salt
8 ounces smoked cod
Vegetable oil
1 green bell pepper, seeded and sliced
1 log goat cheese, sliced into circles
2 tomatoes, peeled and sliced
Directions: 
Arrange the tomatoes to make the bed for the salad.

Arrange the goat cheese slices on top. 

In a skillet, saute the bell peppers in a skillet with a tablespoon of oil. 

Add a layer of smoked cod, salt, bell peppers. Finish with a drizzle of vinegar. Serve immediately. 
Soup Recipes
Hot and comforting, these are ideal fish recipes for people who don't like fish at all
1. Fish Stew
Easy, quick and absolutely delightful, this fish stew is perfect for days you're in a mood to cook something special.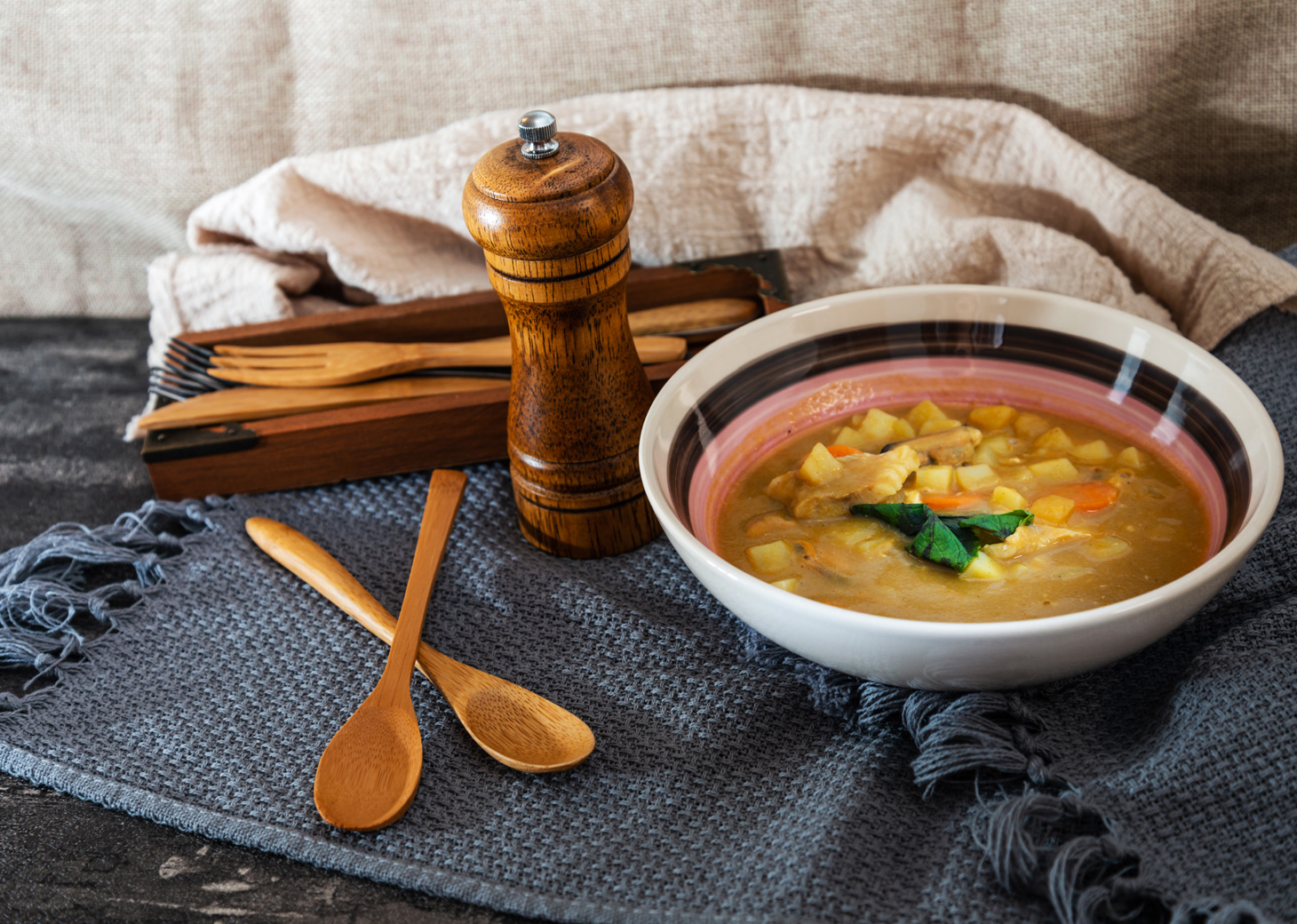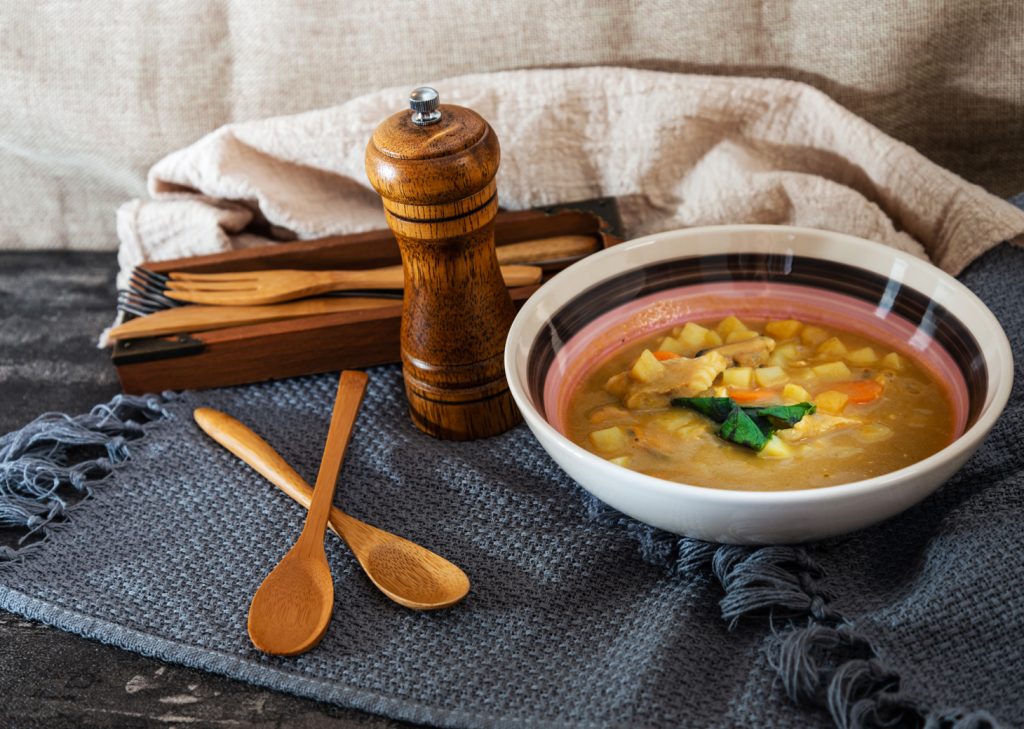 Time required: 30 minutes
Servings: 4
Ingredients:
Salt and pepper, to taste
⅛ tsp Tabasco sauce
A pinch of dry oregano and thyme 
1 ½ pound fish fillets, cut into 2-inch pieces (a white fish that's firm such as sea bass, red snapper, cod or halibut works best)
½ cup dry white wine
8 oz clam juice
2 tsp tomato paste
1 ½ cups tomato, chopped
2-3 cups parsley, chopped
3 large cloves of garlic, minced
1 medium-sized onion, chopped
6 tbsp extra virgin olive oil
Directions:
Heat olive oil in a large pan over medium heat. Saute the onion for 4 minutes before adding the garlic. Cook the garlic for a minute before adding parsley. Stir after a minute and add the tomatoes, tomato paste and continue to cook for 10 minutes. 

Add the fish fillets, wine and clam juice. Bring to a simmer and cook until the fish flakes apart or for 3-5 minutes. Toss the seasoning: Tabasco, thyme, oregano, pepper and salt. 

Serve immediately with crusty bread to dip in the fresh broth. 
2. Spicy Fish Soup
A tasty fish soup that's low in fat! 
Time required: 40 minutes
Servings: 4
Ingredients:
½ pound cod fillets
½ cup shrimp
¾ cup yoghurt (plain, nonfat)
½ cup green bell pepper, chopped
1 ½ cups canned tomatoes, peeled and diced
1 tsp ground cumin
½ onion, chopped
1 ½ cups chicken broth
A can of green chile peppers, chopped
1 tbsp chilli powder
1 clove of garlic, minced
Directions:
Spray a large saucepan with vegetable cooking spray over medium heat. Saute the onions for about five minutes, stirring in between. Add chilli powder and garlic and saute for another 2 minutes.

Add cumin, chile peppers and chicken broth. Bring to a boil and reduce the heat, cover and let it simmer for 20 minutes.

Add cod, shrimp, green bell peppers and tomatoes. Return to a boil before reducing the heat, cover and simmer for 5 more minutes. Gradually, add in the yoghurt and cook until well combined. Serve hot. 
3. Mediterranean Fish Soup
This hearty soup is a popular Mediterranean choice. For a heartier soup, keep adding more fish!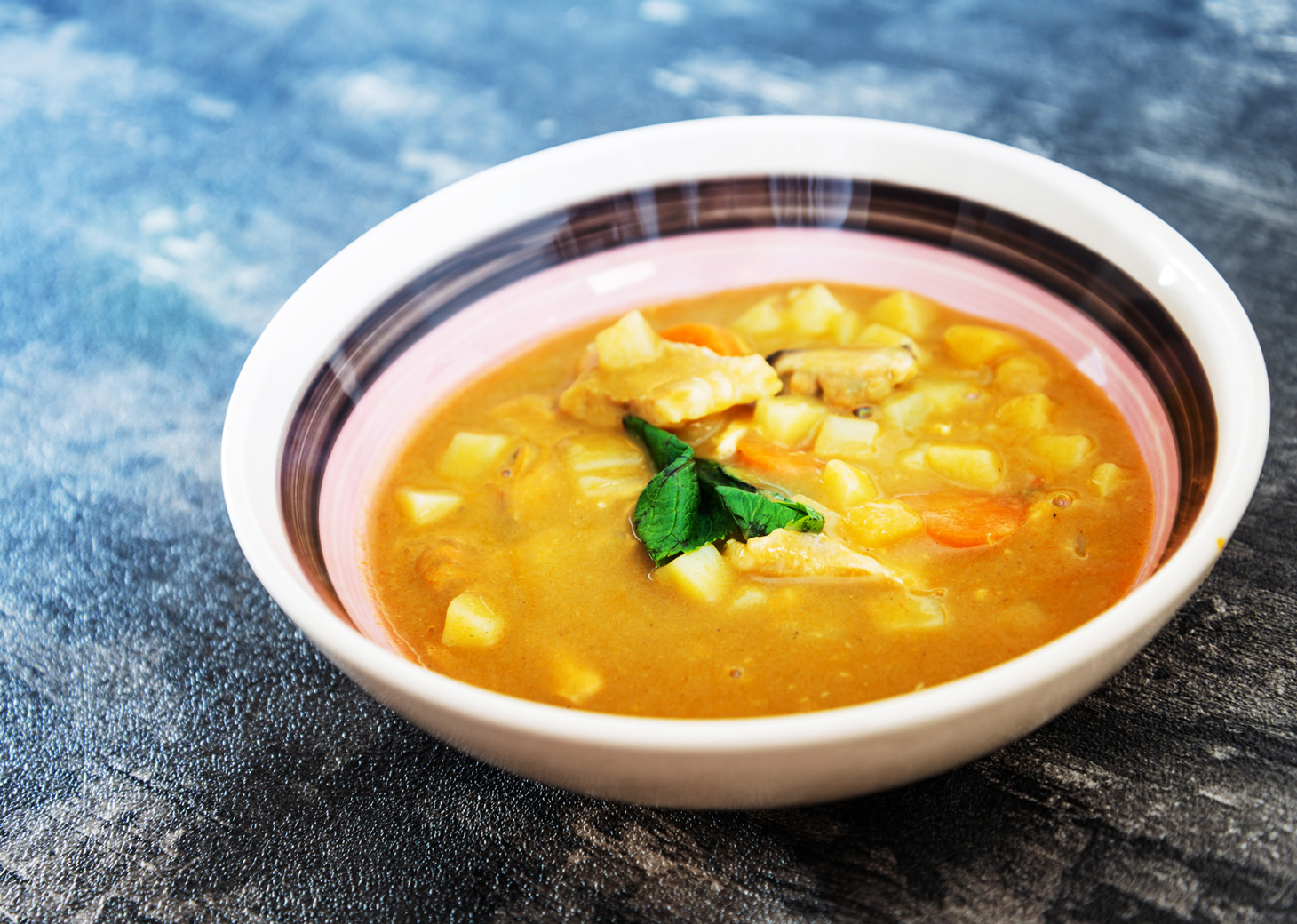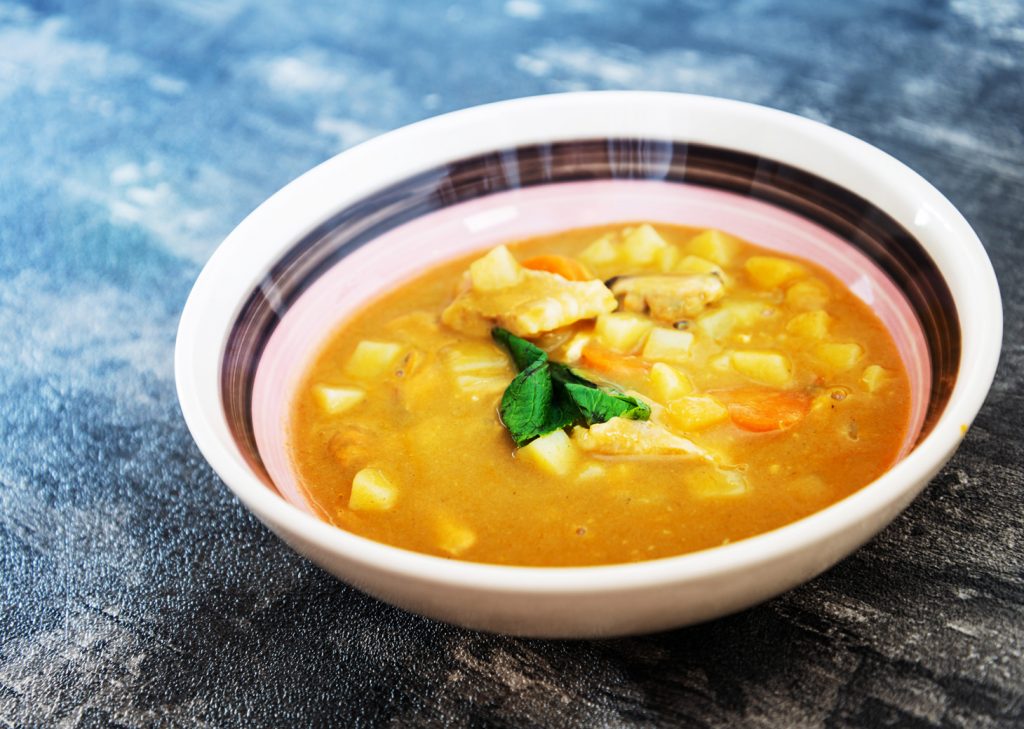 Time required: 5 hours
Servings: 6
Ingredients:
1 lb cod fillets, cubed
1 lb medium shrimp, peeled and deveined
Salt and pepper, to taste
¼ tsp fennel seeds, crushed
2 bay leaves
½ cup dry white wine
½ cup of orange juice
1 tsp dried basil
¼ cup black olives, sliced
2 ½ oz canned mushrooms
1 can tomato sauce
2 cans of chicken broth
1 can tomatoes, drained and diced
2 cloves of garlic, minced
½ green bell pepper, chopped
1 onion, chopped
Directions:
In a slow cooker, add pepper, fennel seeds, dried basil, bay leaves, wine, orange juice, olives, mushrooms, tomato sauce, chicken broth, tomatoes, garlic, bell pepper and onions. Cover and cook on low heat until the vegetables are crisp-tender or for 4 – 4 and a half hours.

Add the cod and shrimp. Cover and cook for another 15-30 minutes or until the shrimp is opaque. Remove the bay leaves before serving. 
Appetizer Recipes
These fish appetizers are bound to steal the spotlight!
1. Smoked Salmon Appetizer
This sophisticated hors d'oeuvre will get your party started.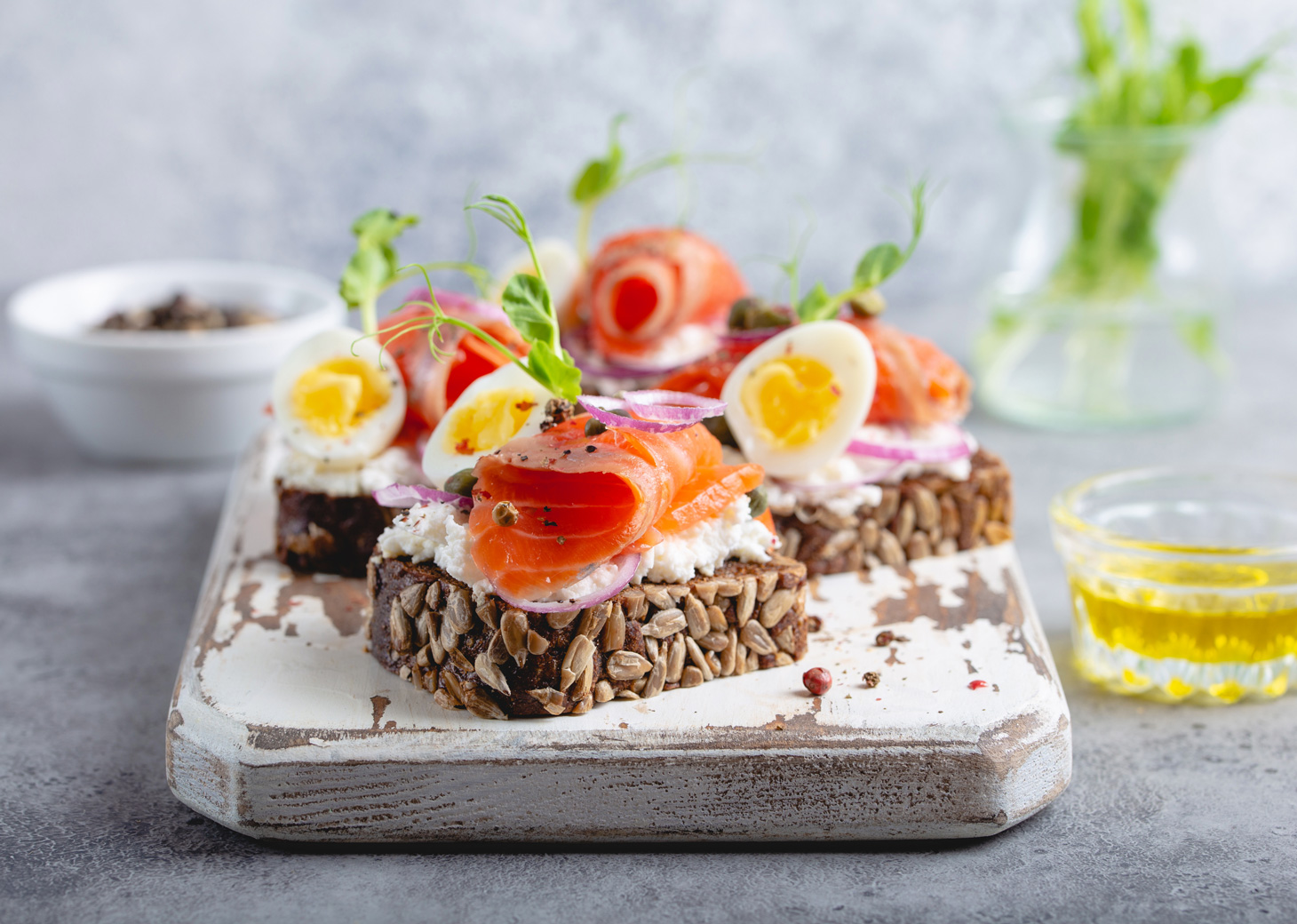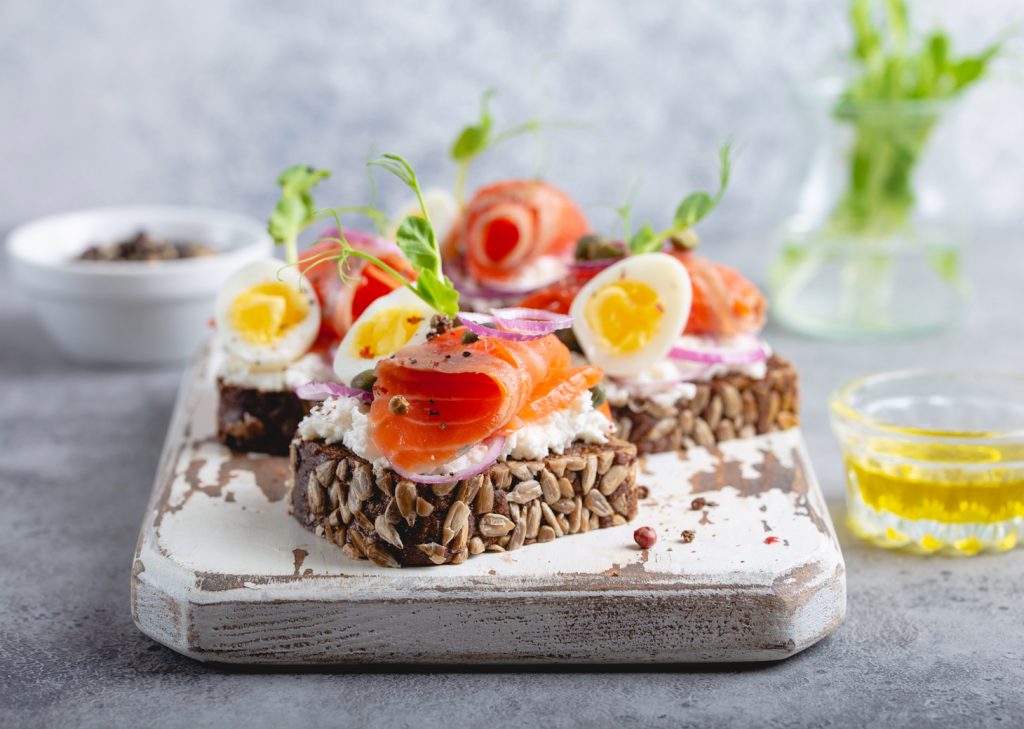 Time required: 30 minutes
Servings: 4
Ingredients: 
3 oz smoked salmon
1 cup watercress
½ cup chive and onion cream cheese spread
12 slices rye bread, halved diagonally 
Half-boiled eggs, optional
Directions:
Spread the cream cheese spread on each slice of the bread. 

Mix all the ingredients in a bowl and top the slices with it. Serve immediately.
Tip: You can substitute the watercress for arugula, chive and onion cream cheese spread for vegetable cream cheese spread and rye bread for pumpernickel bread. 
2. Cucumber Salmon Tartare Bites
They can be made in a jiffy which makes them ideal for summer entertaining. 
Time required: 15 minutes
Servings: 4
Ingredients:
For the Salmon Tartare bites:
½ tsp sesame oil
1 tsp mirin
2 tsp scallions, minced
½ lb salmon fillet, finely diced
1 tsp soy sauce (gluten-free)
To serve:
Black sesame seeds
Scallions, minced
Japanese seven flavour chilli flavour i.e. Ichimi Togarashi
1 English cucumber
Directions:
In a medium-sized bowl, mix sesame oil, mirin, soy sauce, scallions and salmon until well combined. 

Trim the ends of the cucumber and peel it lengthwise with the help of a fork. Spoon the Salmon Tartare on top of the cucumber rounds. Drizzle Ichimi Togarashi and finish garnishing with some black sesame seeds. Serve immediately.
Wrap Up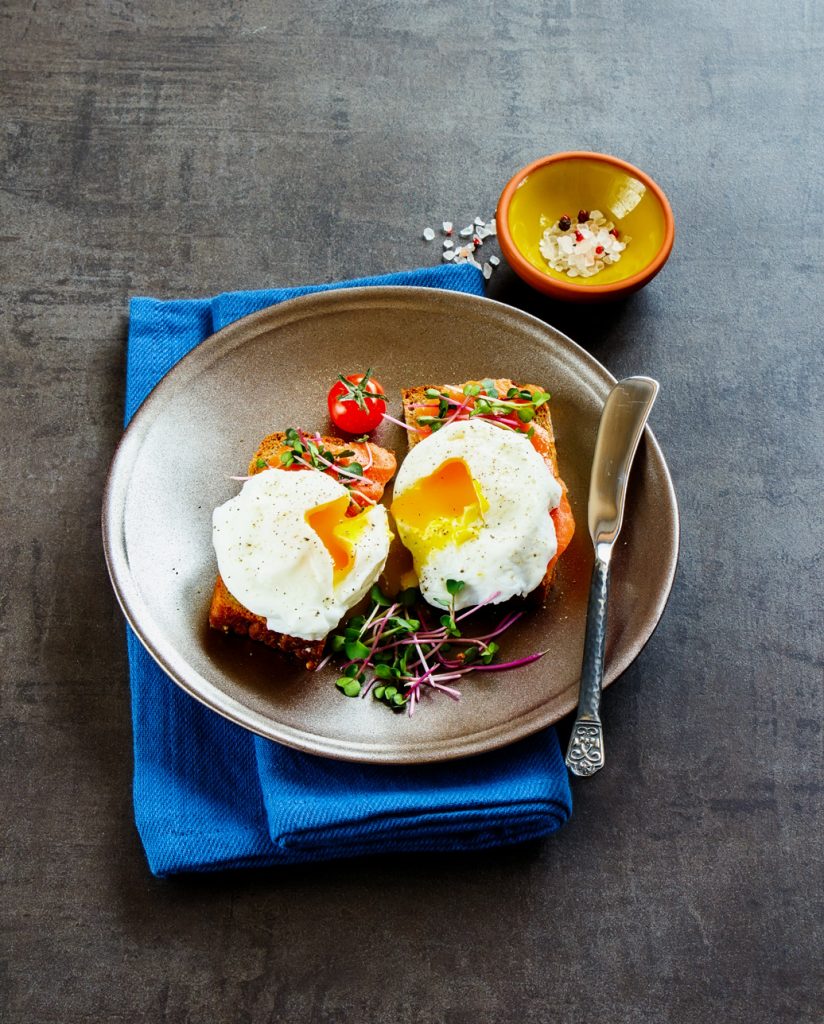 As I said, these are perfect fish recipes for people who don't like fish at all.
Once they've tried any of the above-mentioned recipes, they'll be asking for more! 
Do let me know which was your favourite recipe in the comments section below. 
P.S: Do try our Pomfret Recipes.
Katie writes for F and B Recipes. She lives in New York with her dog Coco. When not writing, she can be found baking (and eating) chocolate chip cookies.