Blueberry Mojito Mocktail Recipe
Have you looked at the soaring temperatures outside? After coming home, all you need is a cool and refreshing drink. While mojitos are traditionally alcoholic, mocktails make it virgin! People tend to obsess over cocktails but mocktails are no less! Whether it's for your guests or yourself, this is perfect for non-alcoholic drinkers. So let's make something different today, a mojito mocktail. Although, what is a drink without some fruity punch in it? How about adding some blueberries into the mix? Let's make a blueberry mojito mocktail to beat the heat.
Ingredients Required to Make Blueberry Mojito Mocktail 
While you can use several different ingredients to make your blueberry Mojito mocktail. Let's look at the ingredients we would be using to make our mocktail. Firstly, we need frozen blueberries, for obvious reasons. Prefer going for frozen over fresh only if you want a better colour. You could either use a pink lemonade concentrate or any liquid sweetener. We use this to add flavour and sweetness to the drink. Lime juice and mint are two essential ingredients required to make a mojito. Also, coconut water acts as a great substitute for alcohol. Therefore, the ingredients required are:
Ice cubes

3 ounces of club soda (or any other soda of your choice)

2 ounces of coconut water

6-8 leaves of fresh mint

2 tablespoon frozen blueberries

1-2 tablespoons of frozen pink lemon concentrate

Juice of ½ a lime
Please keep in mind that this quantity only suffices for one serving.
Can I Make Blueberry Mojito With Alcohol?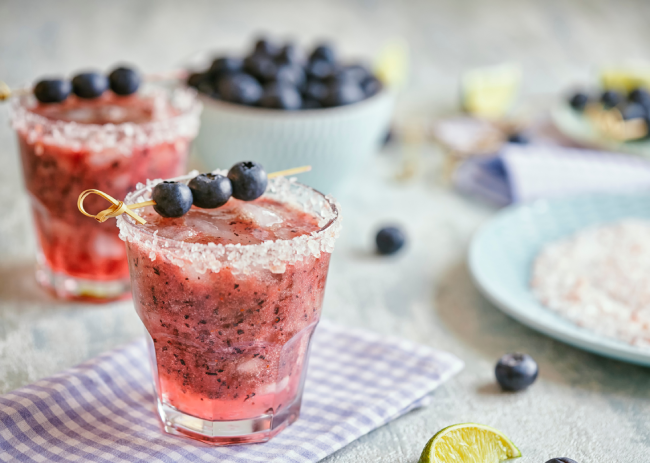 Absolutely! To make a classic Blueberry mojito, just add a splash of rum before adding the soda.
Tools Required to Make Blueberry Mojito Mocktail 
You might have noticed your bartender using different tools to get your drink ready. Making drinks is not as easy as it looks but these tools help make it easy. Be it a rimmer or a zester, a bartender has a lot of equipment with him. Mocktails don't require much. The most essential tool while making a mocktail is your muddler. People often think that a muddler helps to tear or mince the herbs but it is not so. A muddler helps bring out the oils from fruits and herbs. So, the tools that you will require to prepare our Blueberry mojito mocktail are:
A tall glass:

So that you can muddle easily.

A Muddler

: You could also use the back of a wooden spoon if you don't have a muddler.

A Jigger

: This tool is a lot of help while making drinks at home. It helps measure the syrup in ounces. If unavailable, just use. A tablespoon at home instead. (2 tbsp = 1 ounce)

Lowball glass

: You could honestly go for any glass of your choice to serve but we prefer serving in a lowball glass.
Blueberry Mojito Mocktail Recipe 
Let's start making our blueberry Mojito Mocktail now. Firstly, take your tall glass and add those blueberries and mint leaves. Pour in some fresh lime juice and your frozen pink lemonade concentrate. Muddle the four of these ingredients together. As already mentioned, muddling isn't about tearing. It is about bringing out the flavour and aroma of these herbs. So, gently press on them and keep stirring too.
Add some ice cubes into the glass and then add the coconut water into it. Finally, add your soda. You may use any soda of your choice or preference. Ensure that you might want to use less of the liquid sweetener if going for a sweet soda. Don't forget your ice cubes! 
To make your drink look pretty, you may top it with blueberries or mint leaves. So garnishing is completely optional.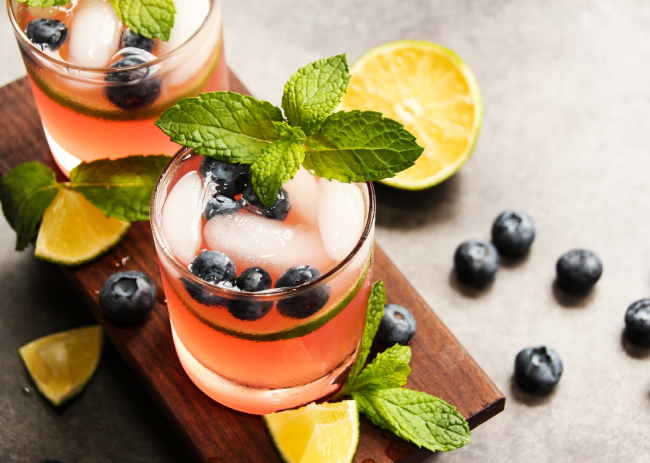 Blueberry Mojito Mocktail
Our Blueberry Mojito Mocktail is a refreshing non-alcoholic alternative that will be liked by children and adults alike. Use mint and line to bring out the best of this mocktail!
Equipment
1 Tall glass

1 Muddler

1 Jigger

1 Lowball glass
Ingredients
Ice cubes

3

ounces

of club soda

(or any other soda of your choice)

2

ounces

of coconut water

6-8

leaves of fresh mint

1-2

tbsp

frozen pink lemon concentrate

½

ounce

lime juice

(Juice of ½ a lime)
Instructions
Add fresh mint leaves, frozen blueberries, frozen pink lemon concentrate and lime juice in a glass.

Gently muddle the mint leaves and blueberries by lightly pressing down on the berries and leaves to release their flavour. Avoid tearing the mint leaves.

Add a few ice cubes to the lowball glass. Stir in the coconut water.

Add club soda, garnish using mint leaves or blueberries and serve immediately.
Blueberry Mojito Mocktail: Nutritional Information
It is always important to understand the nutritional value of anything we eat. Good food leads to good health. Therefore, we all must have an understanding of what is going into our stomachs and in what quantity. We cannot always guarantee the nutritional information because the brands used might differ. Although, there is a close estimate of the nutritional value of this mocktail.
This is the nutritional information for one serving of this mocktail:
Carbs: 34g

Fat: 1g

Calories: 135 kcal

Sugar: 30g

Potassium: 180mg

Protein: 1g

Sodium: 40mg

Fiber: 2 g

Calcium: 22mg

Vitamin C: 14mg

Vitamin A: 25 International Units
FAQs: 
What Is A Blueberry Mojito Made Of?
Mojitos are traditionally a combination of lime juice, mint, rum and syrup. They are the perfect summer drinks. This Cuban drink is often mixed with plenty of different herbs and fruits to add a different punch. Be it your classic mint mojito or a raspberry one. They just have the perfect punch to refresh you. 
So, you use the ingredients for a mojito along with the freshness of blueberries. If not fresh, you could also for frozen blueberries. Finally, adding a club soda and some ice cubes is all that's missing.
What Is Blue Mocktail Made Of?
A blue mocktail is made of a blue syrup called the curacao syrup. Weird name right? This name is actually the name of the island where the fruit for this curacao liqueur comes from. The Curacao liqueur is actually made using the dried peels of a citrus fruit called Lahara.
Since mocktail is a non-alcoholic beverage, this syrup is usually made using water, sugar and natural citrus flavours. You could look for this online. If you can find this fruit, you may try making it at home too!
How Do I Make A Berry Blast Mocktail?
A Berry blaster mocktail for a berry lover is perfect. Get a few fresh raspberries and blackberries. Also, make some amount of pomegranate and apple juice. Do not forget to squeeze out a lemon as well. Also, use a tiny amount of runny honey. 
Firstly, fill up your cocktail shaker with ice. Then, add all these ingredients into the cocktail shaker and shake it well for about a minute or so. Strain it into a glass, pour in some ice cubes and enjoy your berry blast mocktail.
What Is Non Alcoholic Mojito Made Of?
The classic Virgin Mojito is among the most refreshing drinks for any non-alcoholic. Making this drink is super easy and you will easily be able to find the ingredients at home. You need sugar and a bunch of fresh mint leaves. Muddle these two together. And add in the lime juice.
In a glass filled with crushed ice, add your mint-lemon mixture. Add your usual club soda and you are good to go! This is exactly what goes into your mojito mix.
What Is In A Mojito Mix? 
Mojito is one drink which has a balance of tart and sweet. It is a go-to drink for almost any person who just wants to feel fresh. Plenty of people add different things to give it a slightly different taste or punch. A classic mojito mix stays true to its main ingredients though.
Always use the white rum. Mint leaves and lime juice always goes hand in hand. Granulated sugar and your club soda to top everything off. This is what makes up your classic mojito mix!
In Conclusion 
Alcohol doesn't necessarily make drinks better. Hopefully, this recipe may help you realise that too! Allow the freshness of lime and mint to do the magic along with the blueberries. This blueberry mojito mocktail might become your children's favourite. Also, there isn't anything like holding a refreshing drink in hand after a tiresome day at work. Therefore, sit back and enjoy your blueberry mojito mocktail with no stress in the world!
Do you add anything different that makes your drinks taste better? Do you have a secret ingredient too? Let us know in the comments section below.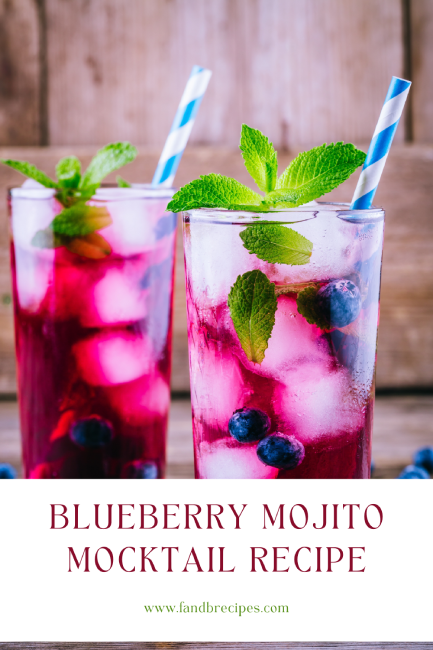 Paridhi Maheshwari is a content writer at F and B Recipes and Snazzy Women. She's an aspiring journalist aiming to cover human interest stories through the power of her words.