Spruce Up Your Spring Harvest Preserves With Custom Stickers! 
We all know that eating fresh is best because fresh seasonal vegetables and fruit bring the best flavour and maximum nutrition. And every year, for those of us who grow our own produce, spring gardens bring with them a bounty of freshly harvested and delicious foods ready to serve upon the dining room table for dinner or outside in the sunshine for a springtime picnic.  
But along with that comes all of the excess produce that simply cannot be eaten in time before it loses its freshness, flavour, and nutritional value. So what do you do with all of your freshly harvested produce that you can't eat or give away to friends? Preserve it, of course! Whether you are bottling fruit, pickling cucumbers, or making jams or chutneys, spring harvest preserving has something fun for everyone; all over the world people are beginning to discover the joys of harvesting and preserving. 
Here are a couple of essential tips to keep in mind when you preserve your spring harvest: 
Only use clean/disinfected jars or containers!

 

Make sure you label everything clearly!

 

Make some custom stickers/labels for your preserves to really make them stand out. Post them on your Instagram and become the envy of your friends!

 
And not only does it leave your shelves stocked full of delicious treats for the rest of the year, but sending a friend a lovely, labelled jar of jam or bottle of preserved fruit makes for a fantastic and heartfelt gift! 
Here are several fun ideas — both common and off-the-wall — of what you can do to preserve your spring harvest: 
Make jams or jellies

 

Use cucumbers to make pickles

 

Use basil to make pesto
Ferment cabbage to make sauerkraut or kimchi

 

Freeze your berries

 

Bake zucchini bread

 

Sun-dry/oven-dry your tomatoes

 

Dry your herbs

 

If you have a dehydrator, try making your own body products, spice blends, or trail mixes with dehydrated fruits

 
But for all the fun you can have coming up with recipe ideas while canning and bottling away, without properly labelling all of it, you will find it very difficult to find what you need when you need it! 
In order to properly track and identify everything that you preserve, it is vital that you clearly label every single jar or container you use. First, ensure that you have properly removed any old label on the container — whether that be from your own past preserves or because the jar had a purpose beforehand — and this must include properly removing any old glue left behind.  
Once you have been able to properly do this, now comes the time for labelling; this is where the fun really starts! Whether you are stocking your own shelves and want a clearly identified sticker without the hassle of labelling each and every jar with a marker or are sharing homemade preserves as a gift to friends and family and want to jazz up the cute little jar you give them out in, using custom stickers will meet all your labelling needs with a little extra fun added in. 
Custom clear stickers are the perfect choice for any labelling needs you have for your spring harvest preserves, and truly let you put your personality into the look of the jar and make sure your preserves will be the envy of everyone on Instagram.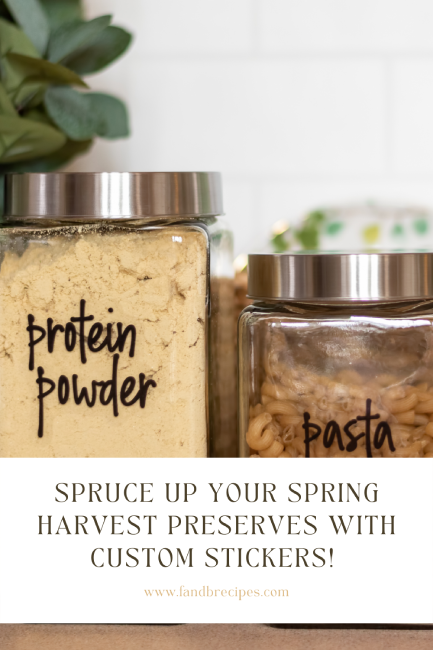 Andrew Witkin is the founder and CEO of StickerYou, a global, e-commerce leader in custom-printed, die-cut products that empower consumers and businesses to create high-quality materials for personal expression, marketing, and packaging.