3 Plant-Based Side Dishes You Should Serve in Your Vegetarian Restaurant
If you want your restaurant to be recognized for serving the best vegetarian meals and side dishes, you may find it difficult to prepare food that's both filling and chock full of energy-boosting nutrients. Creating healthy meals with veggies alone can be tricky because you have to consider adding plant-based protein.
Luckily, sourcing plant-based food ingredients have become a lot easier. You can rely on vegetarian ingredient-focused businesses, such as French fries suppliers in Dubai. They can also supply your beverages and a wide range of vegetarian food products, including but not limited to frozen vegetables, teas, coffees, gluten-free pastry and condiments.
To get you started with cooking vegetarian side dishes, here are some recipes you can try cooking and serving at your restaurant. The following recipes are loaded with nutrients, including one dish that's packed with plenty of plant-based protein.
1. Roasted salt and vinegar potato wedges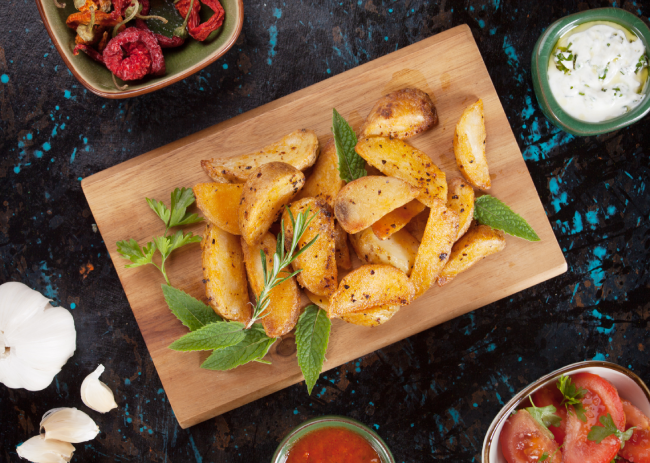 One of the simplest dishes you can add to your restaurant menu is roasted salt and vinegar potatoes. It is vegetarian and gluten-free. Best of all, preparing it will only take a couple of minutes.
Ingredients:
1 kg wedge potatoes

2 tbsp white vinegar

6 tbsp olive oil

2 tsp kosher salt
Cooking instructions:
Preheat the oven to 400°F.

Place the potato wedges into a mixing bowl and add the white vinegar, olive oil, and kosher salt.

Toss the mixture over a baking sheet, making sure that the potatoes are placed evenly.

Bake the potato wedges for an hour, turning them halfway through cooking.

Remove the potato wedges from the oven, transfer them to a plate, and serve.
2. Roasted onions
When roasting onions, you barely need a recipe. You just have to remember how long it should sit in the oven and how high the temperature must be. Generally, you can even roast other vegetables with onions at very high heat, but reduce the oven temperature if you are just roasting onions.
Another important consideration is the onion cut. It should ideally be cut into elegant silvers. Here's how to do the French cut:
Slice off both ends of the onion before cutting it in half.

Remove the outer and paper layers of the onion.

Slice the onion by following its curve, from the tip to the root.
If cutting the onion seems a hassle, you can always use pre-cut onions or frozen onion rings. If not, you can just roast it whole.
Ingredients:
Onions – you can have a combination of 2 red and 1 large white onions

1 tbsp balsamic vinegar

2 tbsp olive oil

½ tsp kosher salt

Freshly ground pepper to taste

1 tbsp fresh herbs (preferably thyme; rosemary and chives are great options too)
Cooking instructions:
Preheat the oven to 375°F.

Slice the onions and toss them with balsamic vinegar, olive oil, salt and pepper.

Put a piece of parchment paper on a baking sheet and arrange the tossed onions on top. Roast for 30 minutes.

Add the herbs and continue cooking for 15 minutes or until the onions are tender. Taste and add more salt or pepper, as needed.

Serve immediately.
3. Sauteed vegetables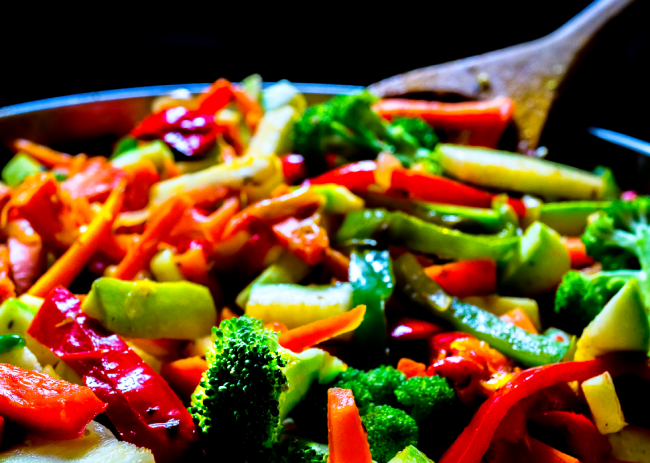 Sauteing is the easiest and fastest way to cook vegetables. This cooking method browns the outside of the food, helping the complex flavors to develop. However, you need to use a good skillet and healthy fat for cooking, such as olive oil, for the best results.
Moreover, use veggies that would cook in the same amount of time. Otherwise, you need to cook the longest cooking vegetables first. Another alternative is to opt for frozen mixed vegetables.
For the ultimate sauteed vegetable recipe, here are the ingredients:
1 large carrot (adds a sweet flavor, color, and vitamin A)

2 bell peppers (preferably yellow and red – loaded with vitamin C)

1 head broccoli (adds a load of protein, vitamins and fiber)

1 medium red onion (adds flavor)

2 tbsp olive oil

1 tsp dried oregano

Freshly ground pepper

½ tsp kosher salt
Cooking instructions:
Slice the veggies and onion into bite-sized pieces.

Toss all the ingredients into a bowl. Put 1 tablespoon of olive oil. Add the salt, pepper, and oregano.

Put the remaining 1 tablespoon of olive oil into a skillet and place it over medium to high heat.

Cook the vegetables until tender, tossing occasionally.

Taste and add more salt or pepper as needed. Serve immediately.  
Alternatively, you can serve sautéed veggies by cooking one type of vegetable at a time. You may even do another variation of this mixed vegetable dish by roasting the veggies in the oven at 450°F for 30 minutes.
Today, more customers are looking for ways to become healthy and fit. Therefore, serving plant-based, nutrient-dense dishes should be a part of your business strategy. This way, you'll attract vegetarian diners and people who are looking to increase their vegetable intake.
You need not worry about protein either as there are plant-based recipes that include all essential nutrients. You just have to use the right ingredients and partner with reliable suppliers of food, beverage, and other products to guarantee the freshness and fast delivery of all your necessary supplies.
Jad Asaad is the Marketing Manager at Bidfood UAE with more than eight years of experience in digital, online and offline marketing. He started his career in Beirut working in a creative agency and then moved to Dubai to further expand his career. He created and implemented award-winning, high-impact digital and offline marketing campaigns that consistently generated revenue streams and improved performance in targeted segments.