Oat Milk Smoothie: Step By Step Recipe
If you are fond of smoothies, you know that most of them can help you maintain good health. You can make a smoothie as nutritious as possible by adding the healthiest ingredients. As it is, smoothies consist of milk, fruits and a sweetener but you can also add chia seeds or flax seeds which would make it more nutritious. If you are starting your fitness journey and looking for healthy food options, an oat milk smoothie should be on your list. In other words, it might be a great source of fibre, vitamins, minerals and protein. This smoothie would help you meet a great amount of the daily requirement of these nutrients.
Smoothies are meal replacements. Another thing to do when you are health conscious is to replace your full cream milk with healthier alternatives. For instance, soya milk, almond milk or oat milk. Oat milk is plant-based milk which is derived from oat grains. It is obtained by extracting the plant material with water. On the other hand, there are various other milk options to help to choose from. Some of these options are hemp milk, almond milk, soya milk and coconut milk
Adding oat milk to your smoothie is a smart move if you aim for weight loss. The smoothie containing this milk is highly popular for its health benefits. It is not only good for your physical health but is also quite delicious for the creamy texture of oat milk mixed with fruits of your choice. In effect, this smoothie is one way to balance taste and health together. You can have it as breakfast or as a pre or post-workout meal.
Preparing this smoothie is super easy and takes less time. As a matter of fact, you can reach your fitness goals with less effort.
What is an Oat Milk Smoothie?
A smoothie is basically a pureed form of fruit which emerged in the 1930s when Julius Freed, a man with a sensitive stomach, invented it. It was his way of enjoying a fresh squeeze of fruit. As a matter of fact, it is light on the stomach and easily digestible due to its high fibre. 
If you are looking for gluten-free and dairy-free breakfast options, an oat milk smoothie is the one for you. It consists of oat milk, fruits and sweetener. You can also add vanilla essence as a taste enhancer. There are various options regarding the flavours you can use for the smoothie. 
For instance, if you wish to prepare a banana oat smoothie, you can add peanut butter and season it with nuts. This could be a healthy way of having this smoothie. On the other hand, you have a variety of flavours from chocolate, strawberry and vanilla to blueberry and tropical. 
All in all, this smoothie is a blend of fruits, oat milk, a sweetener and other flavour enhancers. It is sweet and has a thick consistency. It can help in maintaining good physical health and is a great pre-workout meal. A delightful breakfast with a healthy omelette and a glass of this smoothie is such a great way to kickstart your day.
The Benefits of Oat Milk Smoothie
This smoothie with oat milk has set nutritional motives. It is good for weight loss and meets a good amount of the daily requirement of vitamins, minerals, fibre and protein and carbohydrates. Adding to it, oat milk has more Vitamin D than cow milk. That is why it has an upper hand over most dairy milk. You can create a gluten-free smoothie for yourself if you choose the ingredients for your smoothie according to it. 
You don't need any specific ingredients to make oat milk smoothies apart from milk. In fact, you can enjoy it with your choice of fruits. 
The smoothie contains almost all macronutrients along with micronutrients. Due to the presence of high vitamin D in oat milk, this smoothie promotes good bone health. It is great to promote a strong immune system as well.
Oat milk is low in fats and sugar and high in protein and fibre. That is to say, it can help you lose weight easily. It is good for people who suffer from common allergies due to dairy products and can help you regulate blood sugar levels. The beta-glucans present in it can help in checking cholesterol levels as well. In effect, it can help reduce the risks of cardiovascular diseases.
On the contrary, despite its enormous health benefits, diabetic patients should avoid the use of oat milk in their smoothies. For instance, if you have type 2 diabetes, oat milk can lead to some unwanted consequences. This is due to its sugar content. 
All in all, an oat milk smoothie is a balanced approach toward both taste and health. You should try it at home since it is simple, healthy and saves time.
Ingredients Required to Make Oat Milk Smoothie
To make the perfect gluten-free and vegan oat milk smoothie, here is the list of ingredients that you require. These ingredients are easily available in all supermarkets and you can even add or remove the ones which do not suit your taste. On the other hand, oat milk is a necessary ingredient, unlike others which can have alternatives. The following ingredients will make your smoothie taste like a delectable dessert.
2 cups of Frozen Strawberries

: You can add any frozen fruit (blueberries, mango, peaches, pineapple) of your choice but strawberries are a great option for a smoothie.
2 Fresh Bananas:

You do not need to freeze them. Just two bananas at room temperature will do.
¾ to 1 cup of Oat Milk

: Unflavoured and plain milk are preferable. On the other hand, you can also go for vanilla-flavoured oat milk but they have artificial sweeteners.
8 Ice Cubes:

These will give your smoothie a crushed ice crunch.
1 tablespoon of Maple Syrup or Honey (optional):

You need it to balance the tartness of strawberries. These will sweeten up the smoothie. If the bananas are too ripe, you can omit their use.
1 tablespoon of Almond Butter:

Adding this will increase the amount of protein and also give a nutty flavour to the drink. You can replace it with protein powder as per your wish.
2 tablespoons of Chia Seeds:

Chia seeds will increase both protein and fibre content in the smoothie.
This is all you need to prepare the perfect vegan drink for a healthy start to your day.
Tools Required
This recipe does not need any special tools for its preparation. It is quite a simple task to assemble tools for this. Here are the only tools you need for this recipe.
A Blender

Two Glasses

A spoon to scrape

A jar with a lid (for storage)
Apart from a knife to cut your fruits and spoons to add the maple syrup and almond butter, this is all you need for the oat milk smoothie.
Oat Milk Smoothie Recipe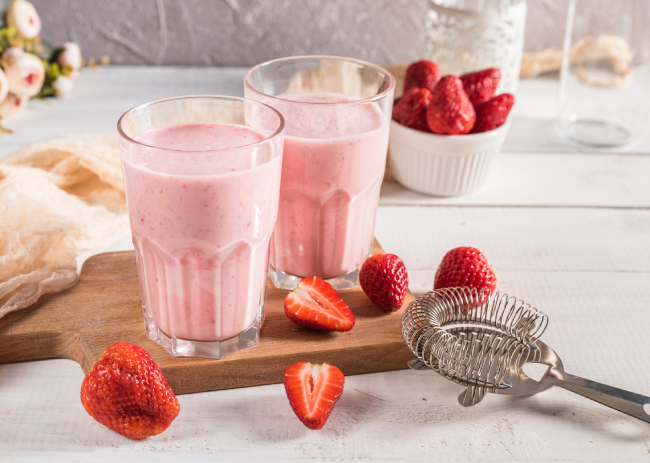 This smoothie can be prepared following a simple five-step recipe. All you need is not more than 5 minutes to prepare it. The mentioned amount of ingredients can serve to up to 2 people. If you wish to increase the number of servings, you should increase the ingredients accordingly. The following steps are all you need to prepare the smoothie.
Step 1
Add the 2 cups of strawberries, oat milk, banana, almond milk and chia seeds to the blender along with ice. 
Step 2
Blend all the added ingredients, breaking the banana into smaller pieces. Remember, you have to blend until the mixture turns frothy and creamy.
Step 3
Keep scraping the sides while you blend and add small amounts of oat milk if and when necessary.
Step 4
Now stop your blender and taste the mixture. If you think it needs sweetness, add maple syrup and mix.
Step 5
Your oat milk smoothie is ready. Serve this immediately or store it in a covered jar in the refrigerator.
As a matter of fact, a smoothie is best when served fresh. You should prefer to serve it as soon as you prepare it. On the other hand, if you have an urgent need to store it, you can do that too, however, a fresh blend of smoothies gives maximum benefits.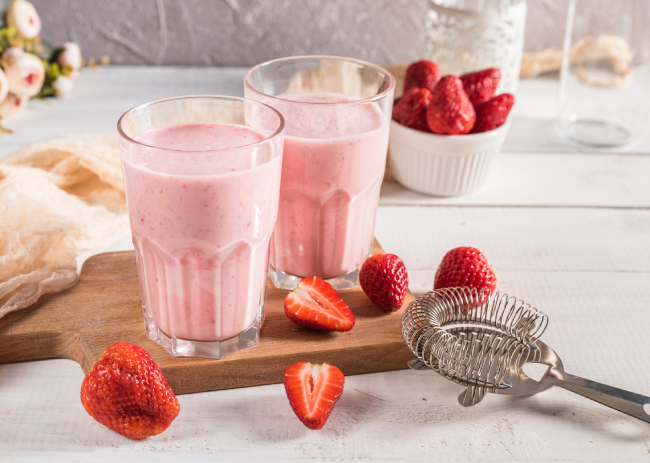 Oat Milk Smoothie
This incredible oat milk smoothie will delight everyone from kids to adults alike!
Equipment
A Blender

Two Glasses

A spoon to scrape

A jar with a lid

for storage
Ingredients
2

cups of

frozen strawberries

2

fresh bananas

¾ to 1

cup of

oat milk 

8

ice cubes

1

tbsp

maple syrup or honey

optional

1

tbsp

almond butter

2

tbsp

chia seeds
Instructions
Add bananas, strawberries, oat milk, chia seeds and almond butter to the blender.

Blend the mixture till it turns frothy and keep scraping the sides.

Add more oat milk if necessary while blending.

Now taste the blend and add maple syrup, if necessary. The oat milk smoothie is ready! Serve immediately or store in the refrigerator in a covered jar.
Oat Milk Smoothie: Nutritional Information
The discussed recipe has a great amount of dietary fibre, vitamin C, calcium and potassium. It is quite nutritious and provides enough energy for breakfast. The added chia seeds increase the overall fibre and protein content by 11g and 4 g grams respectively. Here is the nutritional information for this oat milk smoothie recipe. Please note that the given percentage is with regard to the daily value requirement.
Total Fat: 3%

Carbohydrates:19%

Sugars: 30.5g

Dietary Fibre: 24%

Protein: 7%

Vitamin C: 111%

Iron: 6%

Magnesium: 13%

Vitamin B6: 30%

Potassium: 17%

Vitamin B12: 19%

Vitamin D: 8%

Calcium:12%
The calories per serving for this smoothie is 225 kcal. In addition, it has 0.3g of saturated fat. 
FAQs
Can I Put Oat Milk In A Smoothie?
The answer to this question is a sure shot yes. Oat milk is a great milk alternative with regard to smoothies. You can get a variety of oat milk, some of which can be flavoured or sweetened. You can choose as per your preference and health motives. On the other hand, if you go for flavoured or sweetened milk, it can add extra sugar to your smoothie. A smoothie already has fruits and sweeteners. In effect, you should go for unflavoured oat milk when preparing a smoothie.
Is  Oat Milk Or Almond Milk Better For Smoothies?
Almond milk has a higher amount of fat and calcium while oat milk is high in carbohydrates and fibre. Adding to it, if you aim for weight loss, almond milk is a better choice since it has a lesser amount of calories than oat milk. On the other hand, if you are looking for a good non-dairy protein source, you should consider oat milk for smoothies. All in all, both kinds of milk are suitable for a smoothie. You should make a choice according to your health motive. As a matter of fact, one popular milk option for smoothies is unsweetened almond milk.
Which Is Healthier Oat Milk Or Almond Milk?
With regard to calories, almond milk is healthier than oat milk. According to a report, oat milk has 120 kcal per 8 ounces while almond milk has 40.8. On the other hand, if you are looking for a better source of protein, oat milk is better. However, almond milk has more calcium, Vitamin A and Iron. As a whole, almond milk is considered to be more nutritious than oat milk. But if weight loss is not your goal, you can consider oat milk as well.
Is Oat Milk Good For Weight Loss?
Due to its high fibre and protein content, oat milk creates a feeling of fullness and strength in the body. That is to say, it is good for appetite control and also fulfils nutritional needs to a certain extent. Since it helps in appetite control, it can help in losing weight. In addition, the high fibre content makes it easily digestible as well. You can incorporate oat milk into your diet if you want to shed a few pounds. On the contrary, do not overconsume it since it has slightly high calories. Keep your calorie intake in mind and oat milk can act as a catalyst in your weight loss journey.
What Fruit Goes Well With Oat Milk?
Bananas and strawberries are great for an oat milk smoothie. These are rich in antioxidants and strawberries are a great source of Vitamin C. Also, they can balance each other's tastes since strawberries might be tart and ripened bananas might be quite sweet. If your fruits can balance each other, you will not need to add any sweetener to your smoothie. Apart from bananas and strawberries, you can also go for blueberries, raspberries, mangoes or cherries. All of these fruits go well with oat milk and can provide you with the perfect taste and nutritional benefits.
What Is The Best Milk To Use For Smoothies?
Unsweetened almond milk proves to be the perfect base liquid for a smoothie. It can go with quite a lot of combinations of fruits and is low-calorie as well. It is better than dairy milk since it is lighter on the stomach. When compared to oat milk, almond milk wins due to fewer fats, carbs and calories. Choosing an unsweetened version ensures that you do not add any unwanted sweeteners or sugar to your smoothie. As a matter of fact, almond milk is the perfect choice for a healthy smoothie recipe although oat milk and other alternatives are not bad either.
Is Oat Milk Good For Protein Shakes?
2 per cent milk is best for protein shakes. On the other hand, you can use oat milk for protein shakes too. The best part of using oat milk is that it has a subtle flavour and gives a creamy texture. It also has a considerable amount of protein of its own. Analogous to this, there are other non-dairy milk alternatives which provide better nutrition. For instance, almond milk is lower in carbs and fat. In effect, it is one of the best milk alternatives to add to a protein shake. You have a wide range of milk options to choose from.
Is Oat Milk Less Fattening?
Oat milk is less fattening than whole milk. If we consider cow milk or buffalo milk, oat milk has lower fat and calories than cow milk. In fact, unsweetened oat milk has half the calories of cow's milk. Not limited to this, it has a quarter of the sugar content of cow milk as well. On the other hand, if you compare it to non-dairy milk like almond milk, it would be more fattening. It depends on what is your desired calorie intake. In effect, you can choose oat or almond milk as a replacement for whole milk. 
Is There A Downside To Oat Milk?
There are a few downsides when you consider oat milk. In effect, those who suffer from non-celiac gluten sensitivity should not consume it. Although the sugar content in this milk is natural, it is quite high in carbohydrates. As a matter of fact, if you suffer from diabetes, there are better options available in the market. On the contrary, limited consumption of oat milk can do be great for you. The most important thing to keep in mind is that you take oat milk in moderation. On the other hand, if you are a diabetes patient, you can always go for another milk alternative.
Is Oat Milk Or Coconut Milk Healthier?
Oat milk when compared to coconut milk has a lesser amount of saturated fat. Adding to this, it has more protein and more fibre. On the contrary, coconut milk has more vitamins and minerals and fewer carbohydrates. It is also keto-friendly. Both kinds of milk have certain health benefits. Therefore, if you want to watch your weight, opt for coconut milk. On the other hand, if the protein is your concern, choose oat milk. Whenever you make a choice regarding non-dairy options, they should be in accordance with your health motives.
Which Milk Has The Most Protein?
Soya milk and dry milk are two options which provide the most protein. In fact, dry milk is the powdered form of milk. It provides a high concentration of protein. On the other hand, it is processed. It is better to choose soya milk since it is less processed and in a more natural form. Soya milk is also rich in essential amino acids which the body does not produce on its own. These are methionine, valine, leucine and lysine. All in all, soya milk is best for a good protein intake if that is your concern.
In Conclusion
An oat milk smoothie is a great option for your morning breakfast regime. It can prove to be a great alternative to smoothies made with animal milk. It is lighter, more nutritious and easy to digest. In addition, this smoothie can act as a meal replacement. It is good for weight loss since it helps in appetite control. You can add a choice of frozen fruits to your smoothie and relish its taste according to your preference. 
Oat milk has more protein when compared to almond milk but if you still want to add more protein you can choose ingredients according to your preferences. This smoothie can help you maintain low cholesterol and regulate blood pressure. It reduces the risk of cardiovascular diseases by providing sufficient amounts of Vitamin D and C. As a matter of fact, oat milk is great for people who are lactose intolerant. Even those who want to follow gluten-free and vegan diets can have it. 
On the other hand, the ingredients required to make this smoothie are replaceable. You can use almond butter or peanut butter. Not limited to this, you can replace your frozen fruits with fresh fruits. You can even replace oat milk with almond milk.
All in all, the only thing to keep in mind is that you do not add much sugar. Sugar or processed sweetener might hamper its goodness in terms of nutrition.
People who have sensitive stomachs should go for this smoothie since it is easily digestible due to its high fibre. With all its benefits it is a perfect way to kickstart your day with great energy and strength for your daily chores.
Have you ever tried an oat milk smoothie? Would you like it for your breakfast?  Let us know in the comments section below!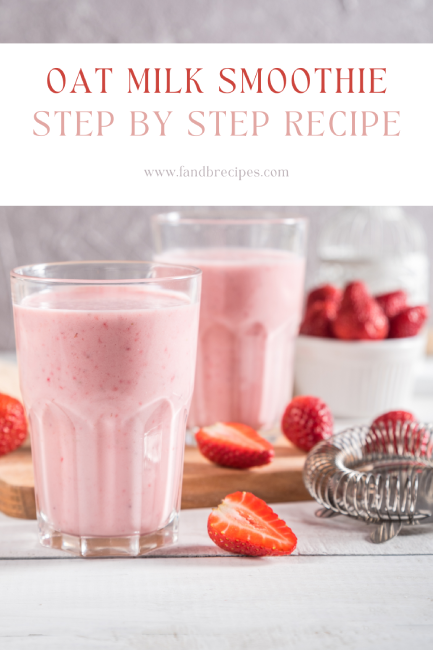 Loved this smoothie? Then don't forget to try our yummy Aloe Vera Smoothie or Heavy Metal Detox Smoothie!
Deeksha Tripathi is a Literature graduate and is currently pursuing her Master's in Business Administration. Besides being a passionate writer, she is a fashion enthusiast.