2 Mouth-Watering Indian Recipes To Try RN
Indian food is a diverse tradition, and it is one of the most varied cuisines in the world. It has been described as one of the world's most complex cuisines, not because the dishes are long-winded or complicated but because different ingredients used to cook Indian food comes from various places. Indian cuisine is the world's second most popular cuisine after Chinese food and has diverse regional variations encompassing many diverse cooking traditions. This post will cover some absolutely delicious recipes that are not only mouth-watering but also straightforward to create.
Dal Makhani
Dal Makhani is a rich and creamy curry made with butter, cream, and black lentils. The dish's creaminess comes from the slow-cooked dal makhani, which is caused by cooking split red lentils in a spiced onion-tomato gravy. The dal makhani is often served as a meal by itself with naan bread or rice. Like most curries, you can make this gently in an Instant pot, and this particular recipe comes courtesy of Corrie cooks. Dal Makhani is often cooked in a pressure cooker to yield a smooth texture. You may also prepare the dal mixture on the stovetop or boil until soft before adding it to the vegetables and butter.
Ingredients:
1 x cup whole split lentils

2 x tbsp avocado oil

1 x tbsp cumin seeds

1 x onion diced

1 x bay leaf

3 x tsp minced garlic 

1 1/2 x tsp minced ginger 

1 x tsp garam masala

1 x tsp salt

1 x tsp turmeric

1/2 x tsp black pepper

1 x tsp cayenne

2 tomato chopped

3 x cups water

2 x tbsp ghee (or a

ghee substitute if you cannot find it

)
Method:
Wash your lentils and drain all the water.

Turn your Instant Pot onto saute mode.

Add in your bay leaf, cumin and onions, and allow to saute for at least 7 minutes.

Add in everything else apart from the lentils and simmer for an additional 5 minutes.

Place all of the lentils in the pot along with the water and cook on high pressure for 40 minutes.

Add in your ghee or ghee substitute and stir it all together.

Serve with rice or naan bread.
Simple Butter Chicken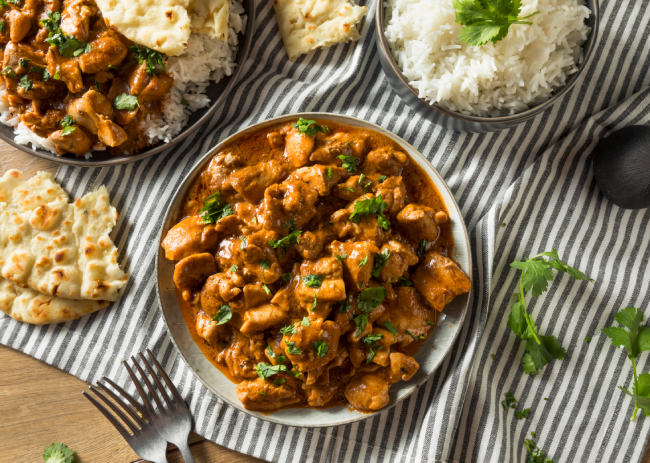 Butter Chicken is a popular Indian dish that has been created for the taste buds of the masses. This dish is typically served with naan bread. Butter Chicken is categorized as one of the world's most popular dishes because its flavor profile has been widely adopted throughout India over the years and is palatable by a wide range of people.
Ingredients:
2 x pounds chicken breast sliced into decently sized cubed

Salt and pepper to taste

2 x tsp chili powder

1/2 x tsp turmeric

6 x tbsp butter, divided

1 ½ x cups yellow onion diced

3 x tsp garam masala

1 x tsp cumin

1 x tsp cayenne pepper

1 x tsp grated ginger

3 x cloves garlic

1 x cinnamon stick

14 x ounces tomato sauce

1 x cup water 

1 x cup heavy cream

Rice
Method: 
Season your chicken with salt, pepper, turmeric, and chili powder.

Melt butter in a large pot over medium heat.

Add in the chicken until golden brown, then remove.

Melt butter

and before adding onion, more chili powder (depending on how spicy you like it), garam masala, cumin, garlic, cayenne, ginger, cinnamon, pepper and salt. 

Continue to cook until it has an aromatic smell.

Add tomato juice and let simmer for a few minutes.

Once it has been simmering for a minute, add your cream and water and bring it back to a simmer.

After 10 to 15 minutes, return the chicken to the pot and cover with a lid.

Serve with a side of rice and enjoy!
There are so many varieties of curries you can choose from along with a variety of methods. Although they look complicated at the outset, they are fiendishly simple, and you can go from chipping your ingredients to eating within 10 to 30 minutes.