Brunton Boatyard Review + Chef's Signature Recipe
Geo Brunton and his sons were shipbuilders in Kochi and upon the ashes of their old boatyard, rose this gorgeous five-star property. Brunton Boatyard brings to life the 19th-century Fort Kochi with its tasteful interiors. This boutique hotel is located right by the waters in the Indian European town of Fort Kochi in Kerala. The Victorian shipyard turned Colonial era retreat rests on the shore of the Vembanad Lake. The experience it brings to you is a true merger of nature and heritage. 
From sunset cruises to pier dining, this hotel offers it all. With just 26 rooms in total, the place makes it worth your stay and proves that luxury is not modernity. A spread of different cuisines and top-class service is easy to expect once you step foot into the Brunt Boatyard. It is also unbelievably close to the heart of Fort Kochi. Therefore, you can easily take the hotel-provided bicycles and explore the place even more.
First Impression
At the very first glance, you are bound to go back in time. You will immediately be hit by the grandness that history can provide to a place.  As you make your way to Brunton's open-air reception, you will slowly begin to notice the place. You will also notice the hospitality and service of their staff from the very beginning. You can see the attention to detail in every part of the hotel. The antique touches and the blend of English, Dutch and Portuguese influence is evident. Therefore, the hotel exudes a different kind of glamour when you see it first. Trust me, the first impression sticks throughout your stay.
Management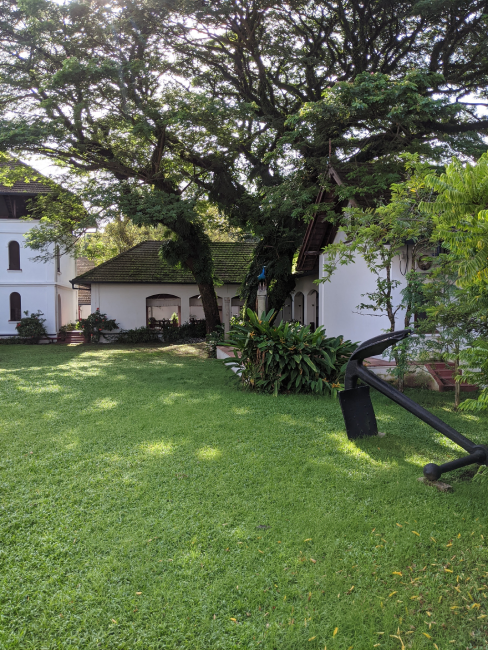 The Brunton Boatyard is a part of the CGH Earth Hotel chain. This family-run hospitality business started with a flagship project back in 1954. Today, they have several splendid properties spread all across South India. One of the primary focuses of the management has been Responsible tourism. Staying true to heritage and history is also a huge part of this initiative and so is the Brunton Boatyard too. Apart from bringing alive history, the hotel takes all the steps possible to cut down its carbon footprint. They harvest rainwater and get heated water from their solar panels. They actually do serve treated rainwater in glass bottles to their guests. In addition, the culinary experience they provide is a true showcase of the variety of cultures that Fort Kochi has witnessed.
Location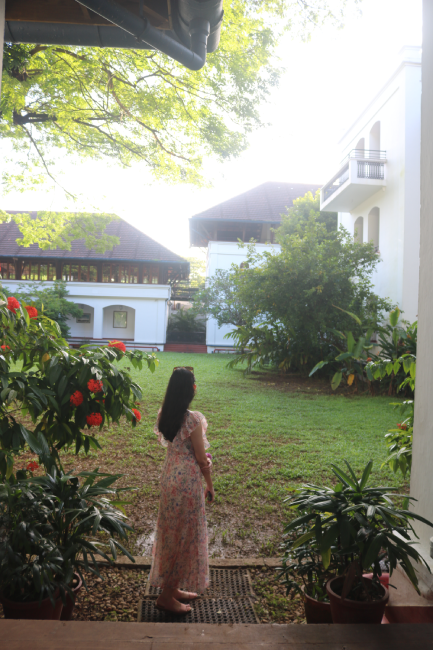 The Brunton Boatyard in Fort Kochi clearly isn't a tough address to look for. It has been famous for years for different reasons that have been part of its history. Connecting to Kochi isn't difficult. Here are the closest connection points:
Nearest Town: Ernakulam
Railway Station: Ernakulam Junction
Airport: Cochin International Airport
We all know how Kochi is connected by air with all the major cities in the country. You can easily hire a taxi service to drive you 45 kilometres from Cochin International Airport to Fort Kochi. Even buses are available. There are two main railway points in the city. Ernakulam North or Ernakulam town is the nearest to Fort Kochi. It is about 16 kilometres away. Fort Kochi is also 15 kilometres away from the bus station at Ernakulam town. Kerala also has an extensive network of roadways.  Therefore, You may also travel by road in your car or by bus if you wish to.
Style and Character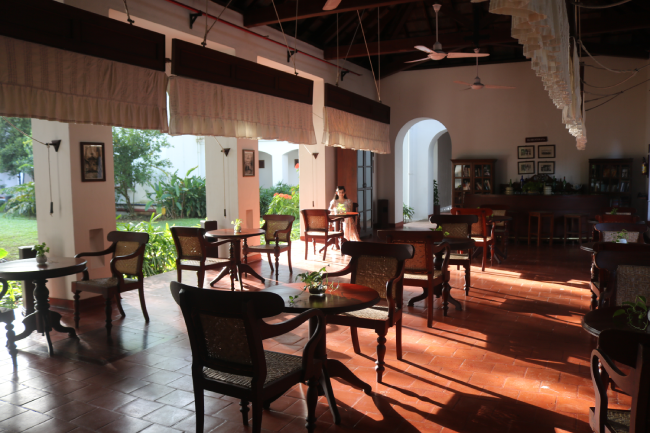 This sprawling five-star property exudes historic grandeur. It totally brings through the charm and aesthetics of old colonial-era buildings in India. It makes use of antiques and gorgeous old decor from the past. The lofty ceiling punkah fans and terracotta tiled floors will take you back in time. They have really high ceilings and lime-plastered walls. The rooms are adorned with teak wood furniture and old pictures. You will also find a four-poster bed in each room All these different elements of style come together to create the vintage charm of this old boatyard turned boutique hotel.
The best part about the hotel is its location. You can actually spot dolphins from your sea-facing rooms.  The hotel's proximity to the Cochin harbour and some of the famous Fort Kochi spots makes it a wonderful place to stay at.
The interior of the Brunton Boatyard and the entire look and feel of the place fits in well with Fort Kochi's history. The hotel is like a page out of a history book.
Amenities
Although Fort Kochi has a lot by itself to explore,  you can have an eventful time staying at just the Brunton boatyard too. They ensure to provide you with all the key services and amenities you may require during your stay. Some of those amenities are: 
Wifi

: A holiday is a great time to unwind and switch off your phones. However, it doesn't work the same way today. Therefore, the hotel has got you. They have wifi available throughout the entire property.

Ayurveda Centre

: Enjoy different healing and herbal massages during your stay here. That is a great way to either begin or end your day.

Fitness Centre

: All fitness freaks may not worry about spoiling their daily routine. The hotel is equipped with fitness machines. 

Pool

: The pool at Brunton Boatyard is overlooking the Cochin harbour. Swimming pools are always a great way to feel fresh and relaxed.

Business Centre

: The hotel takes care of your work needs as well. In case you need a professional set up to work on an urgent file or take an urgent meeting call, you can use this place.

Gift shop

: They also have a shop that can help you take back souvenirs for your friends. This is a great place for foreigners.
They also offer yoga and meditation sessions free of cost. You can take bicycles and a map of Fort Kochi from the hotel. You can easily go around exploring all the places by yourself. If you wish to enjoy television and in-room dining instead, the hotel can provide you with that as well. There's ample parking space available too.
Rooms
The Brunton Boatyard is a small property in comparison to other CGH Earth properties. Recreated from a shipyard, this hotel has only 26 rooms in total to offer. However, there are three different types of rooms that the hotel offers: 
Sea-facing rooms:

There are about 22 sea-facing rooms in total. Some are deluxe suits while some are normal rooms. These rooms in particular have a bedroom, a foyer and an attached bathroom. They also have a patio. The bathrooms have both a cubicle as well as a bathtub. All These rooms take up about three floors of the hotel.

Non-sea-facing rooms

: These rooms also have the same features as the sea-facing rooms. However, the view is different. While few of them open to the hotel courtyards, the rest share views of the pier or the town. There are only four of these rooms though and they take up the first and second floors of the hotel.

Sea-facing deluxe suite:

These suits are massive in size. They too are spread over three floors and share a beautiful view of the harbour. The suite has a living area, a dining area and a pantry along with the rest of the features. Staying in a deluxe suit like this is similar to staying in an apartment. It's that huge!

Other room amenities:

The hotel has the usual check-in and check-out times. Check-in is at 2 pm and check-out is at 11 am. The rooms have wifi service available along with aand coffee maker and a safety deposit box. Laundry service and 24-hour room service is also available. 

Bathroom amenities:

It is well equipped with all essential toiletries such as dental and shaving kits. In addition, you get hairdryers and bathrobes.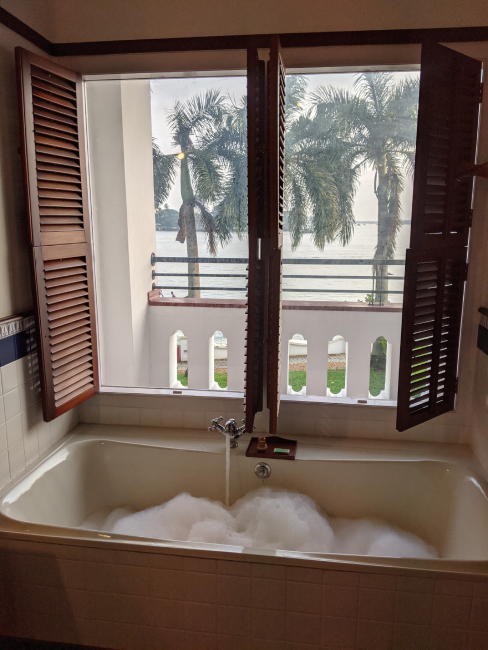 Things to do
Fort Kochi is famous for its British, Portuguese and Dutch confluences. Therefore, there are a lot of places you can visit to experience the culture and history of Fort Kochi. Some of the things you can do during your stay at Brunton Boatyard are:
Cruising

: Cruise around Cochin Harbour in the hotel's own boat cruise during the sunset. You may even sight a dolphin if you are lucky.

Cooking Class

: Just like any other CGH Earth property, Brunton Boatyard's chefs also conduct evening cooking classes to share their insights into Traditional Kerala-based cooking.

Ayurveda

: This is another key factor in this hotel chain. Feel rejuvenated by trying out a variety of massages and treatments.

Mattancherry Market

: This market is always filled with the strong aroma of spices. Visit this to see Kochi's spice trade market.

Antique Market

: This market is also called the Jew Town. Along with Jewish homes, you will also find lots of antique shops lined along. This town is right in between the Matgancherry palace and the historic Synagogue and is full of rich history.

Mattancherry Palace

: Also called Dutch Palace, this tourist attraction has Hindu Temple Art in the form of Kerala Murals. It also houses exhibits from the Rajas of Kochi.

The beach

: A walk along the Fort Kochi beach will leave you effortlessly refreshed. The salty breeze and gorgeous sunsets along with the water traffic are indeed a rejuvenating view. You can also enjoy the local food items along the beach.

St. Francis Church

: People believe that Vasco de Gama's remains were buried here before being shipped off. This is among the oldest churches in India.
There are several other places you can visit as well. Don't forget to watch the traditional dance of Kerala at the Kathakali centre nearby.
Food
Fort Kochi has been a melting pot of culture along with being a hub for the spice trade. The food served at Brunton Boatyard imbibes that quality along with the quality of the ambience it provides. 
Pier Dining

: Enjoying food while looking at the Arabian Sea so close is bound to make your food taste even more delicious. Therefore, enjoy your dinner at the pier if the weather allows it. The hotel also arranges for you to dine on the waters on request.

Terrace Grill

: This restaurant is only open for dinners. You can relish fresh seafood caught by the Chinese fishing nets at this open-air restaurant. However, it is open only during the high season. Their seafood specials are one of the best gastronomic experiences.

Armoury resto-bar:

This resto-bar does have an armoury decorating its walls. Hence, the name. This place serves a lot of different cuisines and is open for breakfast too. You could also pop in here to enjoy evening snacks. They also serve several vegan selections.

The History:

The History has an extensive menu and truly reflects the cultural influences of Fort Kochi over the years. These influences are represented by the 32 cuisine menu. Some of them being Arab, Portuguese and Jewish.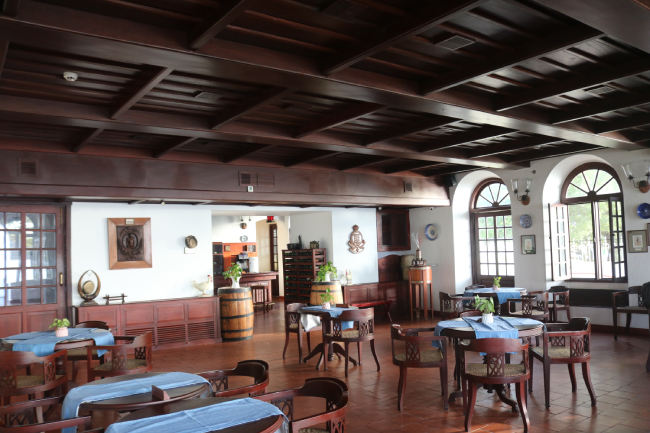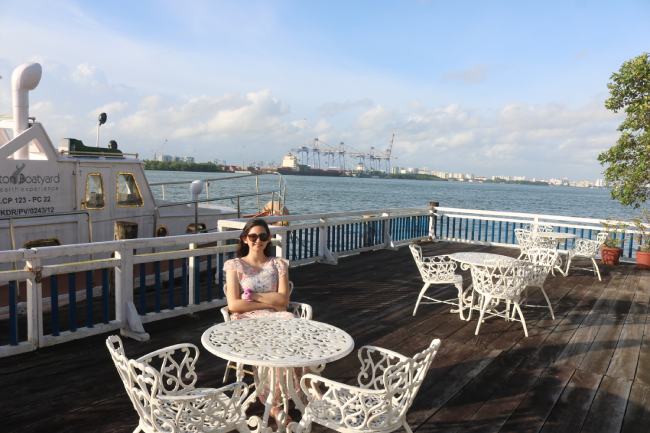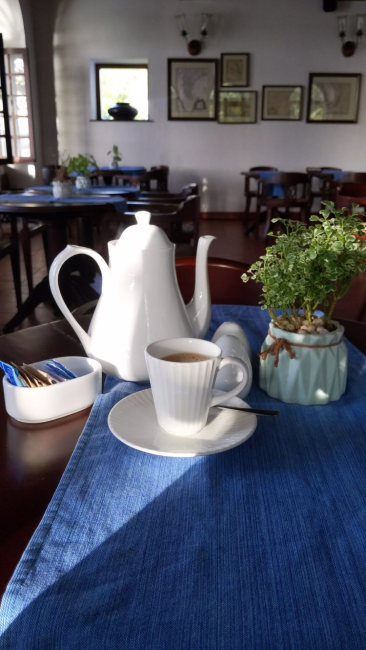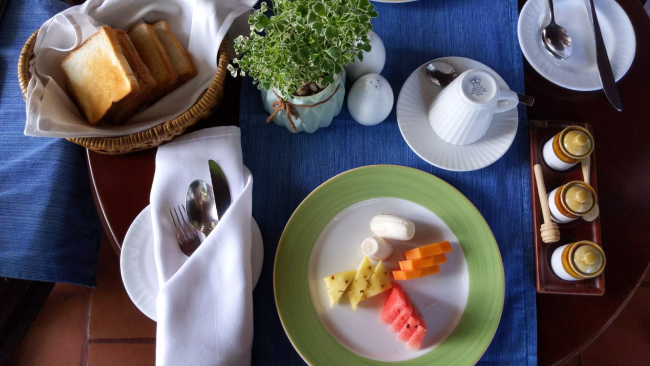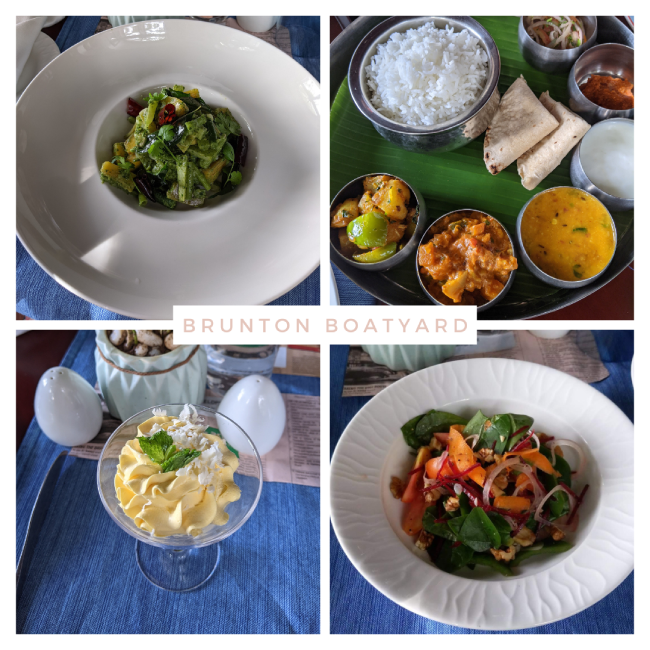 The three restaurants at Brunton Boatyard bring you a wide selection of food variety you can choose from. They also have something called the Satvik Bhojan. This is a vegan Ayurvedic dish with no oil at all. They also have a good selection of tea and coffee to pick from. Some of the famous dishes here are the "Railway mutton curry," "Chutulli Meen," and the famous south Indian delicacy called Appam.
About Chef Midhun Cleetus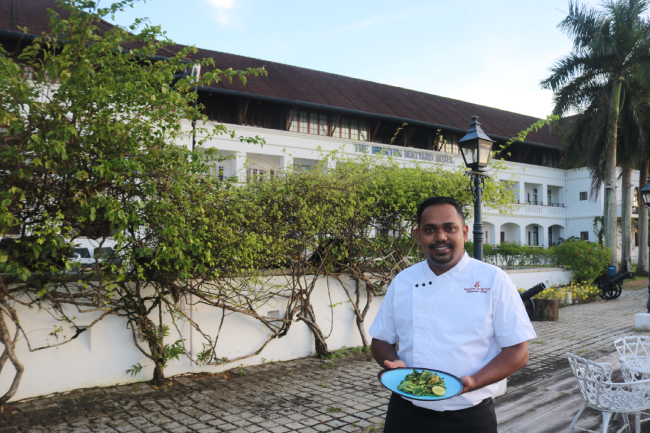 Midhun has been working with major hotels and restaurants in India, AUE and Saudi Arabia for almost 2 decades. He has a Hotel Management degree from Bangalore University and currently works as an Executive Chef at the Brunton Boatyard, Kochi. 
Fresh Local Market Salad Recipe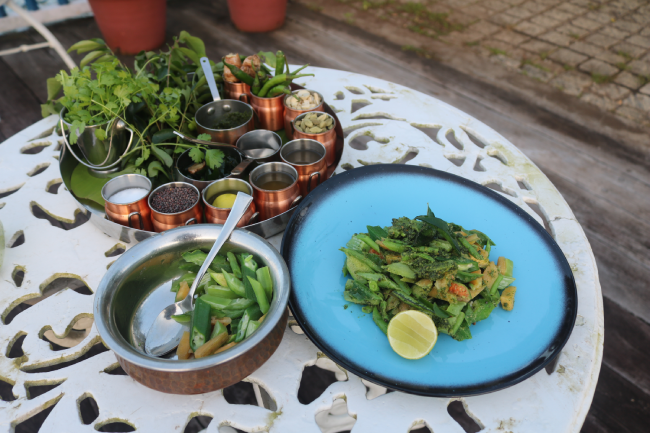 Serves: 2    Prep time: 10 minutes   Cooking time: 5 minutes  Total time: 15 minutes    Cuisine: Authentic Keralan Cuisine/Indian    Course: Salad
Ingredients required: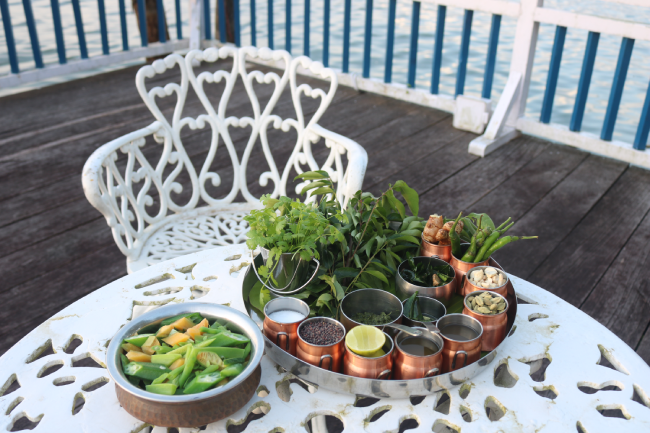 40 g ridge gourd, 40 g snake gourd, 40 g long beans, 40 g raw banana, 40 g okra
To temper:
5 g mustard seeds, 2 sprig curry leaves, 10 ml Coconut oil
For the dressing:
200 g curry leaves, 50 g coriander leaves, 4 cardamom, 10 g ginger, 2 green chillies, 15 g cashew nuts, 5 ml coconut vinegar, 1 ml lime juice, salt (to taste)
Directions:
Cut all the vegetables, blanch the videos in boiling water for about 1 minute and keep aside. To make the dressing, fry the curry leaves coriander leaves, ginger, green chillies, cardamom and cashew nuts together in a pan for a minute. Strain the oil and remove and keep aside. Cool this mixture and blend it in a blender to make a smooth paste. Season the paste with lime juice, salt and coconut vinegar. Add a tablespoon of this dressing to the bottom of a mason jar. Add the blanched vegetables on top. Close the jar and mix well. Remove and plate in a salad dish. Add the tempering and garnish with a slice of lemon.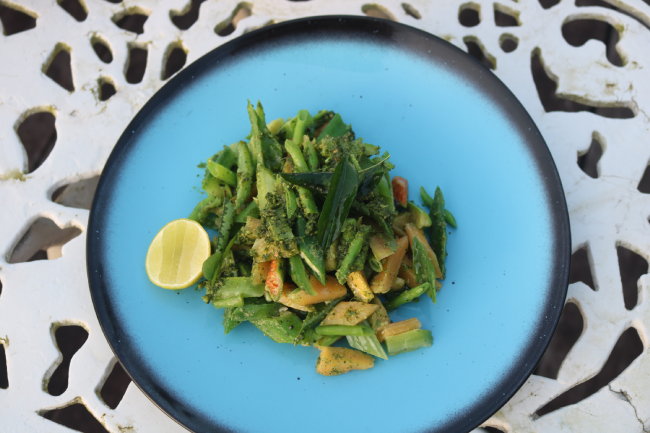 Fresh Local Market Salad Recipe
An easy, delectable salad makes for an excellent way to celebrate delicious local produce!
Ingredients
40

g

ridge gourd

40

6

snake gourd

40

g

long beans

40

g

raw banana

40

g

okra
To Temper:
5

g

mustard seeds

2

sprig curry leaves

10

ml

coconut oil
For the Dressing:
200

g

curry leaves

50

g

coriander leaves

4

cardamom

10

g

ginger

2

green chillies

15

g

cashew nuts

5

ml

coconut vinegar

1

ml

lime juice

salt

to taste
Instructions
Cut all the vegetables, blanch the videos in boiling water for about 1 minute and keep aside.

To make the dressing, fry the curry leaves coriander leaves, ginger, green chillies, cardamom and cashew nuts together in a pan for a minute. Strain the oil and remove and keep aside. Cool this mixture and blend it in a blender to make a smooth paste. Season the paste with lime juice, salt and coconut vinegar.

Add a tablespoon of this dressing to the bottom of a mason jar. Add the blanched vegetables on top. Close the jar and mix well.

Remove and plate in a salad dish. Add the tempering and garnish with a slice of lemon.
Contact Details
For reservations, contact them at:
Telephone: +91 484 2846500/+91 484 4261711
Email: contact@cghearth.com/ bruntonboatyard@cghearth.com 
Address: 1/498, Calvetty Road, Fort Kochi-68200, Kochi, Kerala, India
The Takeaway
All in all,  The Brunton Boatyard is a property worth visiting if you are planning a trip down south. Fort Kochi in itself is a place that will send you back in time. Walking across different streets and shops there will transport you into a different time period. Brunton offers you different packages ranging from INR 12,000/- to even INR 25,000/-. It is definitely a luxury property however it's totally worth its value.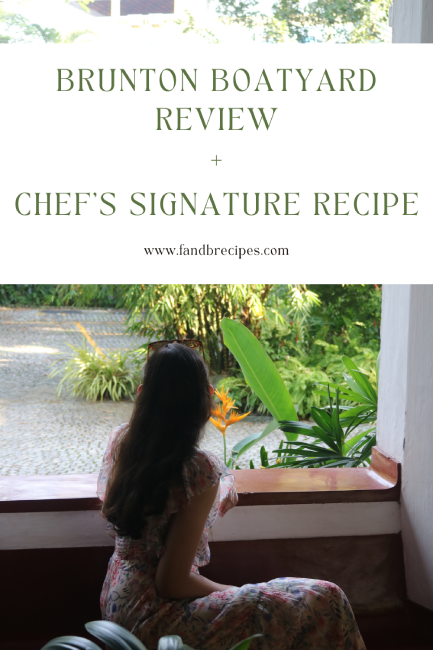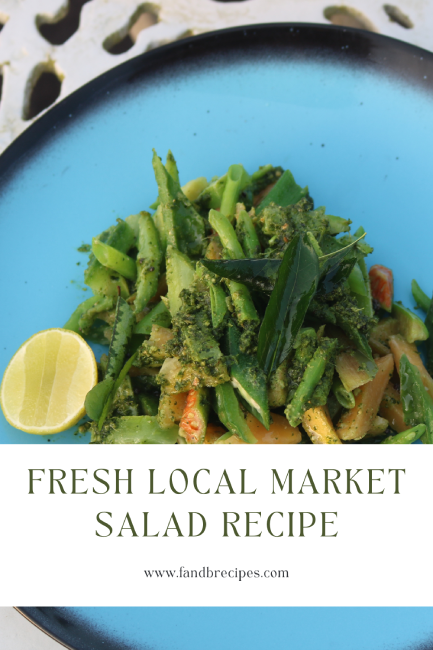 Shristi is an avid reader, recipe developer and wellness enthusiast. She's probably making a mess in her kitchen right now.