7 Little Things You Can Do to Beautify Your Kitchen
The kitchen is a haven for most of us. It stocks everything from our basic need for water to our comfort food. We all have walked into the kitchen, opened the fridge, stared inside for a few minutes and then closed it without taking anything out. But have you ever looked around and wondered how you could beautify your kitchen?
The kitchen is one place where its main function is utility. We cook, clean, eat and drink from the kitchen. However, most of the time we forget that the kitchen, like much of our house, needs to look good. 
There is a certain pride you get from learning to beautify your kitchen, whether it is for visiting guests complimenting you or just working in a beautiful kitchen. 
Each kitchen has 5 zones to work with: 
Food zone: fridge, pantry, food cabinets

Storage zone: everyday dishes(plates, glasses, bowls, silverware)

Prep zone: kitchen prep (countertop, kitchen island-rolling)

Cooking zone: stove top, oven, microwave, cooking range

Cleaning zone: sink area/dishwasher, broom.
Making sure each zone is organized and functional is an excellent way to ensure your kitchen gets the makeover it deserves. In this article, we will talk about a few simple but effective ways you can beautify your kitchen.
#1. Organize!
There are many ways to beautify your kitchen in the storage zone. One way you can do that is by removing all the clutter. Get your cutlery drawer some organizers. You get really pretty colours and sizes online which add to the personality of the room. You can even purchase a broom and sponge organizer along with some cabinet and drawer liners. 
Organize your food zone with Tupperware, buy a bunch of cute air-tight containers of different sizes and store everything from your spices to your leftovers in them. You can even buy one of those tea bag holders to display all your tea bags for when guests come around and it makes your mornings much easier.
Add a rolling island to your kitchen to make your prep and cooking zone more efficient and it allows for less clutter on the counter. Introduce open shelving into your kitchen for more functional storage.
Decant everything! Your liquids can be stored in matching squared-off carafes which makes your fridge door look cute and also keeps them organized. Adding things like moisture-absorbing fridge liners to your fridge can help make your fridge look a little softer as well as hold on to the many nasty spills. 
#2. Working with Lighting
You can add some brightness to a small kitchen by painting your cabinets with nice, light colours. These colours reflect light and make your kitchen look much bigger. Speaking about that, light plays a big part in opening up a room. You can replace your light fixtures with some really cool-shaped ones, you can even install some cheap lights below your cabinets for a more pleasing look. Warmer coloured lights are the best option for kitchen lighting and help beautify your kitchen in a subtle manner.
#3. Top Tricks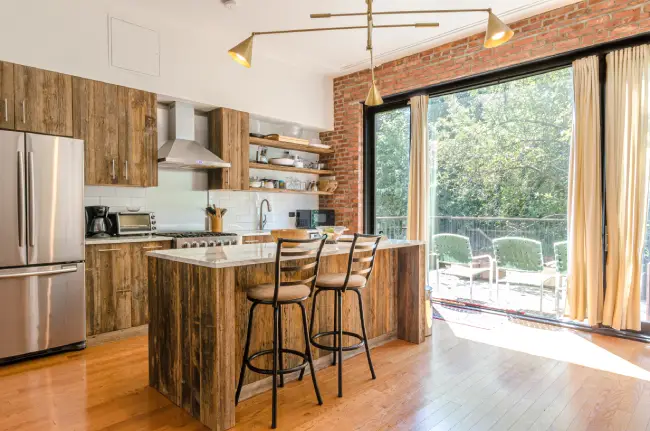 One place where most people forget that can help beautify your kitchen is the tops of kitchen cabinets and fridges. That space is more often than not, wasted space because it is too high to reach anything or things get dusty, so a lot of us don't make use of it. You can use that space as a "gallery loft" of sorts where you can showcase things like art or decorative articles and sculptures.
You could create vignettes of certain items and place them artfully. in fact, you can put a cute picnic basket or extra cutting boards or even put up several items from your flea market splurges. Maybe some antiques or even your great-grandmother's china that has never been used.
#4. Goodbye Ugly Wires
While appliances like mixers and coffee makers seem to make life easier, their pesky cords and wires are not too helpful in your aim to beautify your kitchen. However, there are a few ways you can tuck those fellows away. You can hook it up with a cord bundler that can be stuck at the back of the appliance. You can stick one side of the velcro to your appliance and the other to the plug and wrap it up and keep it neat. Or you can use twist ties or zip ties to keep them in place or even DIY it by cutting a hole in the back of any container like a basket or a nice box and hide or access the power cord whenever you need it. 
#5. Go Green
Adding some greenery to your space can help give it a lived-in, luxurious look. A functional and safe bet is windowsill herbs. You can place small pots around your kitchen windows or even a larger plant on the counter. Display fresh flowers around the kitchen.
Use unexpected but functional holders to hold your plants. They can be used cans or pretty bottles. You can even make your own with spray-painted plastic bottles for a cute look. You can even display your fruits and veggies in cute containers to help beautify your kitchen. In addition, you can also add pretty stickers to label your jars and bottles.
#6. Reflective Surfaces
Hanging a mirror in your kitchen is the best way to make the room look bigger and more open. You can attach them to the backsplash or place them somewhere it can reflect outside space. Choose somewhere where the most natural light can reflect. Give all your stainless steel appliances a good polish so that the light bounces off it giving the whole room a brighter appearance.
#7. Add a Personal Touch
Most importantly your kitchen should reflect you. Use empty spaces to sprinkle a bit of your life into the kitchen. Put up some art that you enjoy or a frame with a funny quote, some family photos, a cute cookie jar or salt and pepper shakers that scream your name. You can stack a few cookbooks that you like. Add a stylish stool that also fits with the aesthetic. 
Even a nice outdoor rug to tie the room together. If you're someone who likes to collect wine or different bottles from places you go, maybe even build yourself a nice rack or bar station. Add window treatments. Use things that you enjoy to accessorize to beautify your kitchen. 
In Conclusion
There are so many different ways to make your kitchen work for you. Now, you can not only make it work but also enjoy its aesthetic.
Remember, If you have something nice, showcase it. If not, then hide it. This works even if you have a cute toaster or some beautiful glassware. Use what you have available to you to beautify your kitchen.
Which of these ideas will you be using to beautify your kitchen? Let us know in the comment section below.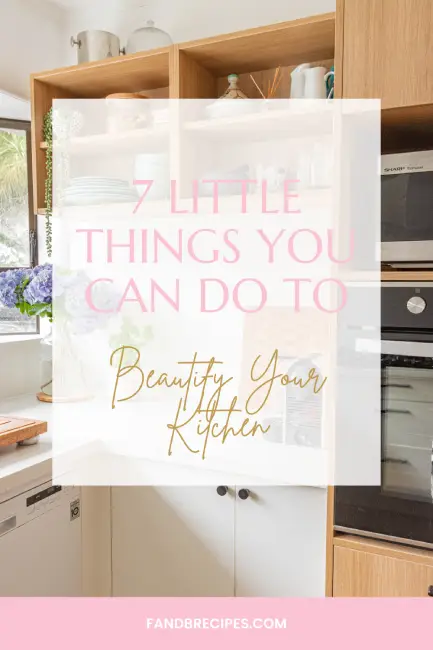 Danielle is a content writer with a love for books, music, and lifestyle blogs.