Thanksgiving Leftovers: How to Keep Them Fresh
Thanksgiving leftovers are not the same as everyday leftovers. Thanksgiving leftovers are not like your soggy pasta and your half-eaten Chinese. Instead, it is something to enjoy. Actually, you might say that they're better the next day. So take advantage of them while you can. 
For this, you should learn how to store your turkey-day leftovers in a proper way. This will ensure you can save all the food that you took the time to make. This can also reduce your food waste.
Whatever your Thanksgiving menu includes, you should refrigerate your leftovers.  This raises the risk of foodborne sicknesses, putting a stop to the festivities.
Be it turkey or pumpkin pie, here's what you should know about packing them so they remain fresh and safe. You can also find the yummiest ways to repurpose them. Besides that, you can also find out what you can freeze and how long it lasts.
In this article, we will discuss how you can store turkey, ham, stuffing, gravy, sauce and pie leftovers.
Turkey Leftovers
You can't have a classic Thanksgiving dinner without some turkey. And, you're bound to have a whole lot leftover. Turkey is the king of all thanksgiving leftovers. However, throwing an entire turkey in your fridge is not the best idea. There are ways for you to make sure that the turkey completely cools. This is by cutting the meat smaller by separating it. This is highly recommended by the United States Department of Agriculture (USDA). Besides that, you should make sure to finish it in three or four days. You can do this easily by adding the leftover turkey to sandwiches or salads. 
Also, you can freeze your turkey leftovers. You can use freezer-friendly bags and containers. In addition, you can even pack the turkey in tin foil as well as plastic wrap. This prevents your turkey from freezer burn. The plastic wrap also helps keep the moisture in. You can store frozen turkey leftovers for a long time. However, they taste best between four and six months.
Ham Leftovers
Is ham your ideal entree for Thanksgiving? Then you can keep small servings of these thanksgiving leftovers in the fridge for 4 to 5 days. Here you can find many different recipes for ham leftovers. Besides that, you can also put ham in the freezer for two months. However, the taste and quality will degrade quickly. Unless you really need to freeze ham leftovers, try to not do it. If necessary, you can use freezer-friendly containers as we did with the turkey.
Stuffing and Dressing Leftovers
Stuffing is a great thanksgiving leftover. Storing your Thanksgiving stuffing usually depends on what your ingredients are. For general stuffing, you can store it in the fridge for around 7 days after making it. However, this isn't the same if your stuffing has items that you cooked before. In this case, you should count it from 7 days before you made that particular ingredient. If you choose to freeze it then do so for a month maximum. 
Scalloped and Mashed Potatoes Leftovers
If your thanksgiving leftovers include cooked potato sides, then store them in the fridge for 3 to 4 days. When your freeze potatoes, the starch and water tend to split. This makes your dish watery after you heat it up. However, if you need to freeze mashed potatoes, then form them into patties. You can then freeze them on a baking sheet and put them in the freezer. 
For scalloped potatoes, you can freeze them in the dish itself. However, make sure to wrap them in moisture-repellent paper. Then you can defrost and eat your leftover potatoes no later than four weeks. 
Veggie Side Leftovers
No meal is complete without your veggies. Thanksgiving leftovers are famous for them. You should refrigerate any vegetables you cook for 3 to 4 days. Freezing vegetable-cooked sides are not recommended. This is because it degrades the texture and quality of the veggies. It is not recommended that you freeze any dish that has a cream-rich sauce or toppings with bread.
Cranberry Sauce and Gravy Leftovers
Here are some other popular thanksgiving leftovers. You should store any leftover gravies and sauces in the fridge. You can keep them in air-tight glass or plastic containers. The USDA states that you should consume gravy between 3 and 4 days. You can also freeze it for 4 to 6 months in a tight-lid container. 
In the case of cranberry sauce leftovers, you can add them to your turkey sandwiches or salads. Besides that, it is also a great addition to baked items or even a parfait. Additionally, you can store it in the freezer for 12 months.
Pie Leftovers
Thanksgiving leftovers aren't complete without a pie. If you make a pie with eggs or custard, you should cover and refrigerate them for 7 days. Also, you shouldn't freeze custard pies. However, if your pie contains egg, then you can freeze it for 2 months. Though any fillings that are inside may split.
Other popular thanksgiving pies are fruit pies baked with sugar. In such cases, you can cover them and keep them outside for 1 or 2 days. You can also put them in the fridge for around 7 days. Besides that, you can even freeze them fully and then consume them within 3 to 4 months. 
In Conclusion
Thanksgiving leftovers are truly a blessing. You can eat them for days to come. Be it scrumptious turkey to your mouth-watering pies. You can make the most of these leftovers.
There are various ways to pack, separate and store these thanksgiving leftovers. You can store turkey and ham leftovers for 4 days in the fridge. You may also store your stuffing and dressing for 7 days at the most after you prepare it. Besides that, you can put any cooked potato dish in the fridge for 3 days. Also, you should refrain from freezing any veggie sides. 
Finally, you should eat your cranberry sauce and gravy within 4 days of refrigeration. Not to forget the yummy pies that you can eat from the fridge for 7 days.
What part of thanksgiving leftovers is your favourite? How do you use these leftovers in your recipes? Let us know in the comments below.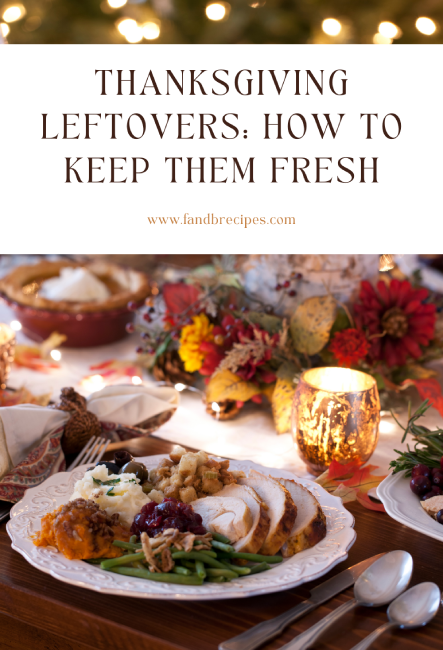 Also Read: 5 Spooky Halloween Recipes to Make With Your Kids
Danielle is a content writer with a love for books, music, and lifestyle blogs.