How to Start a Snack Food Business [INFOGRAPHIC]
Everyone loves food! If you are interested in food and people, why not make a business out of it? The snack food business has become one of the most desired start-ups. Above all, this business has a great scope when it comes to market value. Therefore, trying it out will work in your favour.
Here we are going to discuss everything you need to know about this business.
How to Start a Snack Food Business?
A snack food business is very flexible. In addition, you can start with a smaller budget and no office. You can work full time or part-time from the comfort of your home. Most importantly, you can start it alone but it would be preferable to have a team.
Firstly, try to steer clear of rookie mistakes. Focus on a few items only. See what is easiest and fastest to make. 
What are you best at? 
In addition, try to truly excel in said snacks and then expand to other items. If you want some variety, add some vegetables and fruits along with some pre-made quick snacks. Remember to serve with love and a smile. Food is not just about eating but feelings as well. Everyone knows that food eaten in a good mood tastes better! 
Lastly, use music and art to create a perfect and calm experience to put your customers in a good mood.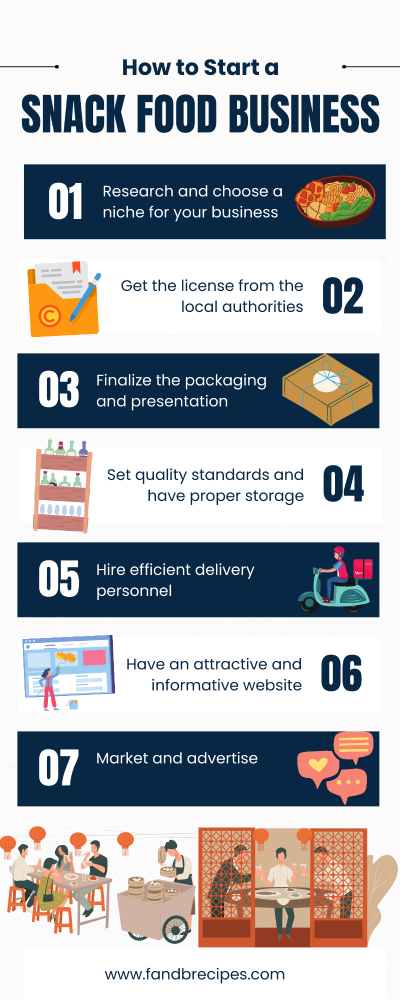 How to Select a Name For Your Snack Food Business
Selecting a name for your snack food business is quite essential. Why is that?
It will stick with you in the foreseeable future and will represent your name and brand. In addition, it will create the first impression in the minds of your new consumers. Therefore, it is important to choose a good name.
Besides forgettable or common names are no good!
Above all, be creative and come up with a unique name that goes with your vibe. Try easier spelt names as they are easy to remember. Choose a name that will age well in case of expansion in business chains. Take suggestions and jot them down. As soon as you find the one that ticks off all the boxes, get the trademark!
15 Best Snack Food Business Name Ideas
Here are some of the best snack food business ideas that will give a zing and pep to your business:
Snacks-zilla

Healthyaro

Healthynetic 

Snack-genics 

Foodgenix

Snacstory

Healthyva

Foddo

Lovebyte

Foodopia

Sugar cuts

Feeble

Chef's choice

Baconic corner

Foodlytical
Pros and Cons 
Every idea has some pros and cons. Clearly, you must make a list and anticipate future hurdles. 
Here are some pros and cons of starting your own snack food business.
Pros:
You don't need a big budget, fancy building or a big team to start this business.

You can work at your own pace.

Providing good and healthy snack options for people will feel rewarding.
Cons:
Overhead costs could be high.

Too much competition.

Challenging food preparation and delivery logistics.
Tips to Grow Your Snack Food Business 
If you have decided to start a snack food business, after all, you will need tips and ideas to grow it.
Here are some tips that will help your snack food business grow.
Be different:

Do not follow the crowd, make the crowd follow you. Moreover, you need to think outside the box. 
Value marketing:

No business can flourish without proper marketing and advertising. It is a key to a successful business of any kind, including a snack food business. 
Customer is the king:

Do not forget about customer experience. Customers are the source of your revenue. You need to take care of their taste and satisfaction. 
Have clear communication:

Be it with customers or your staff. Express the issues and directions to them to create a long-lasting relationship. 
FAQs
Are Snacks Businesses Good?
A simple answer will be yes! Snack food businesses are really seeing huge growth in the present time. That is to say, it has a big market and it is really relevant now. You need to create a business plan to get a clear idea of what you want to do. In addition, get a proper supplier and build a good social media presence. You can even start it alone from your home with a small investment. It could be part-time or full-time and any day of the week.
How Do I Start A Small Snack Centre?
Start with the basics! Firstly don't go overboard. Stick to a proper menu and keep the menu small at the beginning. In addition, be hygienic and creative. Secondly, take recommendations and ideas from your staff and customers alike. In addition, invest in marketing and use technology for networking. Be reliable and provide the best service. Use safe and healthy products. Keep backup stock so you don't run out of ingredients. Have a fast delivery service. Finally, identify your market and advertise. 
How Do I Start A Snack Manufacturing Business?
Primarily, you will have to get a licence and registration for this business. Then, decide on a business structure and you will be good to go! Make sure your business name is catchy and remarkable. As it must stand out and really stick to people. Moreover, be ready for any backlash as a manufacturing business could be tricky. Finally, try to communicate more with staff. They will be more productive if they know exactly what you want.
How Do I Market My Snacks?
Food is a joy that everyone deserves. Best service is a great marketing strategy! That is to say, give good and fast customer service. Be hygienic and organised. Keep your customer's expectations high so that you work hard and deliver them the best service. If you have a budget, invest in merchandise. Give out your merch and coupons to new customers. Not to mention, use social media. Your marketing strategy as well as product must be different and unique to get you a line of customers. Spend time and invest in it.
What Is The Best Food To Sell?
Deciding what to sell can be a tough one! To start with, you must go with your gut and choose something simple but preferred. Furthermore, make it perfectly and serve it nicely. Create a menu that is good for takeout as well. Finally, prepare the menu beforehand and always choose fresh products!
Here are some of the best food to sell:
Bread based food (croissant, flatbreads and garlic bread)

Cakes and pastries

Cookies and scones

Burger and hotdogs

Pizzas and pasta

Chicken based food

Sweets and ice-creams

Smoothies and shakes

Chips and tacos
In Conclusion
Every business has its ups and downs. Make sure to be positive and ready. Don't let any negative comments affect you. Try to have reasonable or low rates at least at the beginning. As it will attract new customers and spread your name.
Besides, have a sale every week. Choose those days when there are fewer customers and offer food at lower prices than usual. This will motivate your new customers to return to your business. 
Don't be afraid to follow your dreams! Take your chance and open your snack food business. Hard work always pays and with these tips and ideas, your chances of success are high as it is.
And don't forget to be passionate about your business and food. More importantly, you must do it with love and motivation, it will succeed for sure. People can feel love through food. Therefore your efforts will also reach your consumers.
What is your favourite snack food? Which snack food business do you prefer and why? Tell us in the comments down below!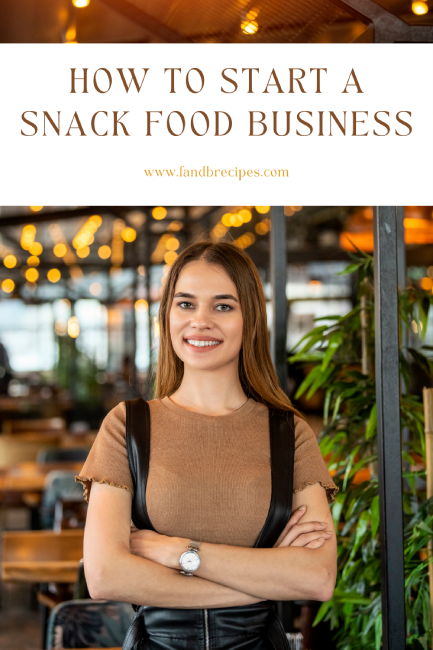 Katie writes for F and B Recipes. She lives in New York with her dog Coco. When not writing, she can be found baking (and eating) chocolate chip cookies.