The 18 Best Small Kitchen Storage Ideas
Without small kitchen storage ideas, your space can get cramped and feel uncomfortable very quickly. This is especially true for limited cabinet and counter space. The fact is that you won't feel like your kitchen is functional till you evaluate how you store your things. This could be from appliances to delicate glassware. It could also be your cooking and dinnerware. 
Some important investments could also really help you free up your space. These could be some standing shelves to hang spices and utensils. This helps save up space inside your drawers for other things. In addition, you might also consider changing the setup of your kitchen. You could install a custom cabinet with rolling drawers and shelves.
#1. Improve The Pantry.
You can start with organising your staple pantry ingredients to make the best use of your space. You could check the expiry dates of all your dry ingredients like cereals and spices. Also, make sure that none of these items is just taking up space that can be used for valuable ingredients.
#2. Segregate The Tools That You Use.
A great kitchen storage idea is to organise your utensils. You should keep them in a central area so that it looks more organised. You can make your small kitchen look stylish just by creating separate areas for your tools. In addition, you could also get a utensil tray that can be put into a drawer.
#3. Think About Installing Open Shelves.
For more functional small kitchen storage ideas, you can install open shelving in your kitchen. These shelves allow you to have much more storage space and keep your mugs, and plates close by. You can also add plants and decorative art to these shelves for a personal touch. In addition, wire racks are great organisers. They lessen a crowded space and also allow you to display your kitchen equipment essentials.
#4. Improvise Your Current Storage Space.
If money is a problem, consider fixing your current area with cheaper design elements. For instance, you could also add towel rods to your shelves and cabinets to make plate holders and increase storage space.
#5. Buy Clear Containers For Food.
Clear containers and jars are a miracle in the kitchen. You can store your ingredients in cute labelled storage jars. They work as both decor and a functional element. In addition, you can also get creative with your food storage by using etched clear containers. These food containers are ideal for cramped spaces seeing as they allow you to conveniently and quickly locate your dry goods without needing to start digging into small cabinets.
#6. Use All The Space Available.
In order to make the most of your small kitchen, you should try to use every nook and cranny of the kitchen. For instance, a tilt-down sink drawer is a convenient way to store your sponges, dishwasher and other extra elements that are taking up space.
#7. Install Wall Storage For Your Knives.
A simple knife display may seem to be a design feature, but in truth, it allows you more access to your most frequently utilised kitchen utensils. In addition, this helps you to also declutter your drawers.
#8. Make A Station For Recycling.
Don't allow recycling to overtake your kitchen. You can install a recycling station or craft one for an efficient storage hack. In addition, you can also install it on a wall rather than occupying the space on the ground.
#9. Arrange Your Closet.
Don't let your utility closets get untidy. Many times, your mops, dustpans and brooms take over the space in the closet. Instead of that, you can also keep them in place with the help of wall hangers.
#10. Make Use Of The Vertical Spaces.
You can also store different items at different levels or zones. You can use longer shelves for bottles. You could also get vertical shelves for this purpose. Drawer and cabinet space in a small kitchen can get limited. To combat this you need to get creative and store vertically. In addition, you can store your bigger utensils in a pierced corbel. This also reduces the waste of space in your drawers. Another great element is glass cabinet doors. These are great to showcase your fancy dishware.
#11. Optimise Your Cabinets
Another great small kitchen storage idea is to convert your cabinet into a customised pantry. You can install roll-out drawers and hanging racks. These also help you to organise your ingredients and items. 
#12. Move Outside The Kitchen.
If your kitchen space is limited, you can also think outside the bounds of the kitchen. Move your barware and fun pieces to a part of your living room. These can act like decor.
#13. Create Space For Individual Ingredients.
Your spices may occupy more room than you might think. You should consider getting a spice rack. This can help you organise your spices and also creates a better cooking space.
#14. Make A Peg Board.
Customised peg boards are great small kitchen storage ideas. These are simple and help save space. Besides that, you can also store anything on there from silverware to seasonings.
#15. Install Shelves Over Your Counters
You can also add shelves above your counters that help accent your kitchen wall. They will provide you with enough space to display everything you need to.
#16. Get Your Drawers Organised.
Some other great small kitchen storage ideas are to assign zones to your kitchen. Through this, you can then organise your drawers. They can be snack drawers or cutlery and spice drawers. You could also get drawer liners and dividers.
#17. Make Use Of Unusual Spaces.
Baskets can be used to line the lower parts of your bar carts, kitchen islands, etc. This also helps you add style to your storage.
#18. Get A Sink Shirt. 
A sink skirt helps you cover up storage spaces that you don't want to be seen. They also bring a sense of style to an otherwise boring sink.
In Conclusion
A well-organised kitchen allows you to make the most of each part of your space without wasting anything. This requires you to store your staple goods in the correct manner. In order for you to combat cramped spaces, you will need to implement creative kitchen storage ideas. These should also change your perspective on the space you have. You can make use of everyday kitchen elements to make a unique kitchen solution. This applies to all your doors, cabinets, shelves and pantry area. 
You could also take a closer look at your home you use the spaces on your well to the best of your ability. Besides that, there are many elements that you can consider. For instance, you can add a sink skirt or a recycling station to your space to add a bit of style.
What are some of the best small kitchen storage ideas you use? How did you find this article helpful? Let us know in the comments below.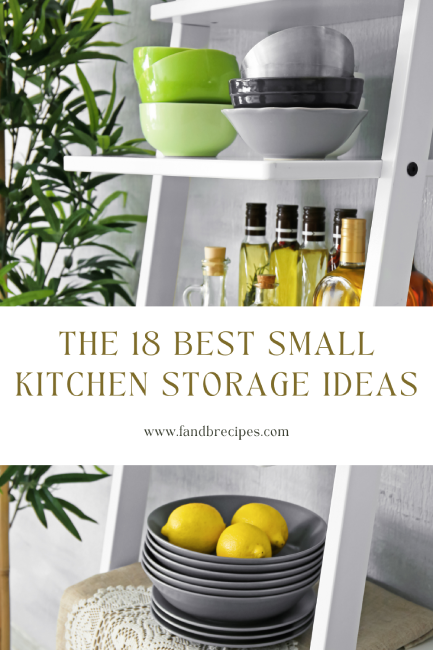 Danielle is a content writer with a love for books, music, and lifestyle blogs.