The 17 Best Pantry Storage Ideas to Organize Your Pantry
Any good cook knows that a nice home meal starts in every pantry. The pantry is one of the most commonly visited rooms in any household. And, it houses key ingredients for your comfort food as well as sufficient drinks and snacks. However, since this is a rather prime spot, organising your pantry essentials may become time-consuming and challenging. Your pantry could well serve you if you keep it stocked with seasonings and daily staple foods. You should also do everything you can to keep those essentials well-organized. We're going to share some pantry storage ideas that will allow you to keep your ingredients fresher for longer while also making the best use of your area. Discover some of our finest pantry storage ideas which will simplify your life.
#1. Use Bookplates To Mark Your Shelves
Instead of just slapping stickers on different containers, you can designate different zones with bookplates. You can have a condiment zone, an oil zone and drinks and snack zone. These keep your pantry organised and also give it a vintage touch. It also helps others navigate your pantry. You can also make use of cheap crates to keep your onions and potatoes. These extend the shelf-life of these items. You may also use some pretty bowls for your staples that aren't perishable. 
#2. Make Use Of Bins And Baskets
Wicker bins and baskets are great pantry storage ideas. They help to make storing things like snacks and canned goods much more convenient. You can also use labels to describe everything inside that specific bin. This makes it easier for your family to go hunting for their snacks.
#3. Have Sets Of Matching Canisters
You may also buy a set of matching canisters for different ingredient types. For instance, you could have glass canisters or plastic ones for your snacks and baked goods. You can also store your dry fruits in these canisters. These are great pantry storage ideas.
#4. Lock And Seal Your Ingredients
Air-tight seals and zip locks are some of the best pantry storage ideas. You should always make sure your dry ingredients stay dry with these kinds of containers or bags. Besides that, the containers make for a stacking dream.
#5. Create A Smart And Organised Shelving System
You can make use of the different heights in your pantry for some more storage space. You could store things that are used less at high heights or at the bottom.
#6. Keep The Space Streamlined And Simple
If you have an open or limited pantry area, you can go with a uniform look. This can be done by putting all your essentials in similar or identical clear containers. It gives your kitchen a look of continuity and neatness.
#7. Try Colour Coding The Area
Another great pantry storage idea is colour coding. Though it may not apply to your regular pantry, you can arrange your pretty beverages and cereal in a colour-coded manner.
#8. Designate A Kid-Friendly Storage Bin
You should also make your pantry accessible to your kids. For this, you can label a lower shelf as Kiddie Goodies and stash all their favourite food and drinks in storage bins.
#9. Get Some Fun Magnets
Another cute pantry storage idea is spice magnets. These are basically containers that can be stuck on your fridge or magnetic surface. This makes them accessible and also adds a bit of decoration. 
#10. Use An Over The Door Rack
Over-the-door storage racks are another good way to store your essential tools. You can hang your oils, measuring spoons, and much more on these racks. You could also store your spices or sweets here.
#11. Use Your Higher Spaces For Storage
You can make good use of your ledges and shelves above your door. You can use this space for unused or less popular items.
#12. Get Rolling Drawers
Another great idea for your pantry shelf is roll-out drawers. These make everything accessible and also satisfying.
#13. Separate Your Items
You can also store different items at different levels or zones. You can use longer shelves for bottles. You could also get vertical shelves for this purpose.
#14. Use Bags For Storing
We probably all struggle with excess grocery bags at home. Instead of just keeping it for your weekly grocery shopping, use it to store things. You can also decorate them and use them as cool decor.
#15. Purchase Clear Containers And Jars
Clear containers and jars are a miracle in the kitchen. You can store your ingredients in cute labelled storage jars. They work as both decor and a functional element.
#16. Keep Pesky Pests Away
You could also get rid of those unwanted pests with a homemade trick. Keep a dried bay leaf or chilli pepper in your jars. These keep insects away from your ingredients.
#17. Store Your Spices And Sugars Well
This last pantry storage idea talks about storing your spices and sugars the correct way. Always use light-proof, airtight and heat-proof containers. This allows your ingredients to last for a much longer time period. You may use labels to identify and organise each type.
In Conclusion
It's difficult to keep your pantry clean, particularly if you're continuously picking up food for a big family. A well-designed pantry can actually affect how quickly you could really work in the kitchen.
Arranging your pantry is similar to establishing a dry food library. Developing systems that help you upgrade your pantry and kitchen design can help make sure that items are categorised and held in the correct place.
This is why we have come up with some pantry storage ideas that you can refer to while organising your pantry. Here are some:
Use bookplates to mark your shelves.

Make use of bins and baskets.

Have sets of matching canisters.

Lock and seal your ingredients.

Use your higher spaces for storage.

Get rolling drawers.

Store your spices and sugars well.
What are some pantry storage ideas you use for your household? How did you find this article helpful? Let us know in the comments section below!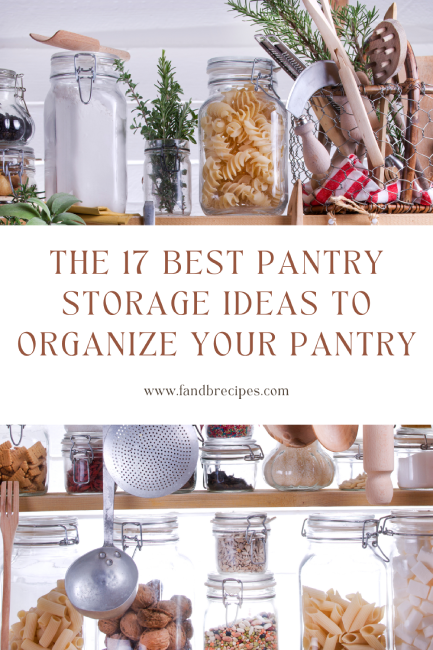 Danielle is a content writer with a love for books, music, and lifestyle blogs.