4 Tips for Planning The Perfect and Practical Holiday Party
Let's face it: While hosting a holiday party in your home can be a lot of fun, it can also feel a little overwhelming to plan and pull off, too. There are guest lists to make, invitations to send out, and menus to plan — and that's only the beginning. What do you need to clean? How will you decorate? And who is going to do all the shopping? If you find yourself holding the responsibility of hosting the perfect party this holiday season, these four practical tips are sure to ease your stress without sacrificing quality.
1. Clean Like a Champ
While initially, you might think you need to do a deep clean of your entire home from top to bottom, the truth is, guests will likely be limited to only a few areas of your home. Instead of spending time cleaning unnecessary areas, only focus on the main rooms like the kitchen, living room, and guest bathroom. 
Take advantage of a few cleaning hacks to save time, too. For example:
Add a few drops of dish soap to water when cleaning glass surfaces to prevent streaks

Clean the oven by boiling water and vinegar at 350 degrees for 30 minutes.  (Grease and grime will easily wipe off after the oven cools)

Use a microfiber cloth and some rubbing alcohol to polish the stainless steel

Pop in a few scented plug-ins to create a festive scent throughout the party space
2. Make Your Guests the Focal Point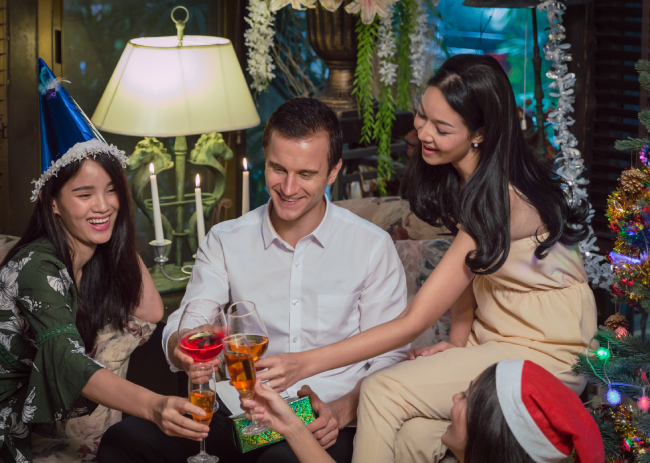 Who says October gets to have all the dress-up fun? Coming up with a fun holiday theme that asks your guests to wear fitting attire not only takes the bulk of the decorating pressure off your shoulders but also adds an extra element of fun. Ugly sweater contest anyone? Perhaps you can ask your guests to dress up as their favourite holiday character. Or, glam it up with a Gatsby Theme and watch the 1920s come roaring back to life right before your eyes.
3. Transform Your Space on the Cheap (Without Looking Cheap)
With your guests set to be the living centrepieces of your upcoming holiday party, you'll just need to add a few finishing touches to transform your party space. 
To hide electronics, try wrapping a blank canvas in holiday wrapping paper and hanging it in front of your TV.   

Instead of investing in expensive ice buckets, repurpose a few planters instead. Fill them with ice, add a few drinks, and voila! You'll have easily accessible drinks and instant conversation pieces.

Change out the decorative pillows in your living room with fun, festive pillows.

Bring your outdoor

string lights inside to create ambience

.

Fill a few decorative bowls and cupcake stands with ornaments and lights to create height and pops of colour around the room.
With just a little creativity, you'll be able to transform the room into the perfect party setting without breaking the bank.
4. Have Someone Else Do Your Food Shopping for You
Once you've perused the holiday dinner recipes and come up with all the dishes you plan to serve, who is going to do the shopping for those decadent seafood recipes while you prepare your home for the perfect party? The solution? Have Instacart do the shopping for you! Not only does this mean you'll have your own personal shopper to pick the perfect frozen crab meals on your behalf, but you'll also receive your groceries in no time at all. Instacart's convenient and easy personal shopping service will help hosting your holiday party be stress-free and practical without blowing your budget.
Final Touches
Though planning a holiday party may feel a little overwhelming at first, it doesn't have to. Instead of going over the top with cleaning and decorating, narrow your focus. Clean the high traffic areas and close the doors to the rest of your home. Choose a theme that will make your guests the centrepieces, and make a few small but creative changes around the space without blowing your budget.  
And while you're busy making sure your home is ready to host, rely on a personal shopping service to help gather your groceries and deliver them to you. And most importantly — have fun! A holiday party is a great way to create memories with the people you love most that will last for a lifetime.